Zoom Stock Price Is Flat on the Year – What Will Q2 2021 Bring?
Zoom Video Communications (NASDAQ: ZM) will release its quarterly earnings next Monday. The market expects EPS of $1.16 and the stock price is flat on the year.
Zoom Video Communications is scheduled to release the financial results for Q2 2021 next Monday, 30th of August after the market closes. Investors expect EPS of $1.16, higher by 26.04% compared to the same period last year.
Zoom stock price is flat on the year and down significantly from its pandemic highs. Speaking of the COVID-19 pandemic, Zoom is one company that benefited from the lockdowns in the sense that it facilitated communication when the world was forced to stay indoors to fight the spread of the virus. Hence, the stock price moved recently in line with the pandemic's evolution.

What Do Analysts Say About the Zoom Stock Price?
Analysts are cautious with the Zoom stock price. Out of the 74 analysts that cover the stock, 33 have issued buy ratings while 36 have neutral ratings, and five have issued sell ratings.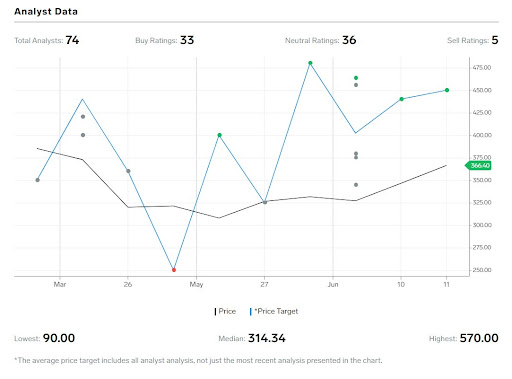 Most recently, the Benchmark Company has maintained its hold rating for the Zoom stock price, and so did Needham & Company. Also, RBC Capital Markets has maintained the buy rating with a target of $450, while Argus Research Company has upgraded Zoom stock price to buy with a price target of $440.
Zoom operates with a gross profit margin (TTM – Trailing 12 Months) of 70.02%, much higher than the 49.04% sector median. The price/sales ratio is also much higher than the sector median, 29.81 vs 4.31.
Zoom does not currently pay a dividend and investors expect the annual revenue to reach $4 billion for the fiscal period ending in January 2022, respectively $4.8 billion for the fiscal period ending January 2023.