Zoom Stock Price Falls Sharply Despite Better Than Expected Earnings
Zoom stock price is in free-fall after the company announced the quarterly results. Despite showing strong revenue growth and beating the market's estimates, Zoom stock price dived below $300 on management slashing the third-quarter sales outlook.
Zoom shares plunged this week after the company reported its quarterly earnings. The move was unexpected because the company delivered a positive earnings surprise. Its EPS of $1.36 were higher than $1.16 expected, beating expectations on the quarter.
Yet, the stock market moves based on future expectations. More precisely, investors discount future cash flows at the required rate of return in order to find out the intrinsic value of a company. In this case, it was management's outlook about the third-quarter sales that triggered the move lower in Zoom's stock price. Management slashed the outlook for the next quarter and warned investors.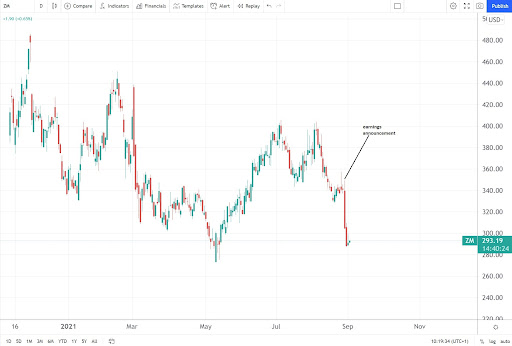 Highlights of Zoom Video Communication Q2 FY2022 Earnings
Zoom delivered strong revenue growth in the second quarter, up 54% YoY. Also, there is an increase of 131% in the number of customers bringing more than $100,000 in revenues.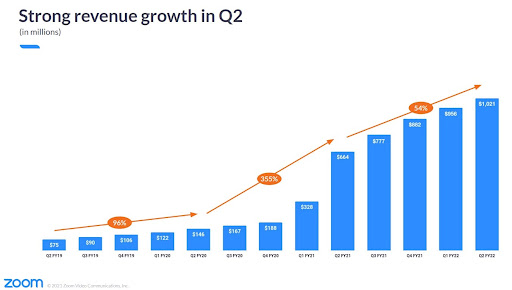 The company reported a strong net dollar expansion rate. This was the 13th consecutive quarter with a rate above 130%.
Zoom's international presence is growing as well. The company's presence in the Americas increased by 50%, for example.
The company's cash position remains strong. Net cash provided by operating activities was $468 million, much higher than the same period last year. Free cash flow also rose significantly, reaching $455 compared to $373.4 in Q2 FY2021.
Yet, investors are concerned about the company's outlook. Worries are mounting about Zoom's ability to maintain business levels reached during the COVID-19 pandemic. As such, Zoom stock price declined after management presented its outlook for the following quarter.
Zoom stock price is down -13.77% this year and -36.45% in the last 12 months.