WTI crude oil price keeps surging, trading above $122/barrel: what do charts say?
The war in Ukraine brought the world an energy crisis. The WTI crude oil price blew away resistance at the round $100/barrel and keeps surging.
One of the side effects of the conflict in Ukraine is the surge in the price of commodities. Oil, for instance, is now trading above $122/barrel, as stunning developments in the macro world led to a massive short squeeze.
Truth be said, commodities were on a bullish trend well before the Russia-Ukraine conflict. The COVID-19 pandemic triggered a sharp rally in commodities as supply chain bottlenecks crippled economies worldwide.
But this is something different.
Such a move in the price of oil will push inflation even higher. To put things into perspective, inflation was running at four decades high in the United States before the war in Eastern Europe started. Oil traded at $70/barrel or so, and yet the prices of goods and services kept rising. Now that oil is close to double in price, what will inflation look like in, say, two or three months?
Moreover, a study by Goldman Sachs says that a sustained $20/barrel increase in oil prices will lower real GDP by 0.6% in Europe and by 0.3% in the United States. Hence, rising oil prices pose the risk of severely impacting economic growth.
More strength lies ahead while above $100/barrel
The fundamental picture keeps pushing the price of oil higher, but the technical picture also looks bullish. The market formed a contracting triangle below the pivotal $100 level and consolidated for a while before breaking higher.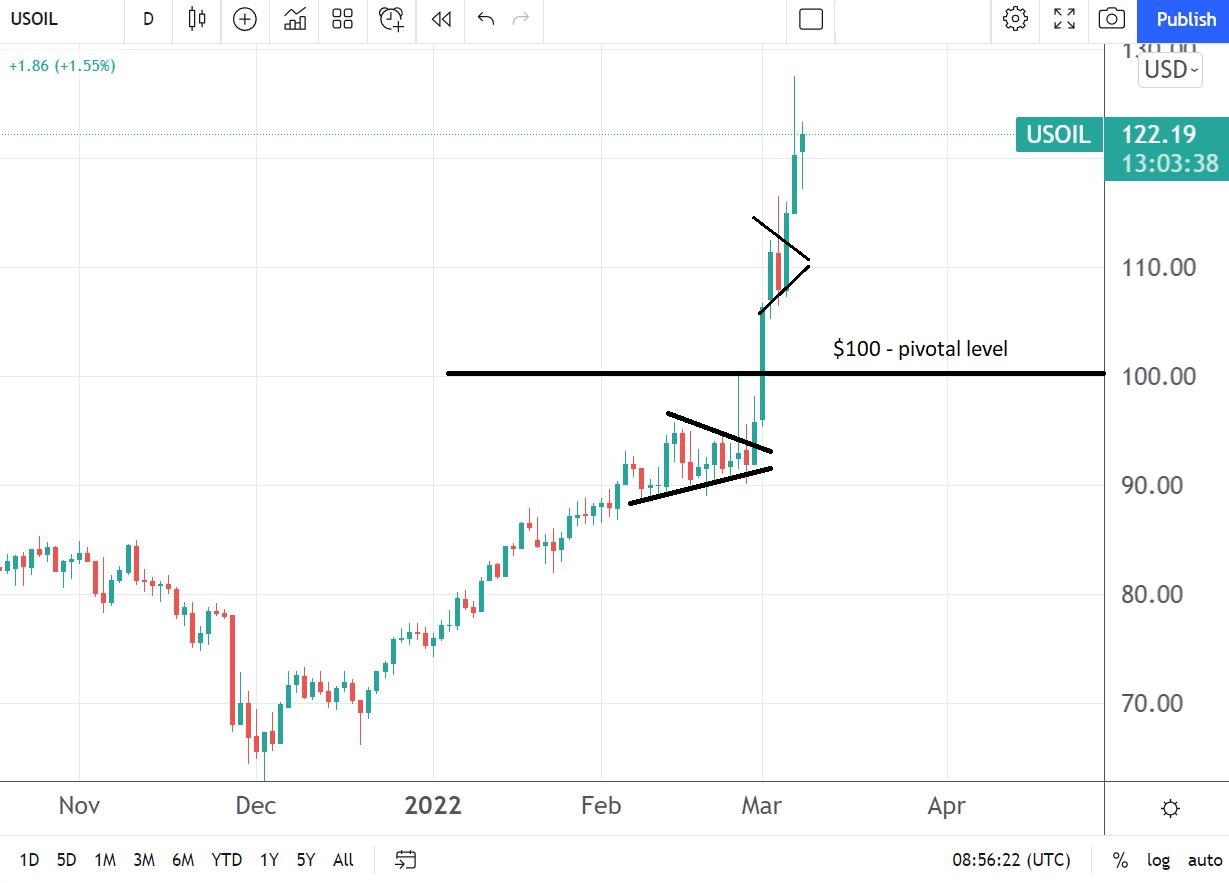 A daily close above $100 was the signal that the price would keep on rising. Finally, a pennant is seen at $110, and now the market trades at $122.
While above $100/barrel, the WTI crude oil price remains bullish. Only a daily drop before the pivotal level would signal a change in the rising trend.
For financial markets and not only, such elevated levels in the price of oil suggests that inflation will further squeeze households' real income. With the Fed on track to deliver a rate hike to stem inflation, steady oil prices may trigger some more action from the biggest central bank in the world.