WTI crude oil price forecast as it tops $100/barrel amid war in Europe
WTI crude oil price hits $100/barrel amid Russia's attack on Ukraine – levels not seen since 2014. What is the technical picture telling us?
A war started overnight in Eastern Europe as Russia invaded Ukraine. Despite denying its intentions, Russia did strike all Ukrainian territory in a dark day for Europe and its future.
The move took markets by surprise. While US intelligence has warned several times that a full-scale invasion was imminent, Russian officials constantly denied it.
Now that the war started, commodities prices shot higher literally overnight. For instance, European natural gas TTF jumped 40%, while Brent oil traded above $102/barrel. Moreover, Chicago wheat is up 5% to a 9-year high, and the 3-month aluminum has hit a record high above $3,350.
How about the WTI crude oil price?
It reached $100/barrel for the first time since 2014, and the technical picture points to more upside.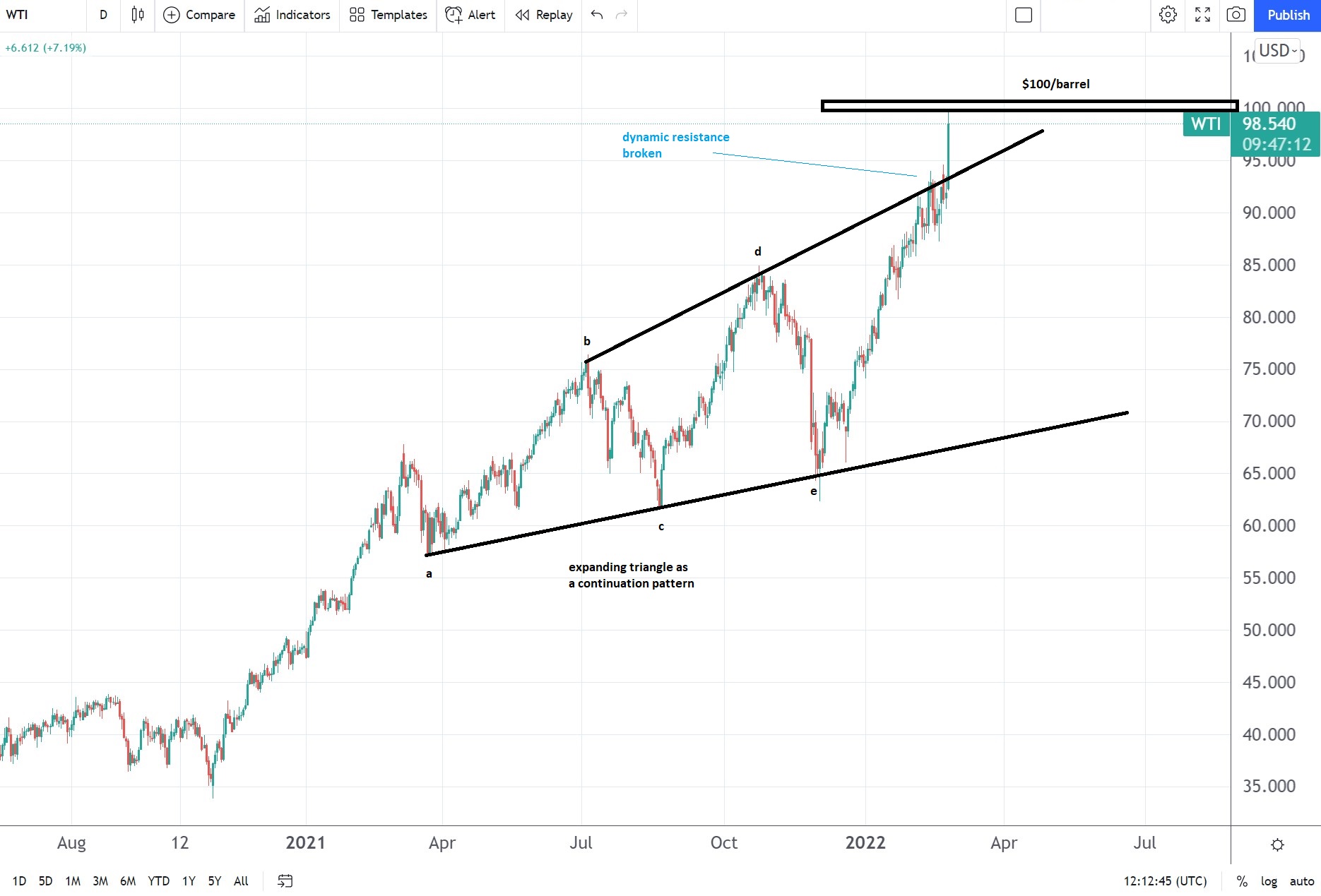 WTI crude oil breaks above dynamic resistance
The technical picture looks bullish. The last time the WTI crude oil price declined was at the end of 2021, on fears of Omicron impacting the global economy.
After those fears cooled off, the rally continued as the bullish series of higher highs, and higher lows remained intact.
One can spot an expanding triangle – a rare continuation pattern. The triangle hints at more upside, especially now that the WTI crude oil price has broken above the b-d trendline's dynamic resistance.
Moreover, the $100/barrel acted as a pivotal level for such a long time. Towards the end of last year, when the price of oil hovered around $85/barrel, many options traders have bet on it, reaching $100/barrel by the end of the year. Of course, it wasn't the case then, but fast forward two months, and here we are.
Moving forward, the oil prices have more room to advance – and, on their way up, giving some headaches to central bankers wanting to tighten the monetary policy. For instance, oil prices exceed the European Central Bank's staff's estimates by some 35%, thus pushing inflation higher by about 40 basis points.
Interestingly, even after Russia recognized two breakaway Ukrainian republics, the US and its allies still bought Russian oil and other commodities. Moreover, according to an article by Bloomberg, they will continue to do so in the next 24h.
All in all, the $100/barrel loomed large for quite a while now. With dynamic resistance broken, further strength is likely.