Will the FOMC meeting end the S&P 500 rally?
The S&P 500 rally continues unabated as the stock market index makes new higher highs and higher lows. Will the Fed's message end the rally?
Financial markets' volatility dropped this week as traders and investors await the Fed's decision. Later in the North American session, the Fed is expected to announce the tapering of its asset purchases starting with December.
While the currency markets mostly consolidated this week, we cannot say the same about the US equities. The main stock market indices have made several all-time highs, and the S&P 500 index was one of them.
The chart below shows just how strong the current rally is. The index quickly recovered from the April 2020 lows and never looked back.
From a technical perspective, the bullish trend remains intact as long as the market keeps forming higher highs and higher lows. Therefore, for as long as the series remains intact, it makes no sense to short the S&P 500 index.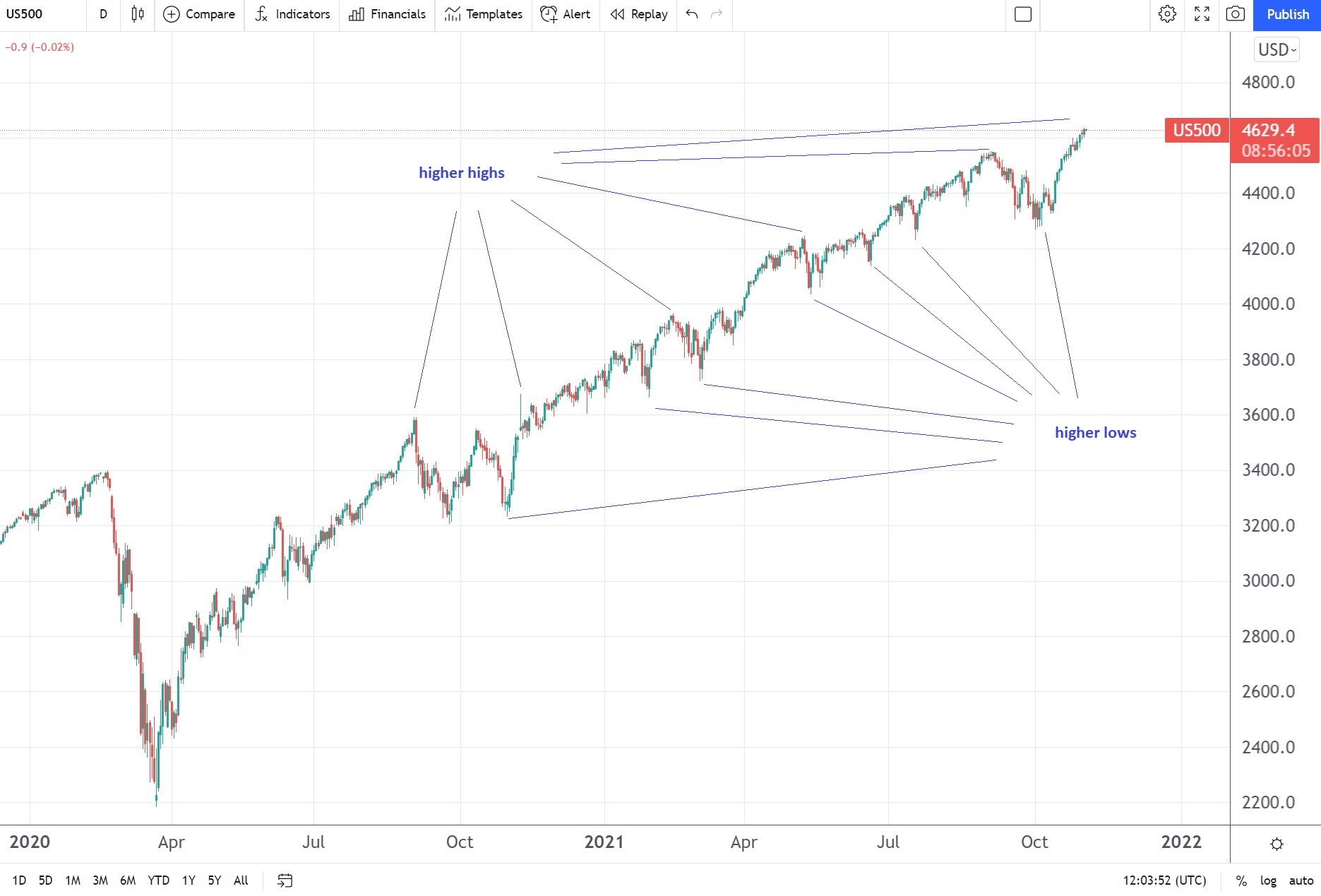 What to expect from the Fed today?
The market expects the Fed to announce the tapering of its asset purchases and to start tapering to the amount of $15 billion a month, beginning next December. By the end of Q2 2022, the tapering should be over.
Now, tapering is not tightening, so the easy financial conditions remain in place, only its extent is reduced. At today's press conference, the Fed's Chair, Jerome Powell, will likely be grilled on two topics.
One is the path of future rate hikes. The market expects the Fed to start hiking the federal funds rate after the tapering is over, so the projections after the end of the Q2 2022 are crucial for the stock market and the US dollar.
Another is the Fed's view on inflation. If the Fed changes its view and does not see inflation as transitory anymore, the market will begin pricing in more hikes next year, thus bullish the dollar and dovish stocks.
However, if history tells us something, then the FOMC day and the day before were bullish stocks. In more than two decades, if we do not consider the S&P 500 returns on the FOMC day and the day before, the index would be 52% lower, or at 2,200 points.
Hence, the bullish bias persists on the S&P 500 index, as pointed by both technical and fundamental factors.