Why Did Acasti Pharma Shares Shoot Up By 600% Yesterday?
If you saw the Acasti Pharma Inc (ACST) share price soar by 600% yesterday, you might think that you missed out, but here's why you should look at the news behind major stock price moves.
I've talked before about when and why stocks such as WW International and Meggitt experience share price gaps. Well, Acasti Pharma investors benefited from the most major of price gaps yesterday, to see the price of their shares suddenly soar by 600%. Or did they?
Here's the chart that shows they did, then I'll tell you why they didn't (but could):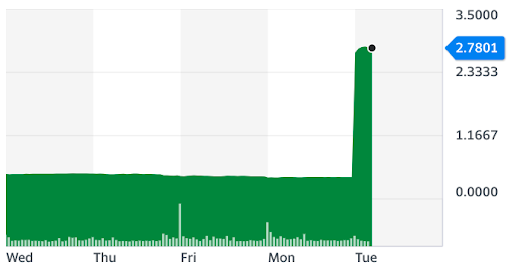 ACST 5-Day Price Chart (source: Yahoo! Finance)
What Is Acasti Pharma?
American biopharmaceutical company Acasti Pharma Inc develops and commercialises products for cardiovascular diseases such as hypertriglyceridemia.
Should You Buy Acasti Pharma Shares Right Now?
If you were holding ACST shares yesterday you won't have seen any significant change to the value of your holding; sorry! And there would have been no point in buying into this soaring stock's story, or (alternatively) shorting the shares that had obviously gone up too far too fast.
Digging deeper into the news for Acasti Pharma tells us that the significant share price move was simply the result of a "reverse stock split" that gave existing shareholders one new much-higher-priced share for every eight old shares that they already held.
This was a purely technical price move that demonstrates one of the dangers of judging a stock purely by price chart movements. Since nothing has really changed, the case for buying ACST shares (or not) is the same as it was two days ago, yet a 600% increase could still be possible— as I'll now suggest.
Acasti Pharma Price Target
If we zoom out to the five-year price chart, adjusted for the recent reverse stock split, we can see that the share price is currently near a long-time low. On this scale, the high price achieved two years ago (in December 2019) gives investors a sevenfold profit to aim for. Therefore, a 600% increase could be on the cards after all.
Where Can You Buy Stocks Like Acasti Pharma Today?
I have used ACST stock as an example to demonstrate a purely technical price move. Whether you wish to buy this stock or any other, you'll need to sign up with an online broker, so here are two of the best brokers to buy stocks from:
eToro
eToro is one of the world's leading multi-asset trading platforms offering some of the lowest commission and fee rates in the industry. It's social copy trading features make it a great choice for those getting started.
Webull
Financial company driven by technology and offering all-in-one self-directed investment platform that provides excellent user experience.