What's Driving Tesla's Share Price Up-Trend?
Between January and May, Tesla stock retreated from its all-time high price, since when it's been back in an up-trend that deserves some investigation.
Here's the chart that shows how the Tesla share price has trended upwards — as indicated by a series of higher highs and higher lows — since May this year.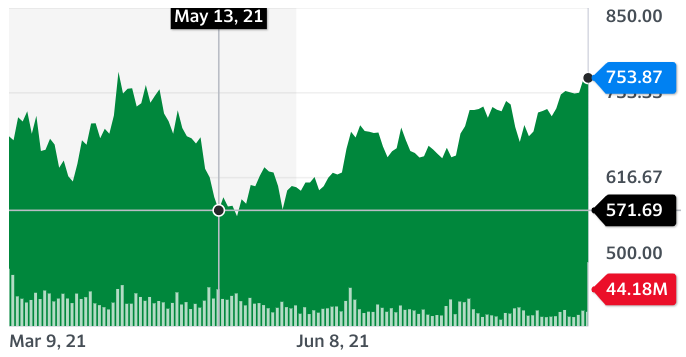 Tesla, Inc Price Chart (source: Yahoo! Finance)
Let's look at some of the recent stories that could be driving this up-trend, after a brief diversion to remind you what Tesla, Inc is.
What Is Tesla, Inc?
Tesla, Inc (NASDAQ: TSLA) is a US disruptive technology company led by infamous and outspoken entrepreneur Elon Musk (who also has interests in space exploration and the promotion of cryptocurrencies such as Bitcoin and Dogecoin). Tesla designs and manufactures electric vehicles (EVs) and the batteries that power them.
Should You Buy Tesla Shares Right Now?
To decide whether or not to buy shares of Tesla stock, you need to know some of the stories that could be driving the current up-trend. Two of them are positive, and one is negative, but the latter doesn't seem to matter.
Last month, Tesla produced a record number of EVs at its Shanghai Gigafactory, a 34% increase on the previous month, and mostly for export.
Also recently, Tesla has obtained a patent to use laser beams as windscreen wipers on its — and presumably licensed manufacturers' — vehicles, which is a disruptive technology if ever we've seen one.
On the downside, the brand new Model Y car is reported to be riddled with problems, yet this news only sent the stock viral.
Regardless of the potential news behind the price moves, technical traders will always remind us that "the trend is your friend". And currently, the trend is up.
Tesla Price Target
From a technical perspective, the most obvious price target is the previous high price of around 880 that was reached in January this year, which would be a more than 16% increase on today's price.
Where Can You Buy Tesla Stock Today?
To buy Tesla stock, you'll need a regulated broker you can trust, so here are two trustworthy brokers to choose from.
eToro
eToro is one of the world's leading multi-asset trading platforms offering some of the lowest commission and fee rates in the industry. It's social copy trading features make it a great choice for those getting started.
Webull
Financial company driven by technology and offering all-in-one self-directed investment platform that provides excellent user experience.