What made AUD bounce today, and what to expect from the RBA's decision?
The Australian dollar (AUD) is the major performer of the day, up about 0.8% against the US dollar. Traders prepare for the Reserve Bank of Australia (RBA)'s interest rate decision.
One of the major events of the week ahead is the RBA's decision. Scheduled for tomorrow, it looms large for AUD traders, especially considering that the currency is one of the most oversold in G10 lately.
Australia's economy is strongly dependent on Chinese economic performance. Because a big part of Australian exports goes to China, the Chinese economic strength or weakness is key for Australian economic performance.
Perhaps this is one of the reasons why the Australian dollar has traded with such a weak tone lately. The Chinese zero-covid policy led to many restrictions being imposed, thus hurting the Australian economy and its currency.
AUD/USD bounces from horizontal support
Last week it was all about the Federal Reserve of the United States' message about the future of the federal funds rate. The central bank made it crystal clear that it will not hesitate to raise the interest rates in the face of rising inflation well beyond its target.
As such, the US dollar gained across the board, with the AUD/USD pair being one of the weakest pairs in the FX world.
Once again, the round 0.70 level offered strong horizontal support for the pair. While the market made a new marginal low, it bounced quickly, setting the stage for a possible double bottom pattern.
However, these are still early days, and a long road lies ahead. It may be that today's bounce is nothing but traders squaring their positions at the end of the trading month to book profits on their shorts.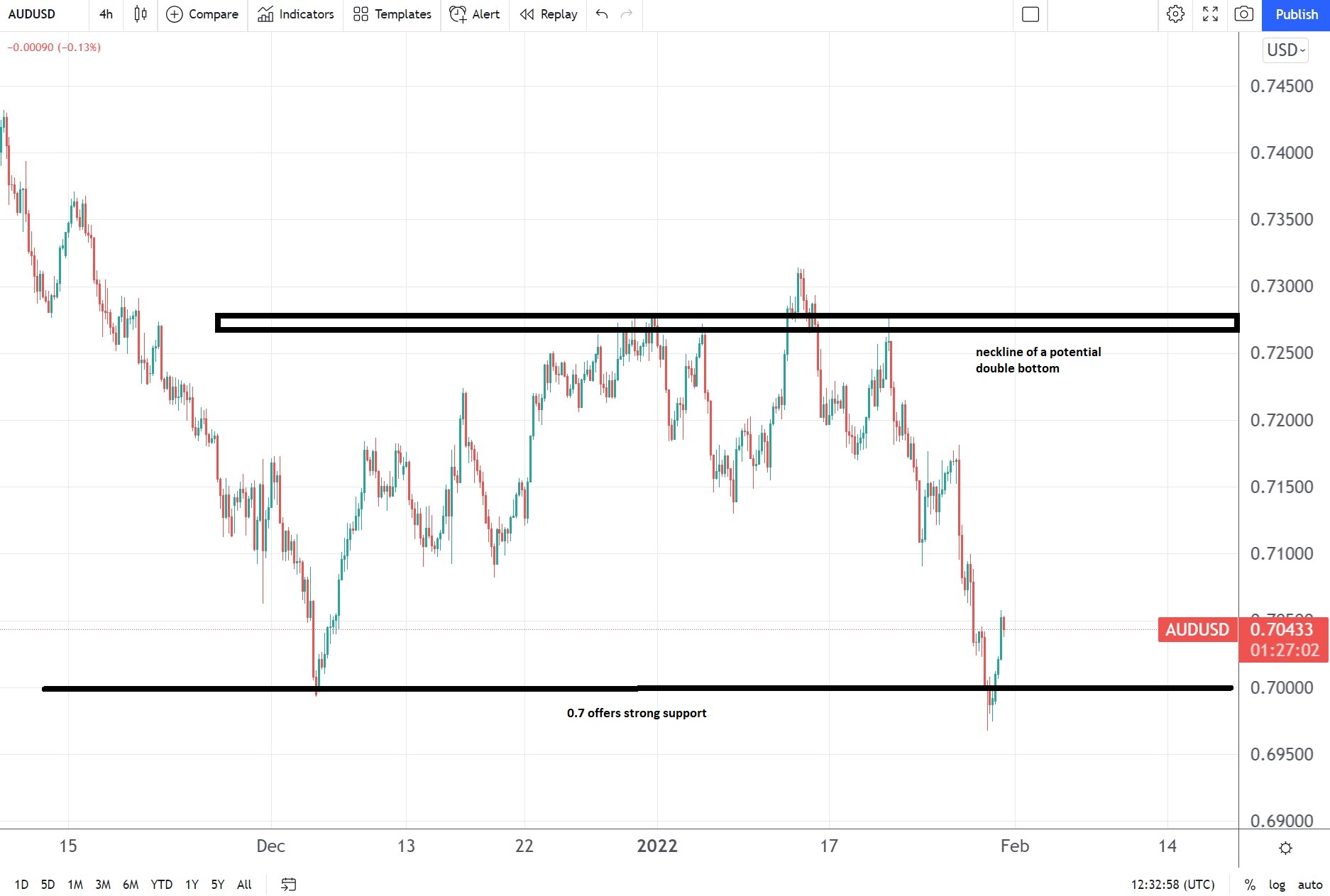 What should traders expect from the RBA this week?
The market participants do not expect the RBA to hike the official cash rate at this week's meeting. The reason for that is inflation.
RBA has a target to keep inflation between a range of 2%-3%. While the headline inflation is 3.5%, the trimmed mean is within the RBA's range, thus not pressuring it to raise the rates.
The key to the Australian dollar traders will be the RBA's message. Also, inflation for the last quarter of 2021 will be released three weeks after this week's statement, which might be key to future monetary policy.