USD/JPY price forecast for April: is a move above 125 in the cards?
USD/JPY consolidates in tight ranges after breaking higher in March. Will it move back above 125, or is it time for a reversal?
USD/JPY's bullish breakout last March made headlines. The pair, which consolidated for a long time below 116, broke out of the tight range with an explosive bullish move.
Nothing stood in the way of this bullish market. Levels that might have seemed important at other times, such as 120, a pivotal level, were crossed without hesitation.
The pair topped at 125, almost one thousand pips higher from the breakout level. Could we see another attempt to 125? According to the price action and fundamental analysis, a new attempt at 125 is more than possible.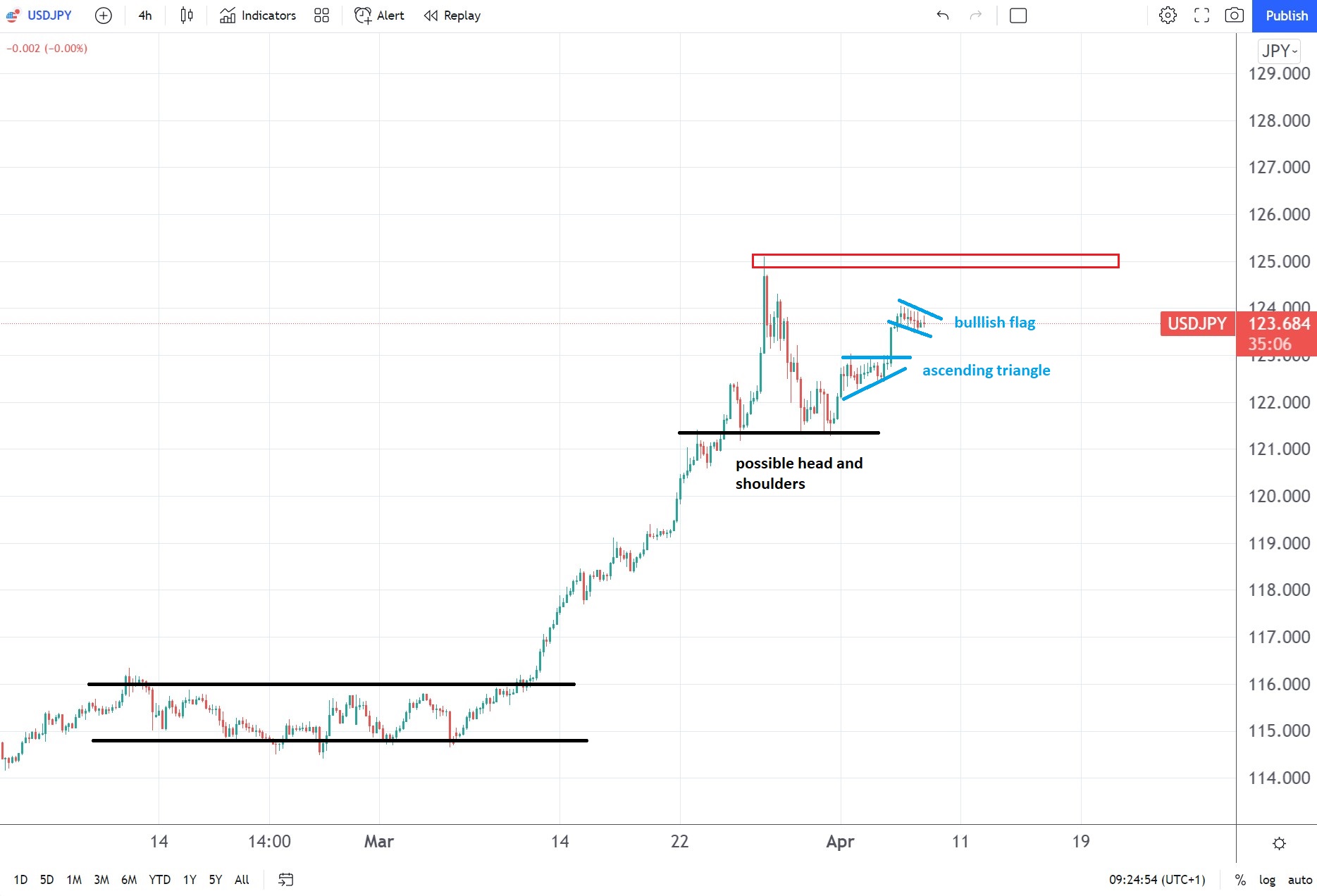 Bears count on a head and shoulder pattern
Bears had hope recently. The market dropped quickly from 125, suggesting a possible head and shoulders pattern might be in place.
However, after what appeared to be the right shoulders' consolidation, the market made another leg higher.
Bulls have two bullish patterns pointing to new highs
Two bullish patterns suggest that we might see another attempt at 125. One is an ascending triangle, already confirmed by the market reaching the measured move.
Another is a bullish flag pattern currently in the makings. A break above the highest point of the flag points to a move above 125.
Bank of Japan remains dovish
Besides the technical analysis favoring another leg higher, the USD/JPY bullish case is also supported by fundamental analysis. The two central banks in the discussion, the Bank of Japan and the Federal Reserve of the United States have different or divergent monetary policies.
On the one hand, the Federal Reserve already lifted the federal funds rate once. Moreover, it strongly hints at new hikes, even 50bp, as suggested by yesterday's hawkish FOMC Minutes.
On the other hand, the Bank of Japan is in no hurry to end its easy monetary policy. Just the opposite.
It recently announced that it stands ready to buy unlimited amounts of government bonds, part of its yield curve control program. As such, the fundamental analysis, via the interest rate differential, favors another leg higher for the USD/JPY.