USD/JPY price forecast amid BOJ defending key bond target
Tapering is not an option for the Bank of Japan. Worried about a potential rise in domestic borrowing costs, the central bank announced that it will buy unlimited amounts of 10-year government bonds.
The Bank of Japan (BOJ) made a surprise announcement last week. It said that it would buy unlimited amounts of 10-year government bonds at 0.25%, a move designed to counter the global rise in yields. In other words, no tapering in sight at the BOJ.
BOJ is worried that rising yields will push up domestic borrowing costs. At the same time, the central bank was not shy to express its worry that the ongoing JPY weakness is a drag on the economy.
Because the Japanese yen acts as a safe-haven currency, its volatility is often unaffected by the central bank's decisions. Instead, it moves mostly based on the risk-on/risk-off sentiment in financial markets.
For instance, last Friday during late trading hours, rumors that a Russian invasion of Ukraine is imminent sent stocks tumbling and the Japanese yen higher. It had nothing to do with the BOJ decisions but with the market risk-off sentiment.
USD/JPY unable to hold above 116 – is a double top in place?
The USD/JPY currency pair rallied during the COVID-19 pandemic. It rose from 102 to 116 with literally no pullbacks.
However, since 2022 started, the market looks tired. It is unable to hold above 116, where it was rejected twice.
Therefore, technical traders might say that a possible double top pattern formed at 116. Even though the neckline is not broken yet, the market's inability to hold above 116 implies a reversal might be imminent.
Moreover, a possible rising wedge is in the makings. If the USD/JPY makes a rising wedge instead of a double top, then another attempt of the 116 is possible, without the market breaking below the double top's neckline.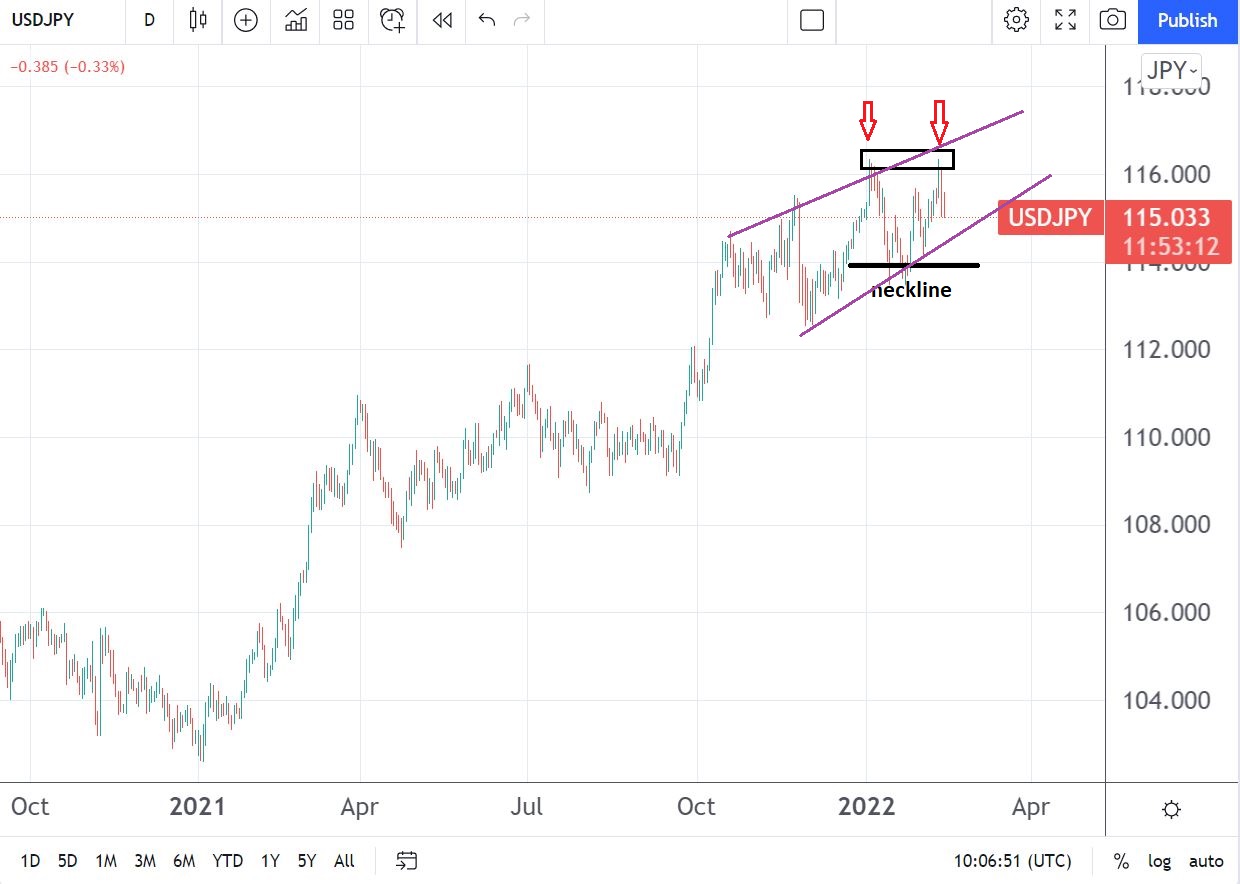 All in all, the market looks tired as it only made marginal new highs lately. Both the double top and the rising wedge patterns are bearish and favor a reversal.
Conservative traders may want the market to close below 114 before going short. A close below the neckline would suggest that a top is in place and another move to 116 is out of the question.