USD/JPY price forecast after jumping 600 pips in two weeks
One of the major short squeezes in the FX market happened in the last two weeks, as the USD/JPY pair jumped from 115 to over 121 in a vertical line.
The Japanese yen pairs have outperformed in the past two weeks due to a massive depreciation of the yen. As such, USD/JPY, the main JPY exchange rate, dropped more than 600 pips over the period, with no pullbacks whatsoever.
Looking back at charts, the JPY has underperformed during the COVID-19 pandemic. As such, it feels like the current bullish breakout is a short-squeeze as the market extends its gains.
So what led to the USD/JPY bullish breakout?
Ascending triangle broke higher
An ascending triangle is a bullish pattern forming during rising trends. The USD/JPY formed an ascending triangle for the last three months, and a bullish breakout happened on the move above 116.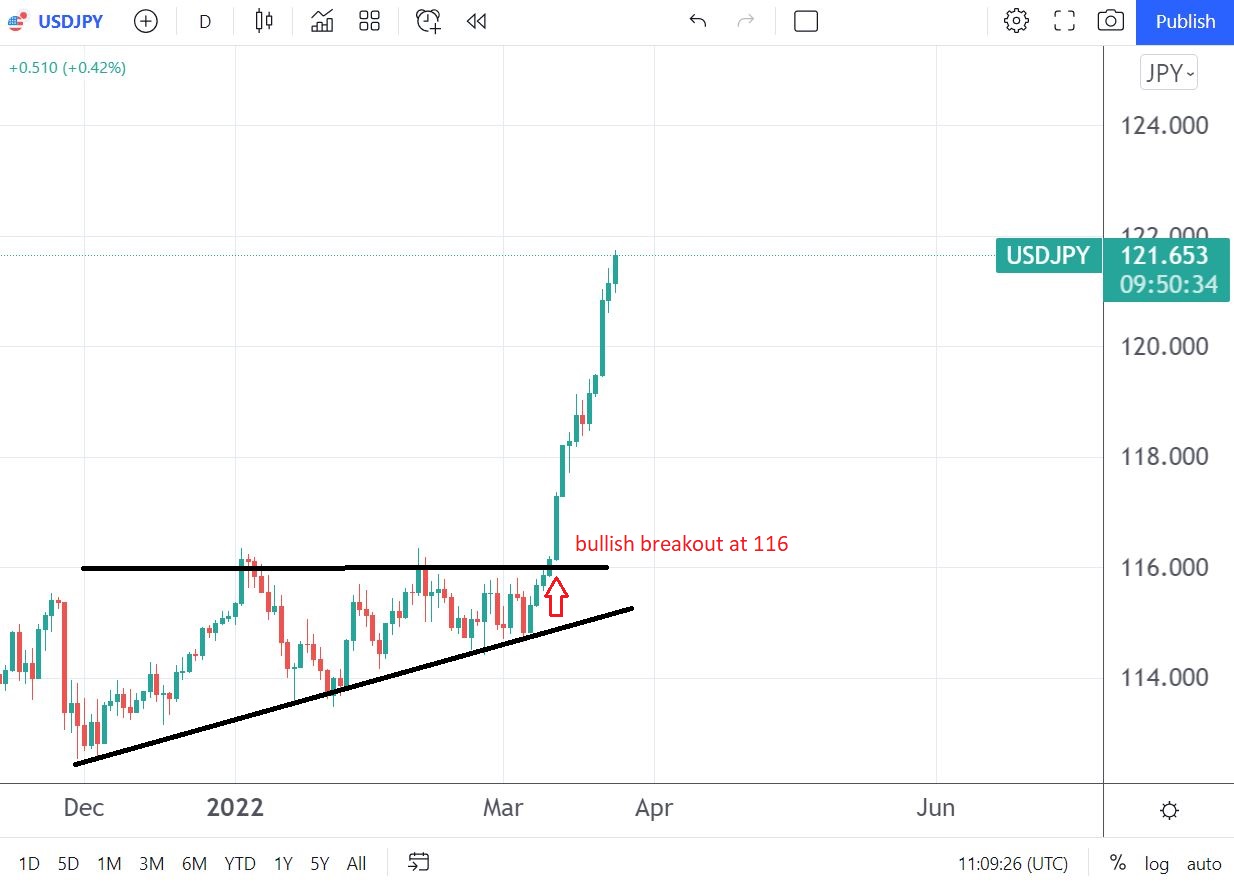 After the bullish breakout from two weeks ago, the market literally rallied without any pullback. Moreover, any correlations that held for a long time in the FX market were broken.
For instance, the USD/JPY advanced while the US stocks recovered from their lows. This is a positive correlation, typical for the FX and equity markets.
But AUD/USD and NZD/USD also moved higher, in an unusual move for such times. Moreover, the Japanese yen is a safe-haven currency, or at least it used to be. It means that during uncertain times such as the Russia-Ukraine conflict, the safe-haven currencies should be in demand. Yet, investors sold and did not buy the JPY.
Bank of Japan is the only major central bank keeping a dovish bias
One of the reasons for the JPY's decline is the Bank of Japan's stance. It remains the only major central bank with a dovish stance, and thus its policies weigh on the currency.
What comes next for the USD/JPY?
The market remains bullish from a technical perspective while above the 116 level. Therefore, investors would likely buy any pullback, and unless the central bank signals a change in the policy, the JPY will remain offered.