USD/CAD signal for December: bulls are in control
An inverse head and shoulders pattern on the USD/CAD daily chart points to more upside, should the price close above the neckline. 1.35 is not out of the question, as pointed by the pattern's measured move.
2021 was so far characterized by an ongoing rise in crude oil prices. The rally followed the bounce from negative territory in 2020 and led to the appreciation of all commodity currencies, such as the Canadian dollar, seen below against the US dollar.
But while the price of oil continued its rally beyond the summer months, the USD/CAD pair was unable to break below 1.20. Moreover, it formed an inverse head and shoulders pattern that points to higher levels, should the market manage to close above the pattern's neckline and make a new higher high.
The USD/CAD pair's recent strength is even more curious if we leave aside the influence of oil. As the Canadian economy is an energy-intensive one, its GDP fluctuates with the price of oil, hence the oil's influence on the Canadian dollar exchange rates.
What is curious here is that the Bank of Canada is well on its way to tightening the monetary policy. Yet, the Canadian dollar is on retreat. Perhaps the rally from April 2020 lows to the summer of 2021 highs was so powerful that traders already priced in the upcoming moves from the Bank of Canada.
How about the technical picture?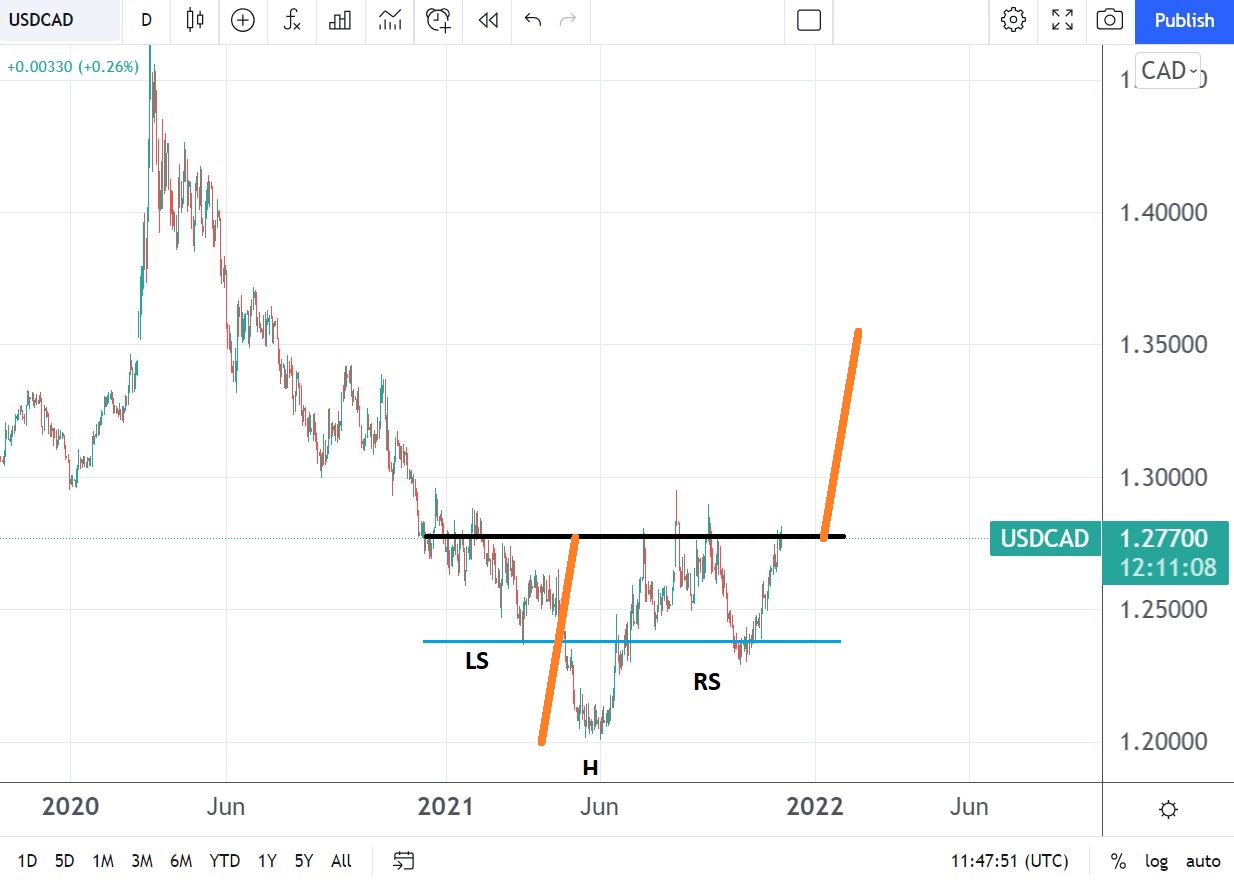 USD/CAD inverse head and shoulders pattern points to more upside in December
A head and shoulders pattern has four elements – two shoulders, one head, and one neckline. By measuring the distance from the head to the neckline and projecting it from there, we can find out the measured move, also known as the minimum distance the market should travel.
In this case, it is bullish because the pattern formed at the end of a bearish trend. The measured move points to 1.35 and above as the current price struggles to break the neckline.
One important aspect here is that the neckline already rejected the price action several times before the current try. Any support or resistance level that is still tested after several rejections will eventually give way, so the bias is bullish. On the flip side, a move below 1.24 would invalidate the inverse head and shoulders pattern.