USD/CAD signal for 2022: 1.30 remains a pivotal level
The USD/CAD currency pair is almost flat for the year. After trading as low as 1.20, it came back to last January's levels. What will drive the price action in 2022?
One of the most interesting markets to trade in 2021 was the USD/CAD. The two currencies that make up this pair were extremely volatile, and, for a while, they even moved in a correlated manner.
In the first place, responsible for this was the US dollar's strength. The greenback rose against its peers in 2021. But the Canadian dollar was equally strong in some periods of the year. Because it is highly dependent on the price of oil, the Canadian dollar may diverge from the overall market sentiment.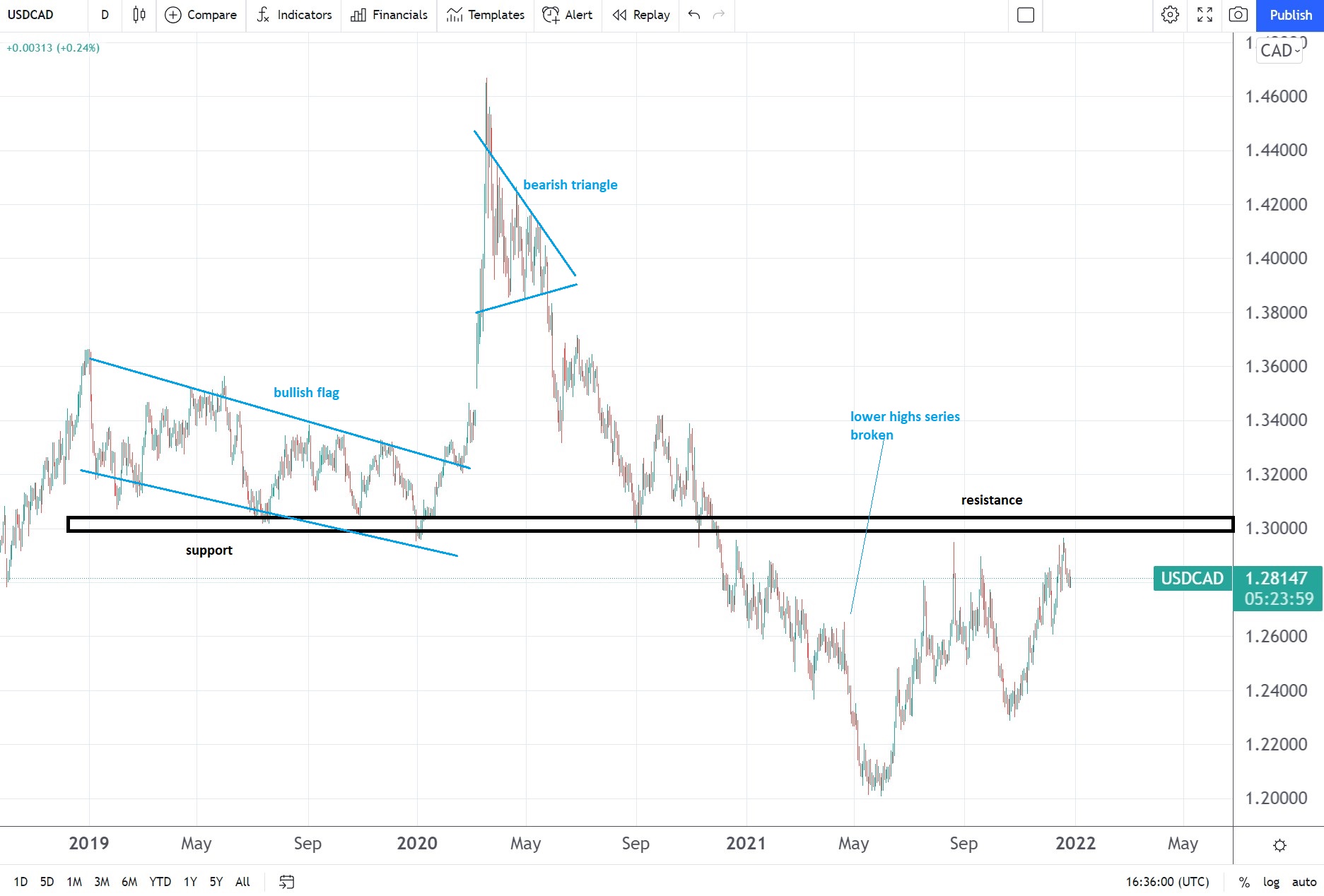 Interpreting the technical picture
To fully understand the significance of the 1.30 level, one needs to look back as far as 2019. It is then that the exchange rate formed a bullish flag pattern that found support above the 1.30 level.
After it broke higher, the price action remained bullish and reached 1.46, on the back of financial markets digesting the impact of the COVID-19 pandemic. But as central banks intervened, and especially the Federal Reserve, the price of oil recovered, and so the Canadian dollar did so too.
On its way lower, the USD/CAD found some support again at the pivotal 1.30 area, but support failed to hold. On a clear break lower, it dropped all the way to 1.2, before bouncing.
Omicron may impact the Canadian GDP
Even though the Canadian population is highly vaccinated, the new variant, Omicron, poses a risk to the Canadian GDP. Despite the fact that employment jumped by 154k in November, productivity fell for the fifth quarter in a row. From this point of view, the Canadian dollar is at risk of declining further; thus the USD/CAD bias is bullish into 2021.
Federal Reserve and the Bank of Canada policies diverge
Finally, the two central banks have divergent monetary policies. The Bank of Canada tapered its asset purchases faster than the Fed in light of inflation in Canada, reaching 4.7%, the highest in 30 years. As a result, markets are now pricing five rate hikes next year, but the risk is that inflation will decline in 2022 and thus, the Bank of Canada to tighten less than the market expects.
As for the Federal Reserve, the opposite happened. Instead, it announced doubling its tapering program, signaling faster tightening. As such, it may hike before the Bank of Canada and deliver more rate hikes in 2022.
Once again, the divergence in the monetary policies supports a move above 1.30. As such, expect the currency pair to trigger some stops on a daily close above the level.