USD/CAD price prediction ahead of the Bank of Canada's decision
Bank of Canada will release its monetary policy decision this upcoming Wednesday. What will the USD/CAD do, considering it bounced from dynamic support last Friday?
2021 turned out to be a consolidation year for the USD/CAD currency pair. While the US dollar gained against most of its peers (e.g., euro, Japanese yen, British pound), it had a hard time doing the same against the Canadian dollar.
One of the reasons for the Canadian dollar's strength was the Bank of Canada's monetary policy. The central bank was one of the first banks to taper its asset purchases in the developed world.
Moreover, it did not hesitate to surprise the market, ignoring the consensus and turning out more hawkish than expected. As such, the USD/CAD went nowhere in 2021, a year when the oil price outperformed – another positive for the Canadian dollar.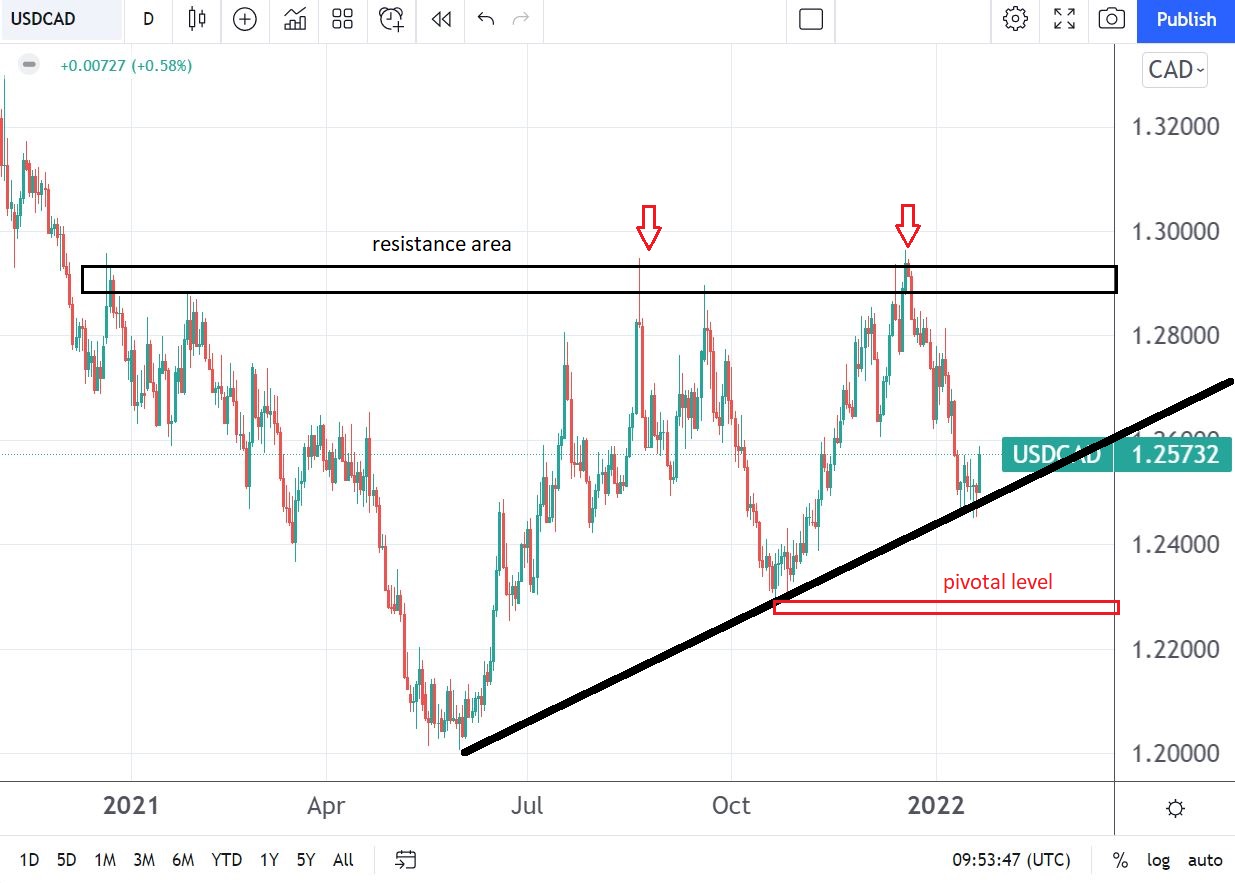 USD/CAD bullish bias persists while above 1.23
The technical picture looks bullish while the market holds above 1.23. This is a pivotal level, and while above, bulls will keep pushing against horizontal resistance seen in the 1.30 area.
Last Friday, the market bounced right from dynamic support. In doing so, the series of higher lows remains intact, and the pressure builds to push against resistance.
A break below 1.23 puts bears in control
On the flip side, a break below 1.23 puts bears in control. Such a move opens the gates to a new attempt at the 1.20 level – a level that offered strong support on the first attempt to break lower.
Will the Bank of Canada deliver a hawkish statement?
Two wild cards may influence the USD/CAD price action and, consequently, may lead to a break of important technical levels. One is the Bank of Canada's decision expected next Wednesday.
The market expects no change in the interest rate level, but this is a central bank used to surprise markets. In fact, many market participants believe that the bank should act earlier to fight rising inflation.
Another is the price of oil. The WTI crude oil price climbed above 2021 highs and threatens to move above $90. As long as the oil price remains bid, the Canadian dollar remains bid too, as higher oil prices bode well for the Canadian GDP.