USD/CAD price forecast for 2022: bulls to remain in control
USD/CAD turned positive on the year, rallying in the last two trading months. Now that it trades close to the pivotal 1.30 level, what should we expect in 2022?
The Canadian dollar trended lower in the last two months, as reflected by a sharply higher USD/CAD exchange rate. The currency pair threatens to break above 1.30 after rallying from May lows in the 1.20 area.
Declining oil prices are a reason for the Canadian dollar's weakness. The two are correlated, and most of the time, the oil price is the key driver of the dollar's strength or weakness.
Leaving oil aside, both the technical and fundamental analyses point to a continuation of the bullish USD/CAD trend in 2022. Therefore, the path of least resistance moving forward is to the upside, with the 1.30 level acting as pivotal.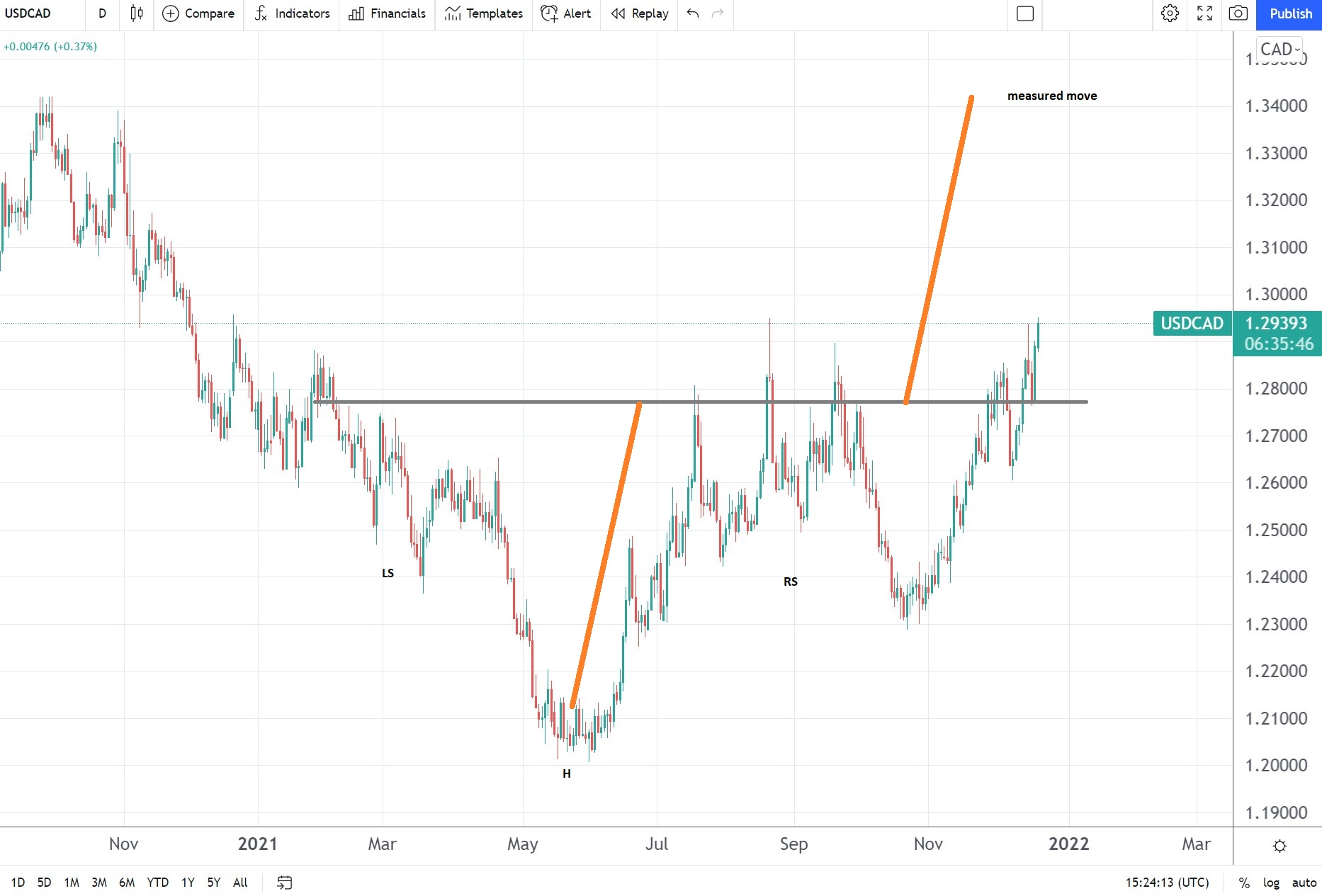 Inverse head and shoulders pattern points to 1.34 and beyond
From a technical analysis perspective, the USD/CAD recently broke above the neckline of an inverse head and shoulders pattern. Moreover, it retested it, in a sign of pattern confirmation.
The measured move of such a reversal pattern equals the distance from the head to the neckline, projected from the neckline. It points to 1.34 and beyond, as it represents only the minimum distance for the price to travel.
Bank of Canada one of the first central banks to remove accommodation
From a fundamental analysis perspective, the central bank's actions in 2021 suggest further declines in the currency. The central bank was one of the first to remove the accommodation required at the start of the COVID-19 pandemic, and its actions kept the CAD relatively strong in the first half of the year.
However, it now benefits from the first mover's advantage, and the market has priced in only two rate hikes in 2022, when compared to more rate hikes from the Federal Reserve.
Annual inflation rate to decline in 2022
The Bank of Canada's mandate is to preserve the value of money by keeping inflation low and stable. It is tasked with targeting inflation at the 2% midpoint of a 1% to 3% inflation control target.
While inflation is above target, the annual inflation rate is forecast to average 3.1% in 2022 and then to decline closer to the central bank's target. Hence, the Bank of Canada will be in no need to tighten the policy unnecessarily.