US S&P 500 Stock Index Set to End the Week At a Record High
Using the S&P index as a proxy for the US markets as a whole, we consider if the gravity-defying stock indices can keep going up, or if what goes up must come down.
Only two days ago, I posed the purely theoretical question: should you be shorting US stocks? For the 48 hours since then, the answer turned out to be definitely not! The US stock indices have risen again to record highs, and — depending on what happens during today's trading session — it could be how they end the week. Let's look at the representative S&P 500 index as a proxy for the unstoppable US markets as a whole.
How & Where to Trade the S&P 500 Index
Whether you think it can only go one way (up!) or you think I was right to previously suggest some caution, you can buy or sell the S&P 500 index via these brokers:
eToro
eToro is one of the world's leading multi-asset trading platforms offering some of the lowest commission and fee rates in the industry. It's social copy trading features make it a great choice for those getting started.
Webull
Financial company driven by technology and offering all-in-one self-directed investment platform that provides excellent user experience.
Register with Webull instantly
What Is the S&P 500 Index?
The Standard and Poor's 500 (S&P 500) stock index tracks 500 of the largest companies listed on United States stock exchanges. Although the alternative Nasdaq index is regarded as the main tech stocks index, technology companies such as Google parent Alphabet, Amazon, and Apple, not to mention Microsoft, account for more than 26% of the S&P 500 index's market capitalisation. The index also counts companies such as Warren Buffett's Berkshire Hathaway among its constituents.
Should I Buy or Sell the S&P 500 Right Now?
The following two charts show the S&P 500 index over two timescales. In the first 5-year chart, you can see how the pandemic-panic March 2020 market meltdown turned out to be just a blip. Over the much longer timescale of the second chart, you can see how it barely even registered during the index's exponential growth since 2008.
For market bulls, this highwire act is scary because the markets could turn down at any time. It's equally scary for short sellers because the markets just keep going up with no end in sight. I don't know which way this or any other index will go next, but I do know that there's a lot of money to be made if you get it (or guess it) right.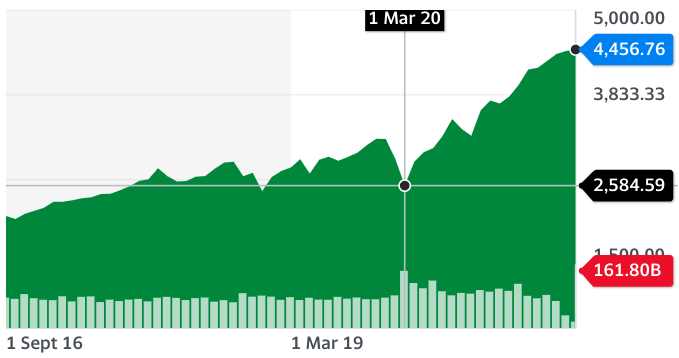 S&P 500 5-Year Chart (source: Yahoo! Finance)
S&P 500 Max Chart (source: Yahoo! Finance)
S&P 500 Price Targets for 2021 and 2022
Last week, strategists at Goldman Sachs raised their S&P 500 price target for 2021 from 4,300 (which has already been surpassed) to 4,700. They raised the 2022 price target from 4,600 to 4,900. So, those are two targets for the bulls to aim for.
Since the same index fell by about 50% at the times of the last two major corrections, the downside price target has to be somewhere around the 2,300 mark that is below the level of the most recent March 2020 low point.