US dollar strengthens across the dashboard ahead of the FOMC Minutes
US dollar trades with a bid tone in early April trading as investors await the FOMC Minutes.
The main event for financial markets participants today is the FOMC Minutes release. Scheduled later in the North American session will highlight what the FOMC members discussed three weeks ago at the last FOMC meeting.
Since the last FOM meeting, a new trading month has started. It brought a stronger dollar across the board, with some exceptions, as commodity currencies remain well bid too.
Nevertheless, the US dollar gained ground against the euro, the British pound, the Swiss franc, and especially against the Japanese yen. The bias is that the trend will continue as the Fed keeps on hinting at a 50bp rate hike in March.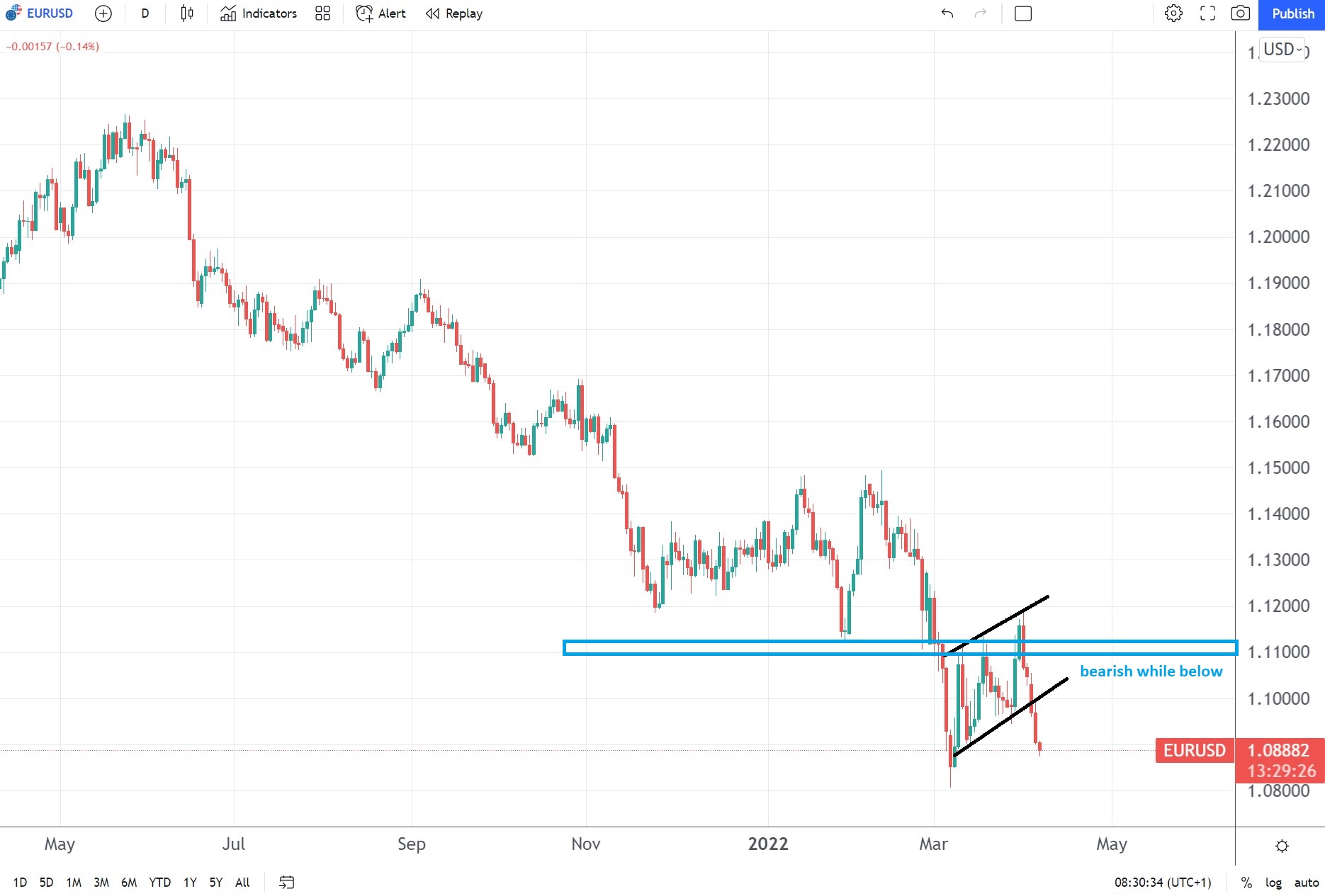 EUR/USD remains bearish while below 1.11
EUR/USD is the most representative currency pair and often acts as a bellwether regarding the euro's or dollar's strength or weakness. The technical picture looks bearish while the market hovers below the pivotal 1.11 area.
Since March, the EUR/USD pair consolidated with a slightly bullish bias in what appears to be a bearish flag pattern. If the recent move lower that started in April continues, traders will push for the measured move, meaning that 1.03 should not be ruled out in the near future.
Brainard's speech hints at 50bp rate hike in early May
One of the most awaited speeches this week was that of FOMC member Brainard. Yesterday, she began with a Volcker quote, saying that "inflation has been, and I think continues to be, the number one problem."
Paul Volcker, the Fed's Chair during the inflationary 1970s, raised the rates by 150bp prior to that interview. It should be clear that Brainard's choice of starting its speech yesterday is a clear hint that the Fed stands ready to do more on the rate hikes front.
In other words, a 50bp rate hike in May is more than likely, which would push the US dollar even higher. Today's minutes may suggest that we are closer to such a rate hike than many of the market participants expect. If that is the case, expect the US dollar strength to continue.