US dollar gets a boost on stronger than expected jobs data
Friday's NFP report gave the Fed the green light to hike the federal funds rate. The US dollar got boosted but did not gain against all its peers.
After Russia invaded Ukraine, economic data did not move financial markets the way it did before. As such, yesterday's NFP report did little in changing the markets' price action.
However, it did pave the road for the Fed to hike the federal funds rate at their next March meeting. Almost all metrics of this report were positive, and the distance from the conflict made investors buy the dollar against its peers.
Yet, the dollar did not gain ground against all its peers. For instance, the currencies "down under", the Australian and the New Zealand dollar, appreciated against the greenback. The explanation here is that these two currencies are closely correlated to the US stock market. Because the equity markets are relatively stable despite the conflict in Eastern Europe and the prospect of the Fed's hiking the rates, investors favor the two currencies.
But the strong NFP report did trigger a move higher on the greenback against other currencies. So what did the NFP report show?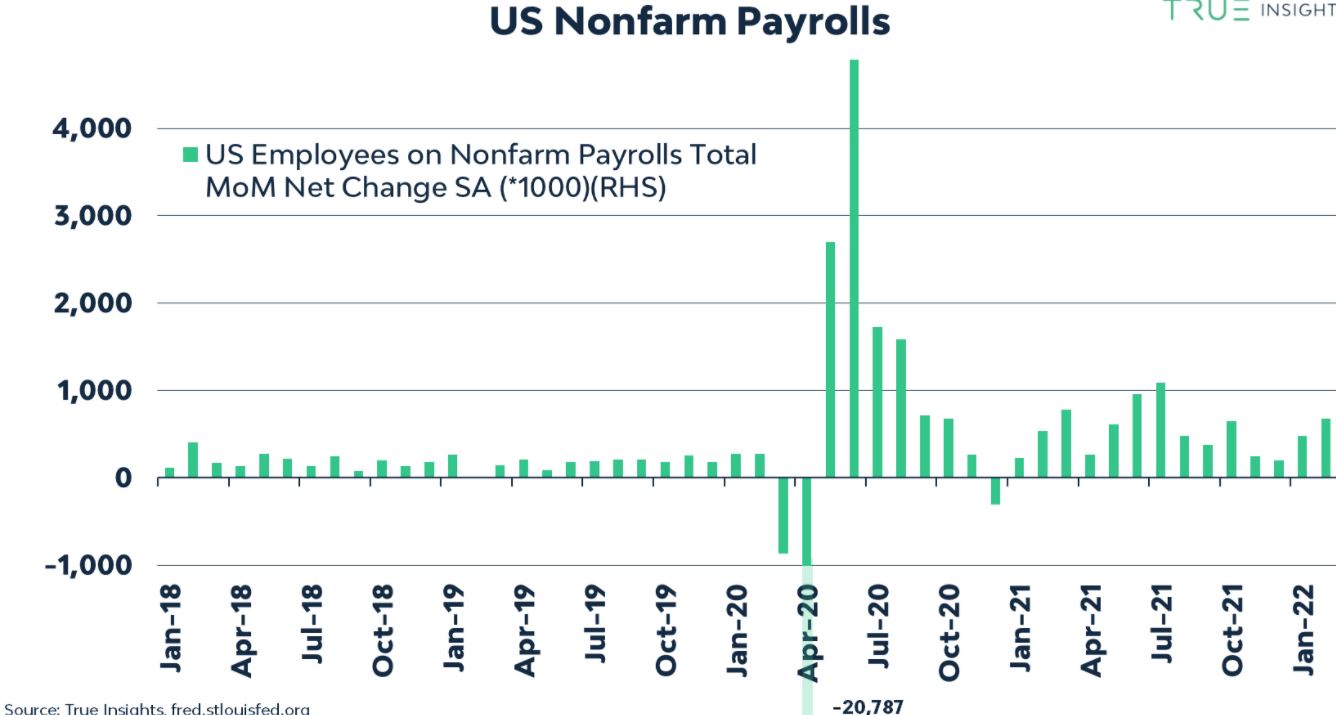 Bullish NFP report sends the dollar higher
All aspects of yesterday's report are bullish for the dollar. Because the Fed has a dual mandate, one of price stability and one of jobs creation, yesterday's report supports a rate hike from the Fed at its March meeting.
Several aspects of the jobs report deserve to be mentioned.
First, the US economy created more jobs in February than the market expected – 678k vs. 407k. Second, revisions of past data showed another 97k jobs were added in the prior months.
Third, the unemployment rate dropped to 3.8%. Fourth, the labor participation rate reached 62.3%, a new post-COVID high. Finally, wages did not grow, coming out unchanged, thus showing inflation would not rise as feared in the months ahead.
On the flip side, the jobs shortfall vs. pre-COVID levels is 2.1 million. Therefore, there is still room for improvement.
The dollar reacted by gaining against European currencies, such as the euro and the British pound, and losing against the Australian and New Zealand dollar, as well as against the Japanese yen.
Nevertheless, there is nothing in the NFP report to refrain the Fed from hiking the federal funds rate in March. As such, the US dollar may yet make another leg higher.