US CPI is due today: here are 3 reasons to sell the US dollar
Inflation in the United States is due today, and the market expects a 0.8% increase MoM. What will the annual CPI look like, and what will the US dollar do?
Today is the most important trading day of the week for US dollar traders and many other market participants. The US CPI or inflation data for February is scheduled for release earlier in the US session, and the consensus is that the prices of goods and services rose another 0.8% in the previous month.
However, the risk that inflation is higher than that is tilted to the upside. Inflation was supposed to peak in February, but the conflict in Ukraine led to an astonishing rise in energy prices. Hence, if February data exceeds expectations, expect March data to show a further rise.
The US CPI estimates for February are in a tight range, from 7.7% as seen by Societe Generale to 8.1% as seen by Pictet. All other estimates are in between, but the risk is that inflation comes out towards the higher end of the range or even above.
So are there any reasons to sell the US dollar?
Inflation is in a rising trend
To start with, inflation in the US is on a rising path. In January, it reached 7.5%, the highest level in four decades.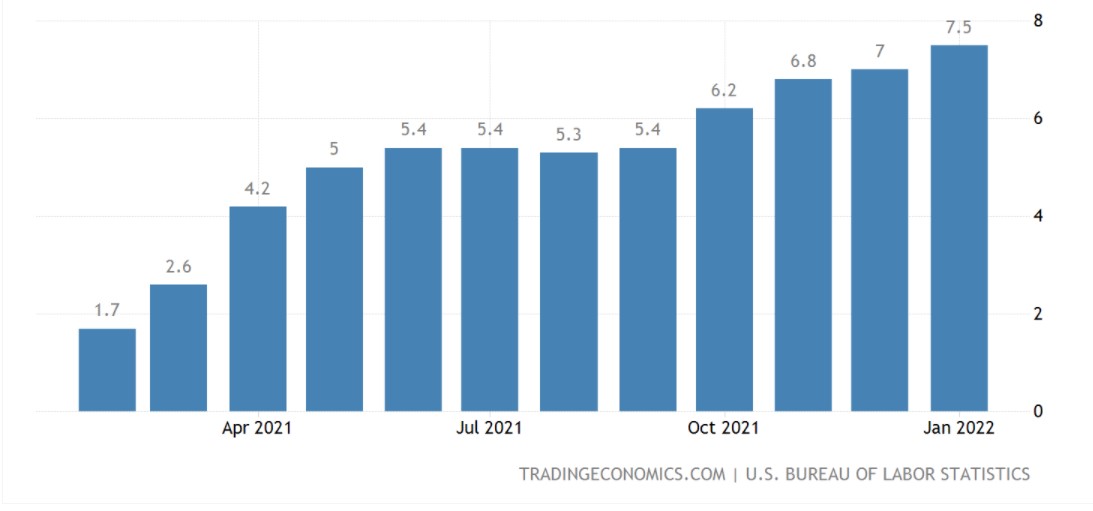 US dollar's strength lacks momentum
Second, the US dollar's strength lacks momentum, at least lately, judging by the price action. For example, the USD/JPY has difficulty holding above 116, the AUD/USD is well above its lows, and even the EUR/USD pair rallied.
The greenback is viewed as a safe-haven currency and much of its gains these days are attributed to the conflict in Ukraine. However, it wasn't able to hold onto those gains, thus showing a lack of momentum.
Oil prices surged
Finally, the relentless rise in oil prices further fuels inflation expectations. The WTI crude oil price traded above $120/barrel recently, and thus more upside in the prices of goods and services is expected.