UK Inhaler Maker Vectura Backs Bid from Philip Morris International
Take a deep breath! Health groups aren't happy about the potential takeover of inhaled medicines maker Vectura (LSE:VEC) by Philip Morris International (NYSE:PM)
Bid battles appear to be plentiful these days, and I've already written about the bid battles for UK companies Meggitt and Morrisons.
Today I want to talk about the bid battle for Vectura (LSE:VEC), a UK company that designs, develops, and supplies nebulisers and metered dose inhalers. After an earlier offer of 155p-per-share from US private equity firm Carlyle, tobacco giant Philip Morris International (NYSE:PM) has stepped in with a 165p-per-share offer that the Vectura board has backed.
You inhale Vectura products to improve your health, whereas Philip Morris products (which include Marlboro cigarettes) harm your health. Although there are some obvious synergies, it's no surprise that health groups are up in arms.
How & Where to Trade Philip Morris and Vectura
Whichever way you think the proposed marriage of the inhaled medicines maker and the tobacco giant will send their respective shares, you can trade them via these brokers:
eToro
eToro is one of the world's leading multi-asset trading platforms offering some of the lowest commission and fee rates in the industry. It's social copy trading features make it a great choice for those getting started.
Webull
Financial company driven by technology and offering all-in-one self-directed investment platform that provides excellent user experience.
Register with Webull instantly
Who Are Philip Morris and Vectura?
Anyone who smokes will be more familiar with Philip Morris cigarette brands — such as Marlboro — than with the company itself. PMI is a USD $155bn company that was incorporated in New York in 1987.
Vectura is a minnow in comparison: a GBP £1bn capitalisation UK company that was incorporated in 1997.
Should I Buy PM or VEC Shares Right Now?
It's always interesting to see how potential suitor companies' share prices move when they're engaged in bid battles, according to how good investors think the deal is for each party.
The six-month Vectura chart shows how its stock price shot up in May on the first approach from Carlyle and how it now sits just below the price offered by Philip Morris. The 5-day Philip Morris chart shows how its share price has hardly moved because such a big company can probably take such a takeover in its stride. Put simply, Vectura shares are where the action is if you want to bet on volatility in either direction.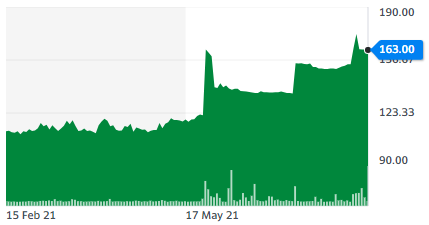 Vectura six-month price chart (source: Yahoo! Finance)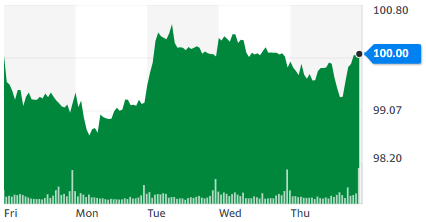 Philip Morris 5-day price chart (source: Yahoo! Finance)
Philip Morris and Vectura Price Targets for 2021
As already hinted, Philip Morris shares probably have nowhere to go. Vectura shares could go even higher than the 165p-per-share offer. Then again, they could go down — far and fast — if concerned health groups kick up enough fuss.