Two Ways to Trade the Shiba Inu Cryptocurrency
The Shiba Inu (SHIB) cryptocurrency coin recently became available for trading on eToro. I took a look at the chart and found two possibilities for technically trading this coin's price action.
I've already written about the fact that I'm not really a cryptocurrency trader, but something about the newly tradable Shuba Inu coin has caught my eye. I can think of two ways to trade this coin's fluctuating price, or at least to tell you how you could do so based on the price chart action.
What Is Shiba Inu (SHIB)?
The SHIB cryptocurrency recently became available for trading on the eToro platform, but what is it?
You may already have heard of the Dogecoin (DOGE) cryptocurrency that Elon Musk has been known to tweet about; the one that started as a joke and features the Shiba Inu dog breed on its face. SHIB is a newer coin that has become known as the "Dogecoin killer".
Should You Trade SHIB Right Now?
Whether or not you choose to trade this coin's price action is up to you, but I can tell you how I would (and might) do so. First, take a look at the price chart: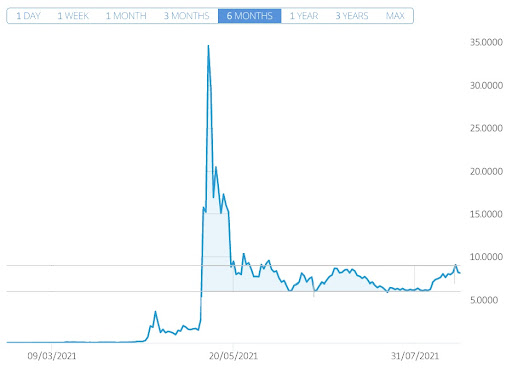 Based on this chart, I see two trading opportunities:
Swing trading by buying long at the support level around 6000 and then selling (or even better, selling short) at the resistance level around 8900. Rinse, and repeat until the price breaks out of the trading range.

Position trading by buying at the 6000 support level and holding all the way up to (hopefully) the previous highest point at about 34,500.
SHIB Price Targets
As just suggested, the price targets for the swing trade — or series of swing trades — correspond with the identified support and resistance levels. The price target for the position trade has to be the previous highest point at almost 35,000, but the whole point of this trade would be to keep holding until the price falls back to trigger a trailing stop order.
Where Can You Trade SHIB Today?
The SHIB coin was recently made available for trading on the eToro platform, and other brokers are sure to allow Shiba Inu trading in time. Here are two brokers you can try:
eToro
eToro is one of the world's leading multi-asset trading platforms offering some of the lowest commission and fee rates in the industry. It's social copy trading features make it a great choice for those getting started.
Webull
Financial company driven by technology and offering all-in-one self-directed investment platform that provides excellent user experience.