Trustpilot Stock Is Up 70% Since Its IPO; Can Shares Go Higher?
Some stocks' share prices tank — at least, initially — as soon as they go public, but not so Trustpilot Group (TRST) whose shares are up 70% since its initial public offering.
Not all initial public offerings get off to a good start, and Deliveroo's IPO was described as one of the worst IPOs in history when its share fell by 30% on the first day of trading. This is not true of Trustpilot stock that has enjoyed a sustained uptrend — now up 70% — since shares went on sale.
Read on to find out if Trustpilot's uptrend can be trusted to continue.
What Is Trustpilot plc?
Trustpilot is the review website we turn to when we want to know if another website, company, or service can be trusted. Founded in 2007, Trustpilot Group plc is headquartered in Denmark and operates in the UK, North America, and around the world.
Should You Buy Trustpilot Shares Right Now?
It's clear from the price chart that Trustpilot shares have been in an uptrend since its IPO, as evidenced by the series of higher highs and higher lows. We all know that "the trend is your friend" (so you could yet buy into this stock's story) but "only until it ends" (so it's a good idea to protect the downside with a stop order).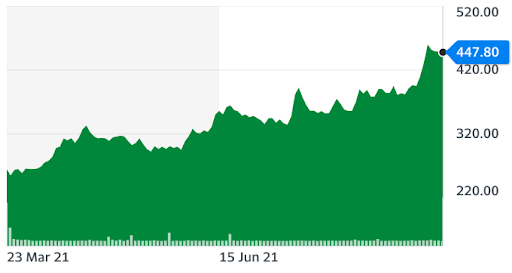 Trustpilot price chart (source: Yahoo! Finance)
Trustpilot Price Targets
Investor interest in Trustpilot shares suggests that this stock was underpriced at the time of its IPO. The share price has already exceeded the upper bound of analysts' price targets that were sitting at between 350p-per-share and 430p-per-share not so long ago. Since we're now into uncharted territory, we just have to trust Truspilot's uptrend to continue.
Where Can You Buy Trustpilot Today?
To buy shares of stocks such as Trustpilot you'll need a broker. Here are the best brokers we've found:
eToro
eToro is one of the world's leading multi-asset trading platforms offering some of the lowest commission and fee rates in the industry. It's social copy trading features make it a great choice for those getting started.
Webull
Financial company driven by technology and offering all-in-one self-directed investment platform that provides excellent user experience.