Top 3 reasons to sell oil in 2022
Oil's rally faded into the end of the trading year, and the WTI crude oil price is far from its yearly highs. So what could trigger further weakness?
The price of oil rallied in 2021. It opened the year around $48 and rallied all the way to $84 before giving up some gains.
On its way up, the oil price has triggered rising inflation around the globe. After it fell below zero in 2020 on weak demand caused by the COVID-19 pandemic, oil bounced strongly, and so did inflation. Nowadays, inflation sits at decade highs in developed economies, and central banks are forced to tighten the monetary policy faster than they wanted to.
Oil's technical picture looks bullish while the price holds above the key $60 area. A drop below would trigger more weakness in the medium and long term, but what could cause such a move? Here are three possible reasons for the oil price to tank in 2022 – geopolitics, increased supply, and the transition to alternative sources.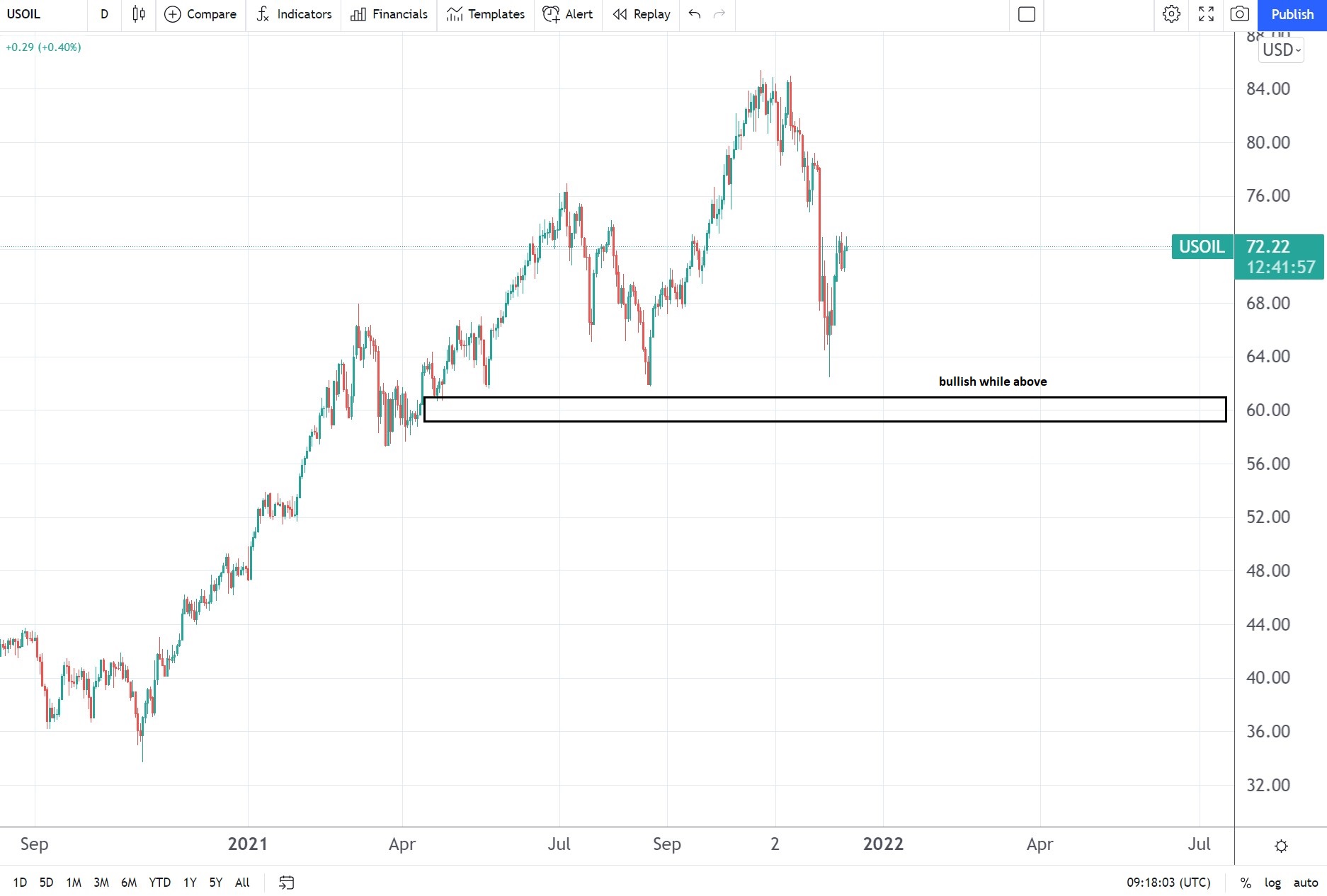 Geopolitics
One of the bigger threats to oil price in 2022 comes from the geopolitical arena. More precisely, the new nuclear deal with Iran. If reached, and this is a big if, the deal will bring 1.3 million barrels of oil per day to the market, and that alone is enough to shift the supply/demand balance.
Increased supply
Speaking of supply, OPEC and OPEC+ countries may be inclined to increase the supply due to the higher oil prices. After all, these countries depend on their oil revenues, and higher oil prices are tempting and may lead to more oil coming to the market.
Moreover, global oil demand is expected to reach 100 million barrels/day. While a big number, it is still 1 million barrels/day short of pre-pandemic levels. Finally, the demand may also be impacted by the ongoing COVID-19 pandemic.
Energy transition
The transition towards alternative sources of energy has started. Countries in the developed world are making impressive progress, which may ultimately impact the price of oil. Annual investments in alternative energy are currently at $1 trillion and rising, while projected investments by public energy companies are only $500 billion for the period 2022-2030.