Top 3 reasons to buy Walgreens Boots Alliance stocks after Q1 FY2022 earnings
Walgreens Boots Alliance (NASDAQ:WBA) reported its Q1 FY2022 earnings yesterday. Adjusted EPS increased by more than 50%, and the company has an attractive valuation.
Walgreens Boots Alliance is an American corporation operating in the drug retail industry. It manages thousands of retail stores and optical practices in the United States and internationally, and it was founded in 1901.
The company reported its Q1 FY2022 yesterday, and it delivered better than expected results. EPS and revenues were up more than the estimates on the quarter, and the free cash flow position reached $645 million. COVID-19 vaccinations and testing have driven sales up, and the company stated that the top line reflects strong growth in its core business. Furthermore, the company runs a transformational cost management program on track to deliver $3.3 billion of annual cost savings by FY2024.
Here are three reasons to buy Walgreens Boots Alliance stocks after the quarterly earnings release: adjusted EPS are up 53%, valuation looks attractive, and a strong dividend policy.
Adjusted EPS up 53%
One of the first things that caught the eye regarding the Q1 FY2022 financial reports is the adjusted EPS performance. It exceeded everyone's expectations, up +53.1% above the prior year. Moreover, the company has raised the adjusted EPS growth guidance to low-single-digit growth versus flat previously. Net earnings, operating income, and sales were up too.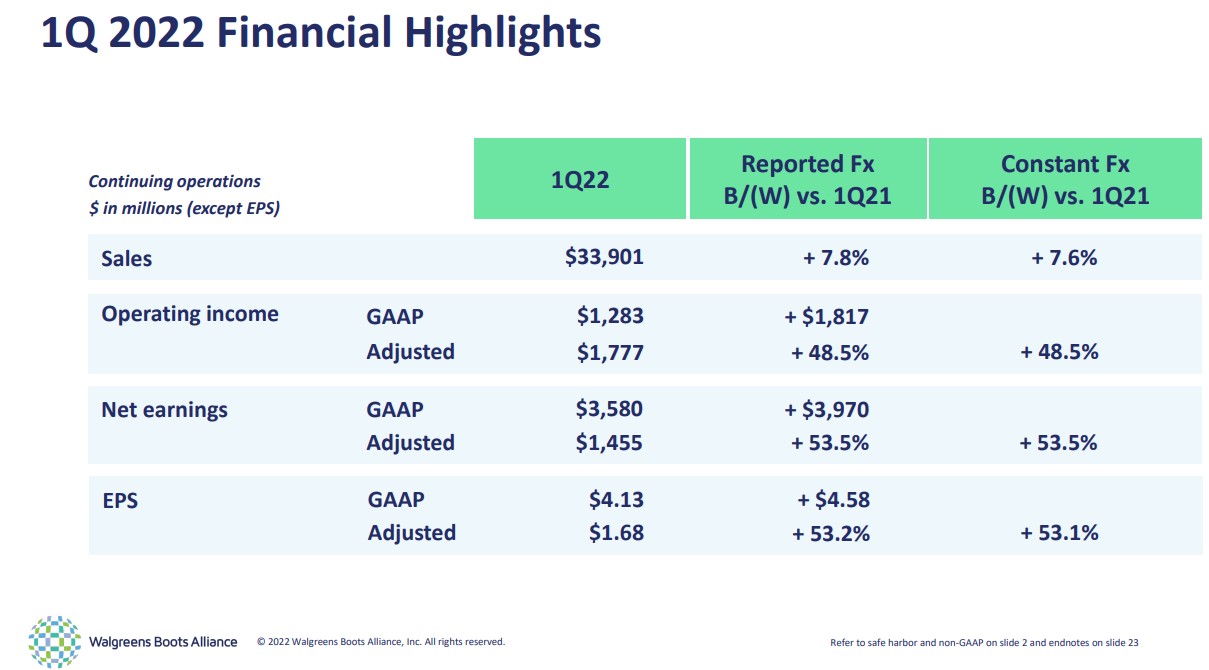 Attractive valuation
Walgreens Boots Alliance's stock price is up +21.87% in the last twelve months and the valuation metrics look attractive. For instance, the P/E Non-GAAP (TTM) ratio is 9.55 vs. 19.84 sector median – lower by -51.86%. The company has a market capitalization of $46.65 billion and an enterprise value of $80.62 billion at the current market price.
Strong dividend policy
Walgreens Boots Alliance pays a quarterly dividend, and the forward dividend yield is 3.64%. Moreover, the payout ratio is 38.28%, and the five-year dividend growth rate is 5.15%.
The four-year average yield is 3.38%, and the company increased the dividend in the past six years.