Top 3 reasons to buy Walgreens Boots Alliance stock ahead of earnings
On December 6, 2022, Walgreens Boots Alliance reports its Q1 FY2022 earnings at 07:30 AM CT. Investors expect EPS of $1.32 on the quarter, and the annual revenue estimate for the fiscal period ending August 2022 is $131.32 billion.
Walgreens Boots Alliance is a global leader in retail pharmacy. Based in Deerfield, Illinois, it was founded in 1901, and it employs close to 260k people.
The company pays a quarterly dividend, and the forward dividend yield is 3.78%. Also, the dividend payout ratio is 38.54%, and the five-year dividend growth rate is 5.25%.
What does the technical picture show?
Besides the hefty dividend received, shareholders also benefited from the stock price's appreciation. The stock is up +26.58% YTD, and the technical picture looks bullish.
Starting with 2019, the stock made an inverse head and shoulders pattern, and the price builds energy to break above the neckline. The consolidation in the right shoulder resembles a bullish flag, and a close above the neckline should trigger more upside as technical traders will push for the measured move seen above $72.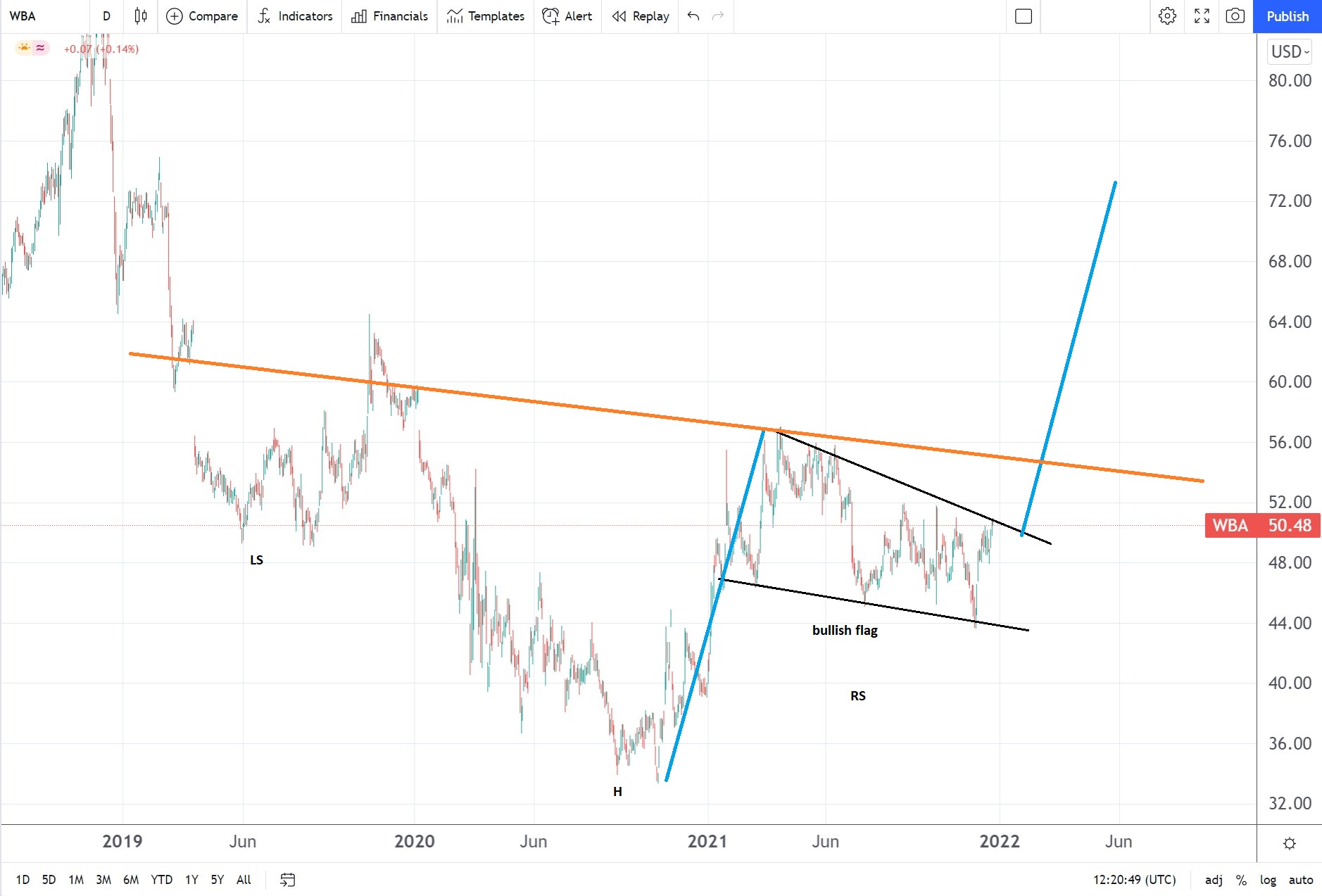 What do analysts say about Walgreen Boots Alliance's stock price?
Analysts are cautious about the stock price. Out of the 27 analysts covering the company, only one has issued a buy rating, while 24 have neutral ones and 2 have sell ratings.
Most recently, the stock price was downgraded to sell at Morgan Stanley with a price target of $49, while UBS maintained its buy rating with a price target of $52.
How about valuation?
Walgreen Boots Alliance's stock price is attractive from a P/E ratio perspective. Its P/E non-GAAP (TTM) ratio is much lower than the sector median – 10.04 vs. 20.19. Also, the Price/Book ratio for the last twelve months is lower than the sector median by about -40%.
One thing that worries investors is the company's low gross profit margin vs. the sector median – only 21.18% vs. 34.56% sector median. At the current stock price, the company's market capitalization is $43.61 billion, and the enterprise value is $77.57 billion.