Top 3 reasons to buy UK equities in 2022
Since the Brexit referendum, UK equities have become cheaper and cheaper. They now trade at a discount bigger than 40%, something not seen in more than 30 years.
Brexit may have ended in 2020, but the political and economic risks still linger. This is one of the reasons, and perhaps the most important one, why the UK equity market trades at depressed valuations not seen in the last 30 years.
It all started with the Brexit referendum. Investors quickly took their funds out of the stock market and left searching for higher yields as uncertainty reigned.
Here are three reasons to consider buying UK equities in 2022: a 40% valuation discount to global peers, a pick-up in the M&A activity, and the Bank of England's monetary policy.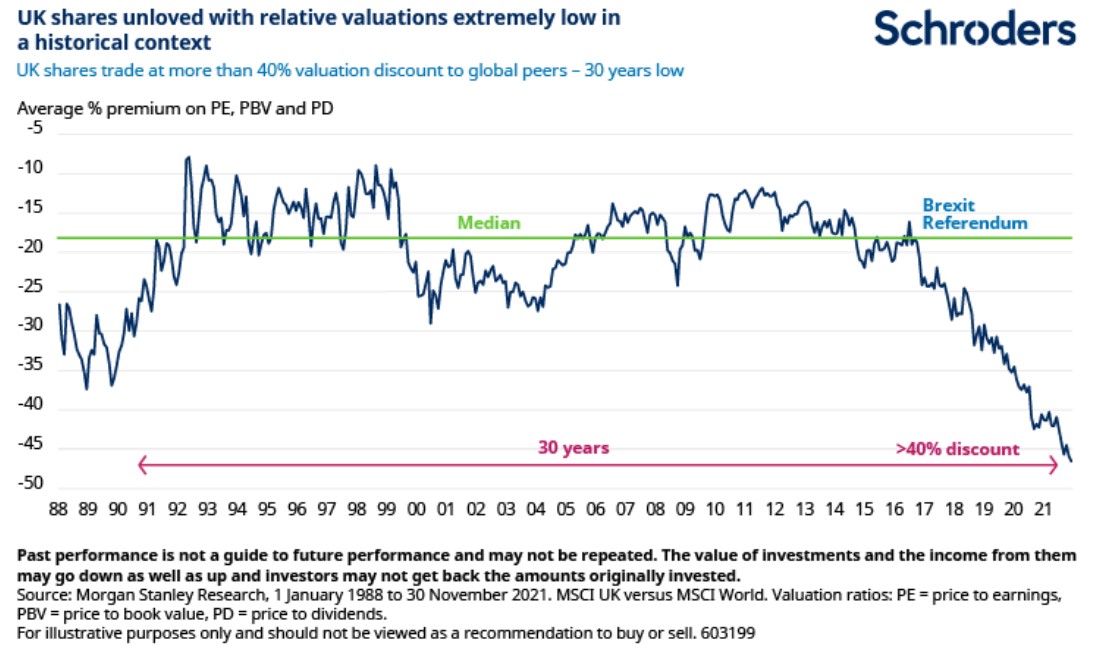 40% valuation discount to global peers
Since the Brexit referendum, the UK shares' valuation dropped significantly. If we put the drop in historical context, we see that they are cheaper than in the late 90s. Is this only because of Brexit?
Another argument for investors not bidding for the UK stock market was that the companies represent the old economy, with the tech sector being underrepresented. However, the reality shows plenty of companies in areas such as fintech and life sciences and cyber security or gaming.
M&A activity picked up
The valuation discount could not be ignored by investors, as suggested by the increased M&A activity. A weak sterling coupled with cheap UK shares were two good incentives for the M&A activity to increase.
2021's first semester brought the largest increase in take-private deals in over a decade, meaning that investors rushed to grab cheap public companies and take them private.
Bank of England more accommodative than the Fed
Finally, the Bank of England's monetary policy also plays a critical role in the stock market. The central bank is on course to raise the interest rate, following in the Fed's footsteps. However, it usually sits one step behind. Effectively, it means that the Bank of England would tighten the monetary policy slower than the Fed to the stock market's benefit. Should the new COVID-19 variant become a concern and change the monetary policy course, renewed easing is also bullish for UK stocks.