Top 3 macro themes to watch in 2022
The COVID-19 pandemic has shifted consumer behavior in a way never seen in recent history. Governments and central banks reacted swiftly, but now support is withdrawn. So what macro themes to watch in 2022?
As the year comes close to its end, investors position their portfolios for what lies ahead. The pandemic has changed consumer behavior and led to higher prices caused by supply bottlenecks.
Living the pandemic aside, here are some major themes to watch in 2022: the US consumer as it is key to global growth and inflation outlook, green efforts to boost global growth, and the monetary policy divergence between the two major central banks in the world – the Fed and the ECB.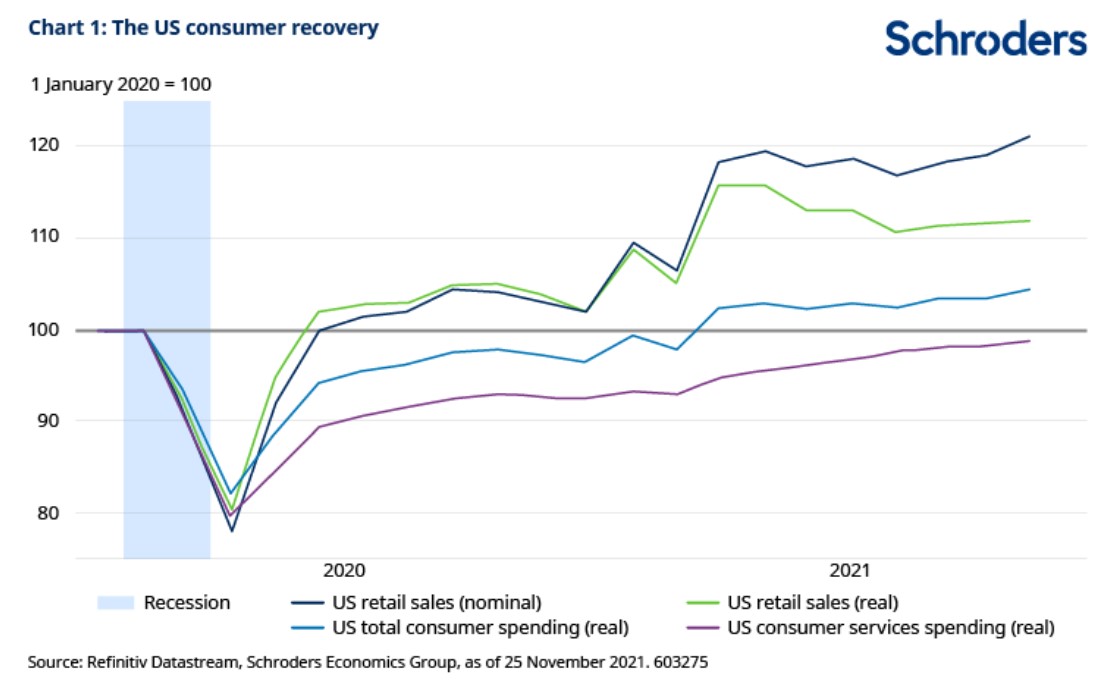 US consumer key to global growth
The United States is the largest economy in the world, so the health of the US consumer is vital for global growth. The US consumer spending recovered from the pandemic slump, but that may just not be enough.
Indeed, nominal retail sales are up some 20% versus pre-pandemic levels. Moreover, the high goods demand created supply chain disruptions and, as a result, inflation. Thus, the US consumer spending is linked to the rise in the prices of goods and services.
One thing, though, needs to change. A close look at the chart above shows that US consumer services spending is still below pre-pandemic levels. However, because the US economy is service-based, the services sector has a stronger impact on the country's GDP. Therefore, a key theme to watch next year is how US consumer services perform, as they have the power to boost the GDP, and, thus, global growth.
Green efforts to boost growth
The fight against climate change is already having an impact on the economy. The massive effort needed to get to net zero is becoming tangible, as suggested by the Next Generation EU fund, for example. Almost one third of these funds are dedicated to the green transition.
While some may counterargue that this is only on paper, the reality differs. Yesterday, the European Commission announced that it had already made its first disbursement of EUR10 billion to Spain, under the Recovery and Resilience Facility.
In other words, money has started pouring, and it is expected to affect the GDP growth in key Euro area countries between 2% and 6%.
Fed/ECB monetary policies divergences
Finally, and this interests currency traders, the Fed, and the ECB have announced diverged monetary policies. On the one hand, the Fed plans to deliver at least two hikes in 2022, while the ECB vowed to keep the key interest rate as it is. The divergence is enough to create large flows and impact financial markets.