Top 3 macro thesis to watch in 2022
Key macro market drivers that may impact financial markets next year: inflation, European election uncertainty, and monetary policy divergences.
The end of the year holidays season brought financial markets' activity to a halt, but traders and investors already plan for the next year. Here are the top three macro themes to watch in 2022: inflation, European election uncertainty, and monetary policy divergences.
Inflation
Inflation headlines predominated in 2021, but inflation may be close to a peak in several jurisdictions. As CPI inflation reached a 40-year high in the United States, it was driven mainly by motor fuel and new and used vehicles. However, the owner's equivalent rent of residences ticked higher too, which may be the key to future inflation trends.
Because the United States is the largest economy in the world, it exports inflation to its trading partners. Therefore, traders will monitor headline inflation as it should stabilize in the early months of 2022 and fall sharply from the spring.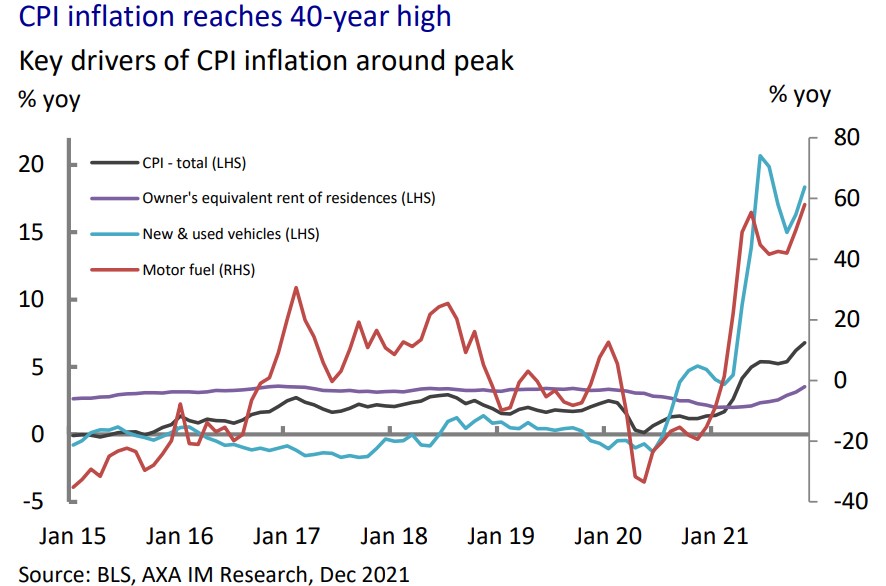 European election uncertainty
One of the main events to watch next year is the French presidential election. Should Macron win a second term, it should be bullish for the common currency and bullish Europe in general. The Franco-German pillars have been tested recently as elections in Germany just ended with a new chancellor and investors need to see continuity.
Elections also take place in Italy. Mario Draghi might be nominated for the presidency, even though the recent support from Matteo Salvini lowers this probability. All in all, European elections are an unknown for financial market participants as they bring uncertainty.
Monetary policy divergences
One of the areas of top interest to traders and investors is monetary policy. A divergence is seen between the countries with supply-side issues, such as the United Kingdom or Canada, and those with no such issues, such as the Eurozone and Japan. The former tighten, the latter do not.
In the global monetary policy mix, the Federal Reserve of the United States has a special role. It depends on the labor market, and it sounded more hawkish than the market expected in the second half of 2021. Should the tone continue, the risk is that the Fed will tighten the monetary policy much faster in order to