Top 3 investment themes for 2022 according to Blackrock
Blackrock views the bullish trend behind equities to continue in the year ahead, despite the Fed's tapering and projected monetary tightening.
Blackrock is an investment management company based in New York. It is the largest asset manager in the world, with almost $10 trillion in AUM, and it recently released its major investment themes for the next year.
The company serves financial advisors, individuals, families, pension plans, educational and nonprofit organizations, and governments. Therefore, it is worth noting what the company's focus is in the next year and how it plans to trade the investment ideas.
To tease the reader, Blackrock expects higher inflation in 2022, a recalibration of investors' portfolios in order to meet the net-zero emission goals of most governments in the developing world, and equities rally to continue.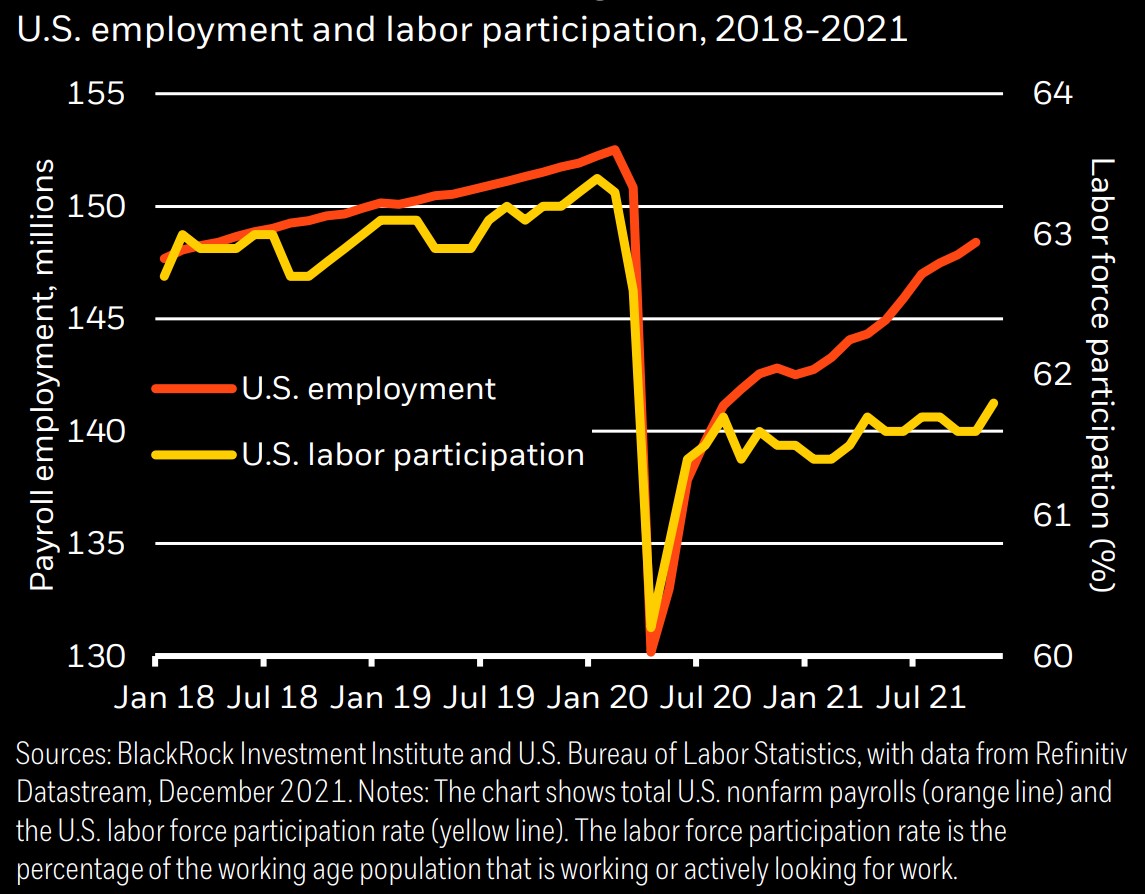 Higher inflation and how to trade it
One of the things Blackrock predicts is higher inflation in 2022. More precisely, the investment management firm expects central banks to kick off rate hikes in the next year due to rising inflation and remain more tolerant of price pressures.
In other words, expect inflation to shoot up and the central banks not to react immediately. The trick lies in the dynamics of starting/closing economies worldwide and how to interpret these dynamics in the medium and long term.
Therefore, the Fed and the ECB are tolerant of higher inflation, but the investment management company expects central banks to kick off rate hikes in 2022. How to trade higher inflation, according to Blackrock? By buying equities and remaining overweight inflation-linked bonds.
Future net-zero goals need action today
Another interesting topic is the race to sustainable energy. Governments worldwide have pledged to meet net-zero goals in the years ahead, but the green transition comes with costs and much higher inflation.
The governments have an important role moving forward in the way they use funding received and if execution matches ambition. Having said that, Blackrock favors developed markets equities as being better positioned for the green transition.
Equities to keep rallying
Blackrock is overweight US and European equities, for example. It cites strong earnings momentum in the US and attractive valuations in Europe as reasons to keep investing in developed markets' equities in 2021.