Top 3 EV companies to buy to benefit from the US electrification potential
The EV market is changing dramatically as more and more EVs are sold around the world. To meet climate change goals, governments invest massively in electrification programs.
The global electric vehicles (EV) landscape is changing dramatically. Governments around the world pledge to fight climate change and funds are being disbursed to reach the goals.
While many believe that the US is leading the world in terms of the percentage of EV sold, that is incorrect. Indeed, the US may be home to the biggest EV brand, Tesla, but in 2020, only 2% of the cars sold in the country were electric. This comes in sharp contrast with countries such as Norway (75% of passenger cars sold in 2020 were electric), Iceland (45%), or Switzerland (14%).
But things are about to take a turn.
The White House's electrification plan shows the electrification potential in the country. The government is ready to invest massively in a federal fleet of 654,000 EVs and to build a network of at least half a million EV charging stations by 2030.
And these are just a few numbers meant to offer an idea about how many EV needs to be sold for the ambitious plans to come true. It is estimated that in the US alone, some 10 million EVs will be sold in 2040.
Having all that in mind, what are the best US EV makers that offer exposure to the market?
Tesla
Tesla is one of the largest brands in the world, and it operates globally. The stock price has recently crossed the $1,000 mark and remains bid despite sky-high valuations. For instance, at the current stock price level, Tesla trades at a P/E ratio of 149.24. It means that investors are willing to bet that the company will make the most of the EV trend, thus taking a risk at these valuations.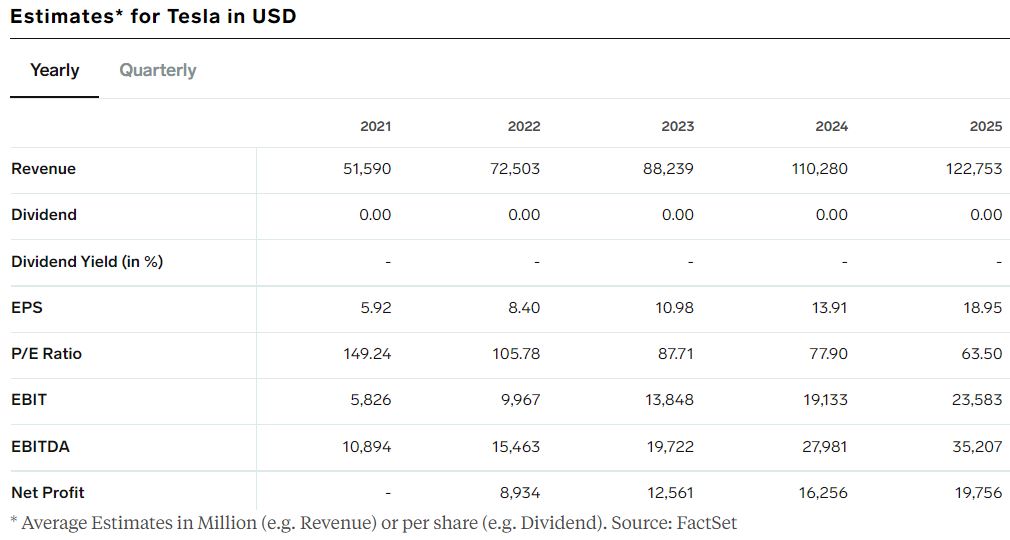 General Motors
General Motors has intensified its EV efforts lately, and one of its biggest advantages over Tesla is that it has a huge pile of cash to support the expansion plans. For example, the free cash flow position in 2021 is $1.22 billion, expected to reach $7.9 billion by 2024. This is all the cash remaining in the company after the cost of doing business, and it can be used to pay debt or to expand operations.
Ford
Ford's stock price is up over 120% this year alone as investors like the cheap valuation when compared to peer companies. Ford trades only at a P/E ratio of 8.2, and, unlike Tesla, it pays a dividend.