S&P 500 price prediction ahead of Powell's testimony
The stock market is off its highs as investors digest the possible impact of the Omicron variant on the economy. Fed's Chair Jerome Powell begins today his testimony in front of the US Senate and will likely express concerns regarding Omicron, thus being more dovish than the market participants expect.
This week is full of important economic events. It started with a bang, as investors had all weekend at their disposal to assess the news that a new COVID-19 variant, called Omicron, spreads faster than the previous ones and may impact the economic recovery. Now that the Fed began removing its easing measures, it may be forced to delay the process or even reverse the course in the case of a severe impact.
Besides the virus, today is the last trading day of the month. Flows are important due to profit-taking and positioning for the end of the year trading.
Moreover, the Fed's Chair, Jerome Powell, starts its testimony in front of the Senate. While the text was released some 17 hours earlier, the market may still react to the questions and answers part of the session. Powell expressed concerns about the new variant and sounded more dovish than at the last Fed's meeting.
What does it mean for the S&P 500 index?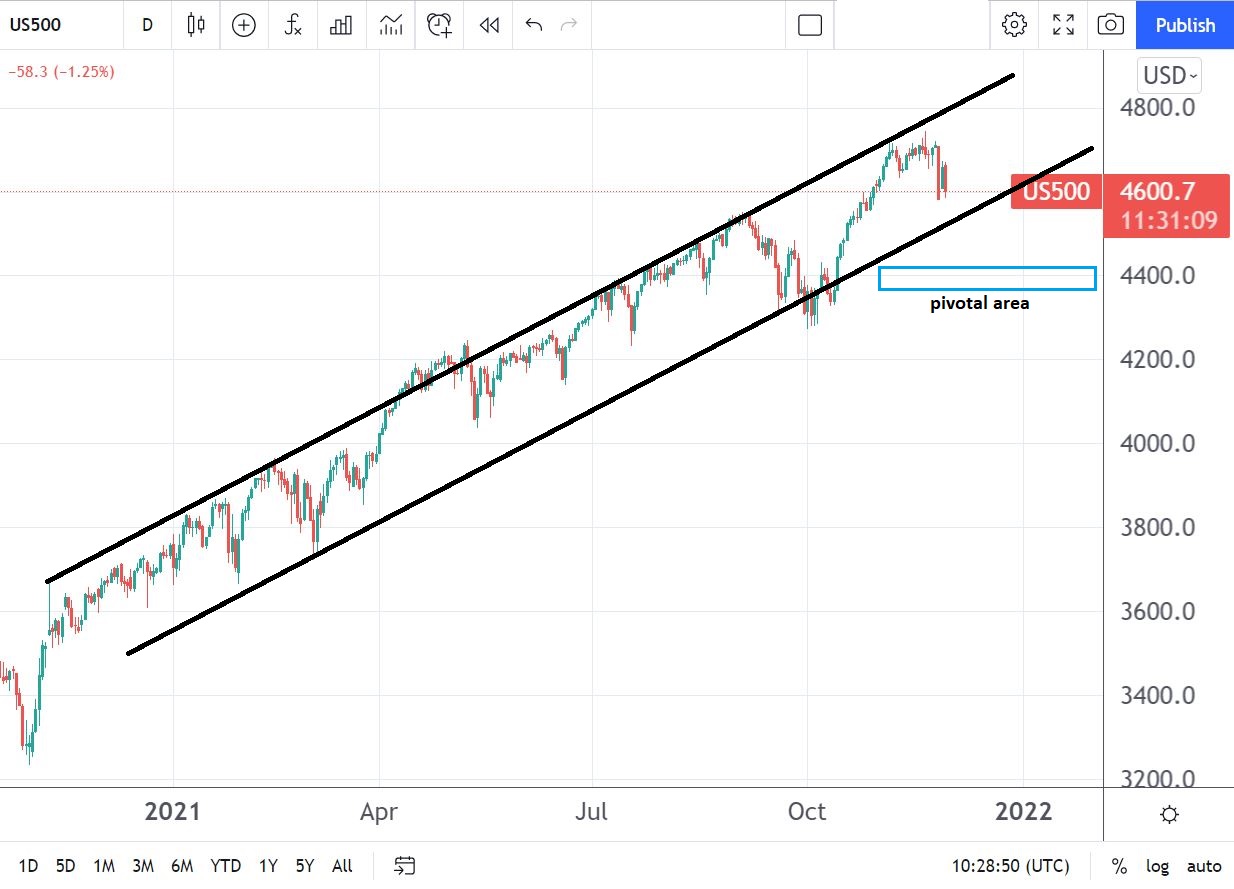 S&P 500 is still in a rising channel
The S&P 500 index evolved in a rising channel all of 2021. Each time a correction took place, new buyers emerged and sent the index to a new all-time high.
The scare from last Friday had an insignificant impact on the technical picture. Moreover, even if the index drops below the lower edge of the rising channel, the bias remains bullish unless the drop is strong enough and leads to a close below 4,400.
At the end of October, the index consolidated for several days in the area, bouncing higher from it. Hence, it is a pivotal area and thus more important than the rising channel.
Finally, December lies ahead. According to historical data, December has a high probability of delivering a positive return – more than 70% chances. Therefore, the bias for the US stock market remains bullish despite concerns about the new COVID-19 variant.