Silver price forecast after starting 2022 on a strong note
Silver underperformed in 2021, just like gold did. While under pressure for most of the year, it found strong support in the $22 area. What will 2022 bring for the price of silver?
Silver and gold were the two financial assets underperforming in 2022. Despite precious metals being known as offering a hedge against inflation, it was not the case in 2021.
Inflation in the United States and elsewhere in the developed world keeps rising. Yet, precious metals are "trapped" within tight ranges, trading without direction for a long time.
Unlike gold, silver is also an industrial metal. Therefore, as the world invests in green technologies to meet the decarbonization goals, silver is one metal that a green future depends on.
To exemplify, silver is indispensable for the solar energy industry. Its high electrical conductivity makes silver the appropriate choice for solar power generation. Only one solar panel contains about 20g of silver, and so, as the global solar capacity grows, so will the industrial demand for silver.
With strong industrial demand in place, what is the forecast for the price of silver for the rest of the year?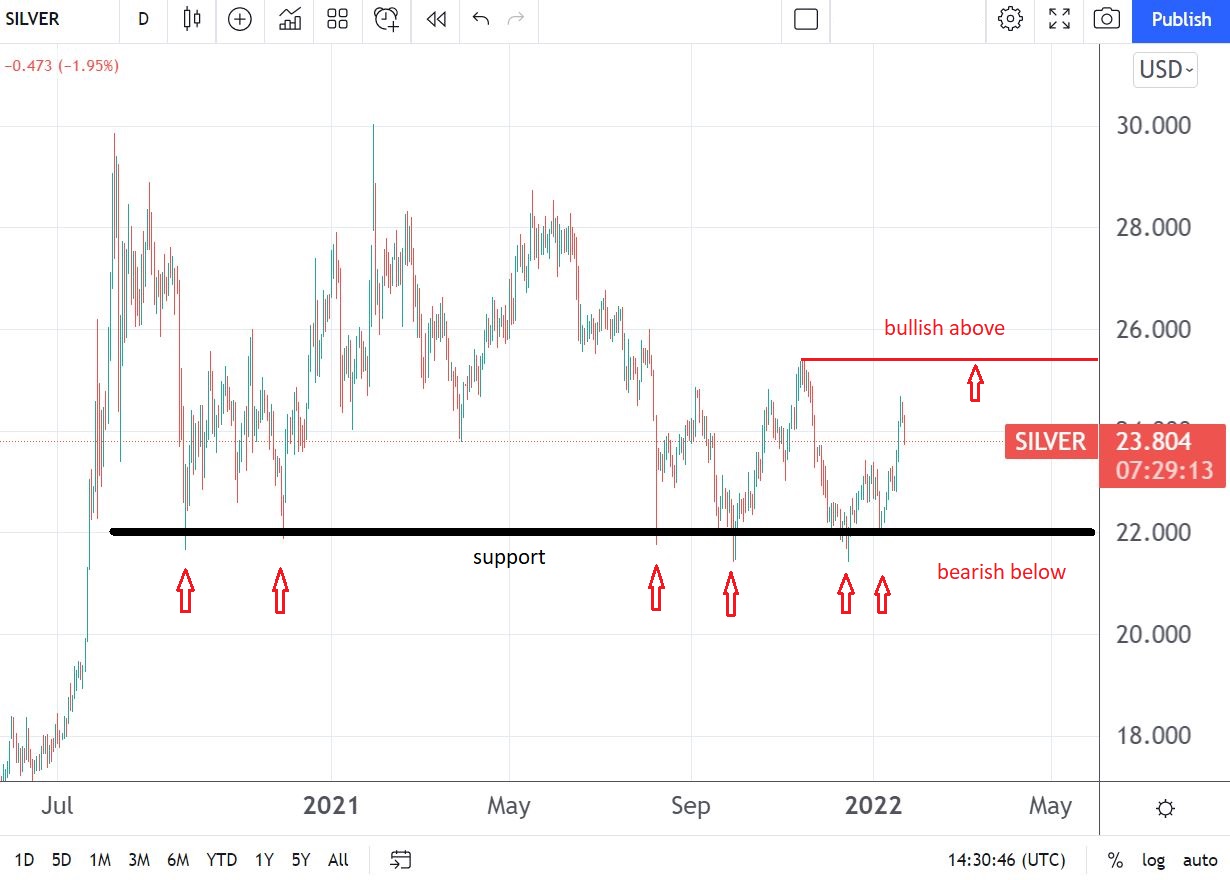 $22 provides massive support
The line in the sand for the price of silver is $22. It provided support several times in the past, both in 2020 and in 2021. Every time the market tried below, it found only buyers.
As such, this is the pivotal level to watch moving forward. A daily close below $22 puts further pressure on the price of silver, as technical traders would interpret the price action above the support level as belonging to a descending triangle.
A daily close above $26 is bullish
On the other hand, a daily closer above $26 would be bullish for the price of silver. On such a move, the series of lower highs started in 2021 would break, thus opening the road to more gains ahead.
All in all, the market's volatility is poised to increase once the price breaks either support or resistance. As the range narrows, a breakout is imminent.