Should you sell the USD/JPY pair amid the massive 2021 rally?
USD/JPY made a new high for the year as it traded close to 115. The pair rallied in 2021 so far – is it time to sell?
2021 turned out to be the year when the Japanese yen trended lower. The USD/JPY pair, the most important Japanese yen pair, just made a new yearly high, trading close to 115, after starting the year below 104.
A one-thousand pips rally with small corrections made this trend one of the strongest in the FX market. So what caused the USD/JPY bullish breakout?
One answer comes from the Bank of Japan. Back in November 2020, the Bank of Japan owned $434 billion in domestic equity, making it the country's largest owner of domestic stocks. This came after a decade of buying equities, with the aim of boosting economic growth. What is interesting is that the Bank of Japan is the only central bank that purchases equities. Also, part of the money used to pay for the equities was newly printed. Hence, the pressure on the Japanese yen makes sense, especially if we consider the traditional direct correlation between a weak yen and a rising equity market.
However, as impressive as the rally has been, some bearish technical signs call for caution.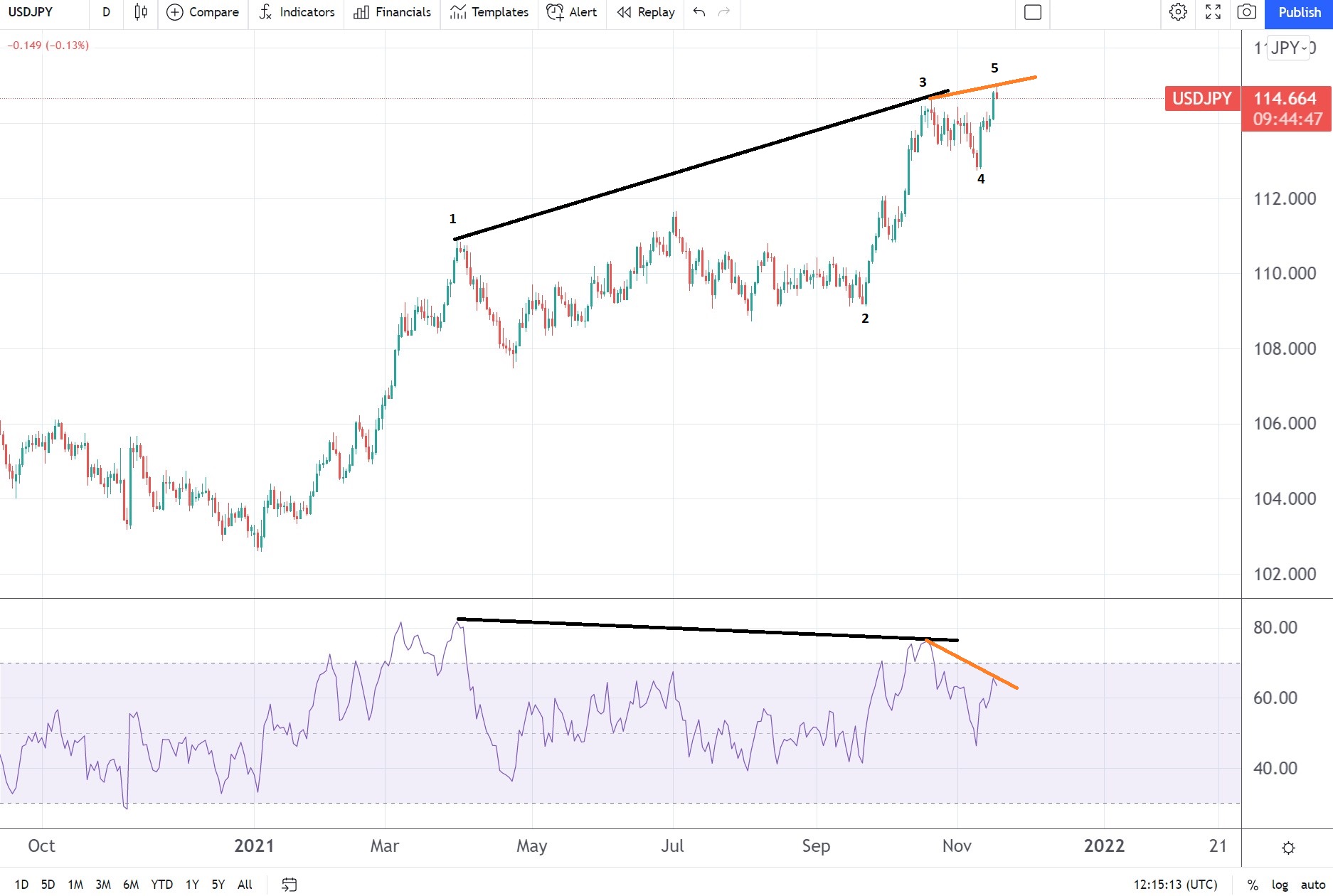 3 reasons to sell the USD/JPY
First, the market shows two bearish divergences forming throughout the year—the most recent one formed with the current new higher high spelling trouble for bulls.
Second, according to the Elliott Waves Theory, we may say that a five-wave structure, also known as an impulsive move, ended. Judging by the length of the first segment, this might be a first-wave extension impulsive move. A new higher high is mandatory during the last segment of such a pattern, and the bearish divergence with the RSI supports the scenario that the impulsive move ended.
Finally, some profit-taking might be in the cards with less than two trading months until the end of the trading year. Traders should remember that December is a month characterized by holidays and most of the investment houses prefer to take some money off the table. After such an impressive rally, it should not come as a surprise to see big names squaring their positions (i.e., selling), to book profits ahead of the end of the year reporting.