Should you sell the FTSE 100 index after today's GDP miss?
The UK GDP missed expectations today, coming out on the soft side. Is this a good enough reason to sell the FTSE 100 index?
One of the most important economic releases in an economy is the GDP or gross domestic product. It shows the total value of the goods and services produced by an economy over a given period.
In the United Kingdom, two versions of the quarterly GDP are released some one month and a half apart. The first version, called the Preliminary GDP, is the most relevant to traders and investors because it is the earliest released, thus having a bigger impact on markets.
Today, the Q3 Preliminary GDP was released, and it missed expectations. The market expected the economy to grow by 1.5%, and the actual data showed a slower growth rate, of only 1.3%.
In a way, the softer data justify the Bank of England's last week's decision to keep the monetary policy unchanged, despite upsetting markets. Slower economic growth was one of the cited reasons, and now we see why.
But is this miss strong enough to alter the FTSE 100 bullish run? Unlikely, tells the technical picture, as two bullish patterns point to much higher levels.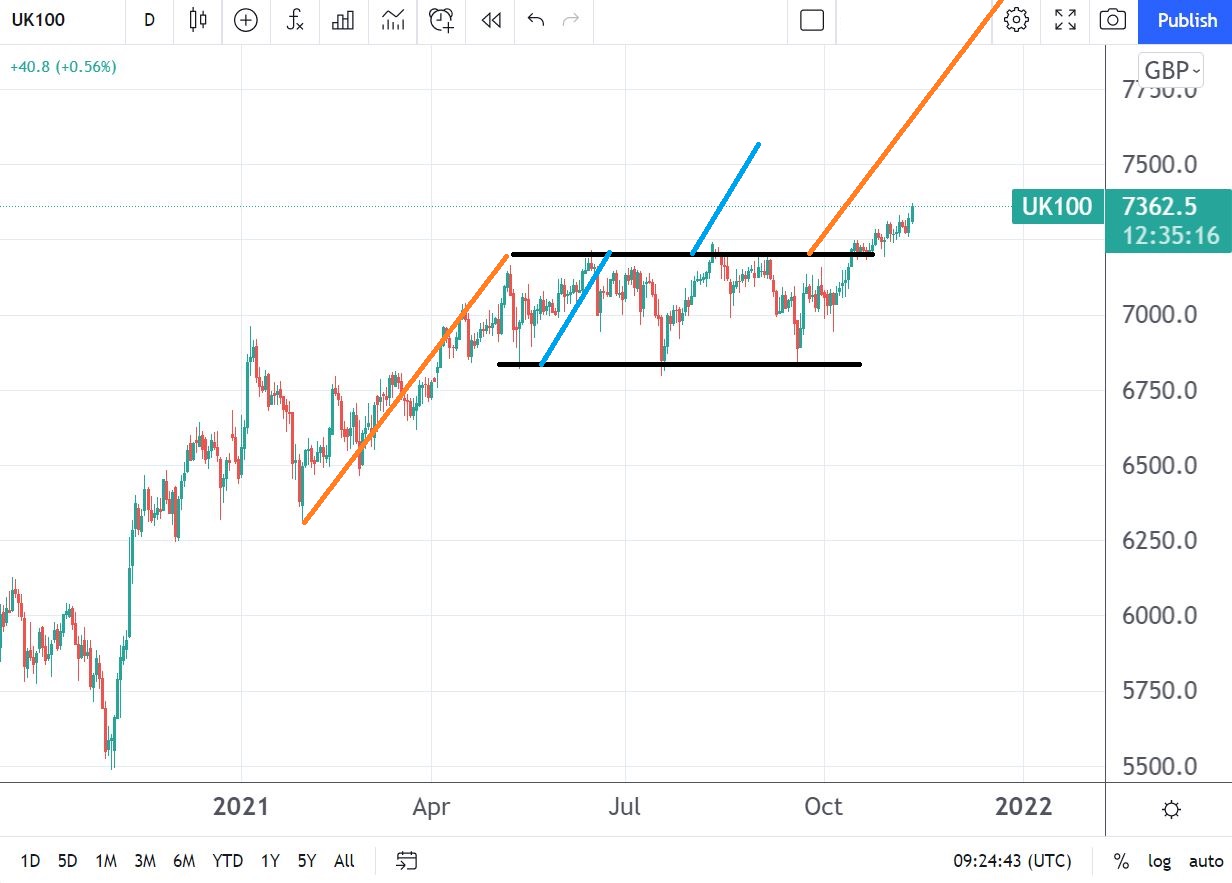 FTSE 100 index remains bullish despite weaker GDP print
While the GDP data came out softer, the FTSE 100 index did not even blink. Truth be said, the technical picture looks bullish for at least a couple of reasons.
First, the index consolidated for six months or so before a bullish breakout and the pattern may be interpreted as a bullish flag. If so, the measured move, shown above in orange, points to 8,000 sooner rather than later.
Second, the horizontal consolidation formed prior to the bullish breakout is a rectangular pattern with a minimum upside target equal to its width. Even in this scenario, the FTSE 100 index should reach a minimum 7,600 points, much higher than the current levels.
To sum up, the GDP miss was not enough to alter the bullish run in the FTSE 100 index. If we couple it with the Bank of England's decision to keep the monetary policy stance unchanged, we have all the ingredients for further upside in the period ahead.