Should you sell the dollar amid Jerome Powell winning a second mandate?
Jerome Powell was just picked as the Fed Chair for a new mandate. What are the implications for the US dollar?
THIS YEAR, the US dollar is on a tear higher as the Dollar index (DXY)bottomed in the first semester. Now that we know who's the next Fed Chair (spoiler – still Jerome Powell), is it time to sell the dollar?
From a technical perspective, selling the greenback is a contrarian move. Technical traders usually have a contrarian view. However, to act on a contrarian view, one needs at least one contrarian signal.
For example, when the DXY bottomed earlier this year, it formed a so-called "pattern-within-a-pattern." More precisely, it formed an inverse head and shoulders pattern and a double bottom simultaneously. Therefore, two bullish signals were basically screaming that the dollar's weakness was about to end.
It did.
From that moment on, nothing stopped the dollar, as it crushed its peers. The DXY did not reach the measured move suggested by the inverse head and shoulders pattern at these current levels. Moreover, there is no sign of an imminent change in trend – there is no reversal pattern. Therefore, at least from a technical perspective, selling the US dollar at this point would be against all odds.
How about the fundamental picture?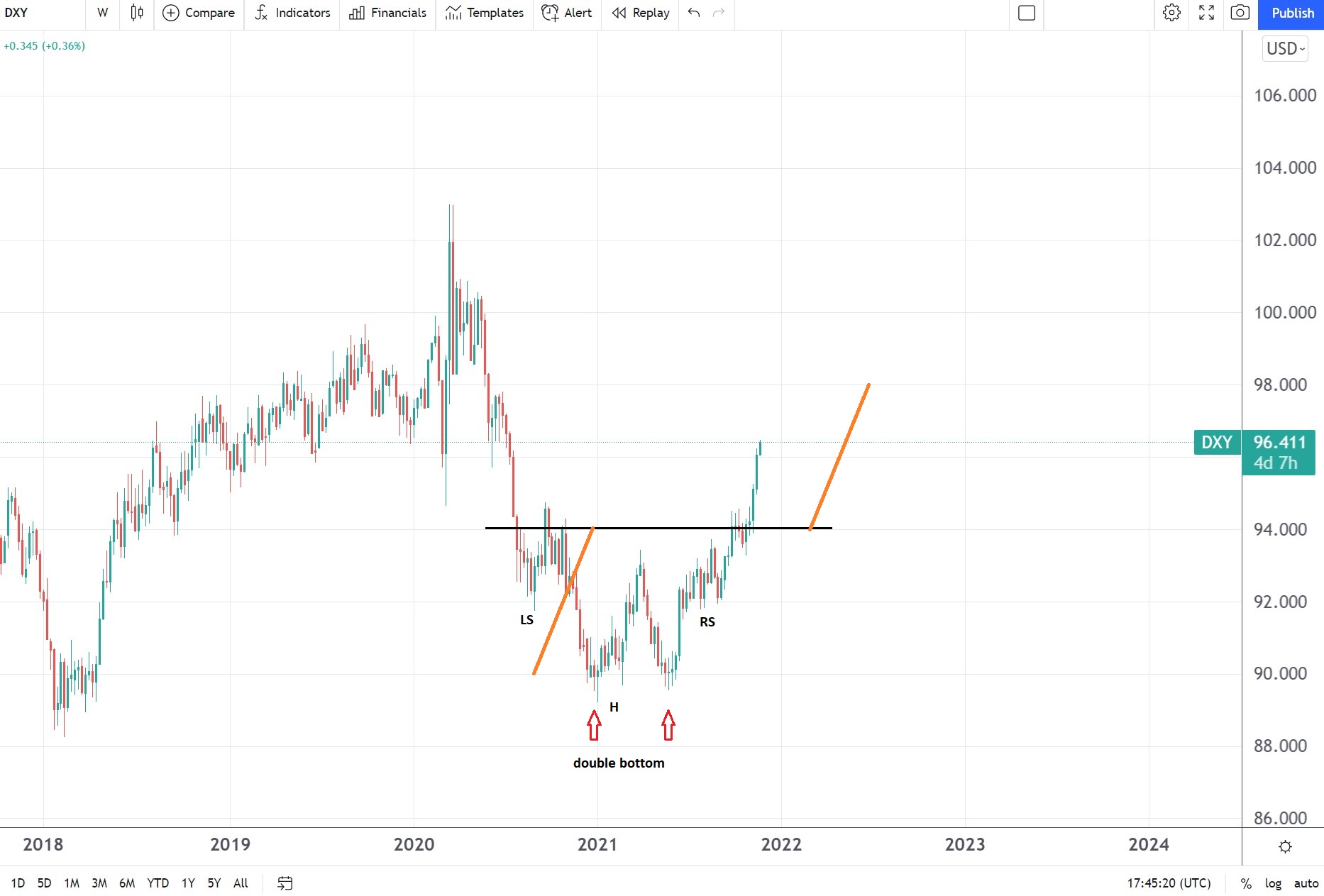 What about fundamentals?
Financial market participants speculated for more than one week on who is going to be the next to chair the Fed. Rumors pointed to Brainard for the new chair – a dovish option as she is known. Yet, President Biden chose Powell and appointed Brainard as vice-chair.
In other words, Americans chose stability and continuity. Truth be said, any other chair would have continued Powell's work. To his credit, he led American through one of the toughest economic crises and built consensus among Fed members to act quickly and decisively.
As a result of the Fed's measures taken to overcome the pandemic-led recession, the economy recovered faster than anyone imagined. Moreover, now it is growing so fast that it needs to be "cooled-down" a bit, as the Fed signals the removal of its accommodative measures.
All in all, both the technical and the fundamental pictures point to further strength in the US dollar. If we think that literally, every investment house was bearish on the dollar at the start of 2021, then we can imagine how difficult it is to forecast the dollar's price action in 2022.