Should you invest in Tilray after reporting profitable Q2 FY2022 financial results?
Tilray reported stronger than expected financial results for the Q2 FY2022. Net revenue jumped by 20% when compared to the same quarter last year, leading to a profitable financial result.
Tilray (NASDAQ:TLRY) reported yesterday its financial results for the second quarter of its 2022 fiscal year. The company is involved in producing and distributing medical cannabis products and serves clinics, hospitals, governments, and pharmacies, among others.
It delivered much better than expected financial results on the quarter – net revenue advanced by 20%, helping the company turn a profit. As a result, Tilray's stock price jumped on the news, ending the trading day higher by +13.55%.
Q2 FY2022 highlights
The first thing that strikes the eye is the jump in net revenue. The cannabis industry has some promising CAGR rates for the years ahead, but players in the industry had a hard time capitalizing on the industry's growth.
Besides the sharp increase in net revenue, Tilray announced that it reached $70 million in cost synergies. Moreover, it became the leading medical cannabis company in Europe, with a market share of about 20% in Europe's largest economy – Germany.
Tilray's stock price remains in a bearish trend
While the financial performance for the quarter triggered a sharp move higher, Tilray's stock price remains depressed. The technical picture reveals a bearish trend, with $10 acting as a pivotal level.
Yesterday's bounce is barely visible, as the price action remains close to the lower edge of the downward channel. Aggressive traders may want to go long against the lows, while conservative ones may want to wait for the price to break above $10 and above the upper edge of the channel before going long.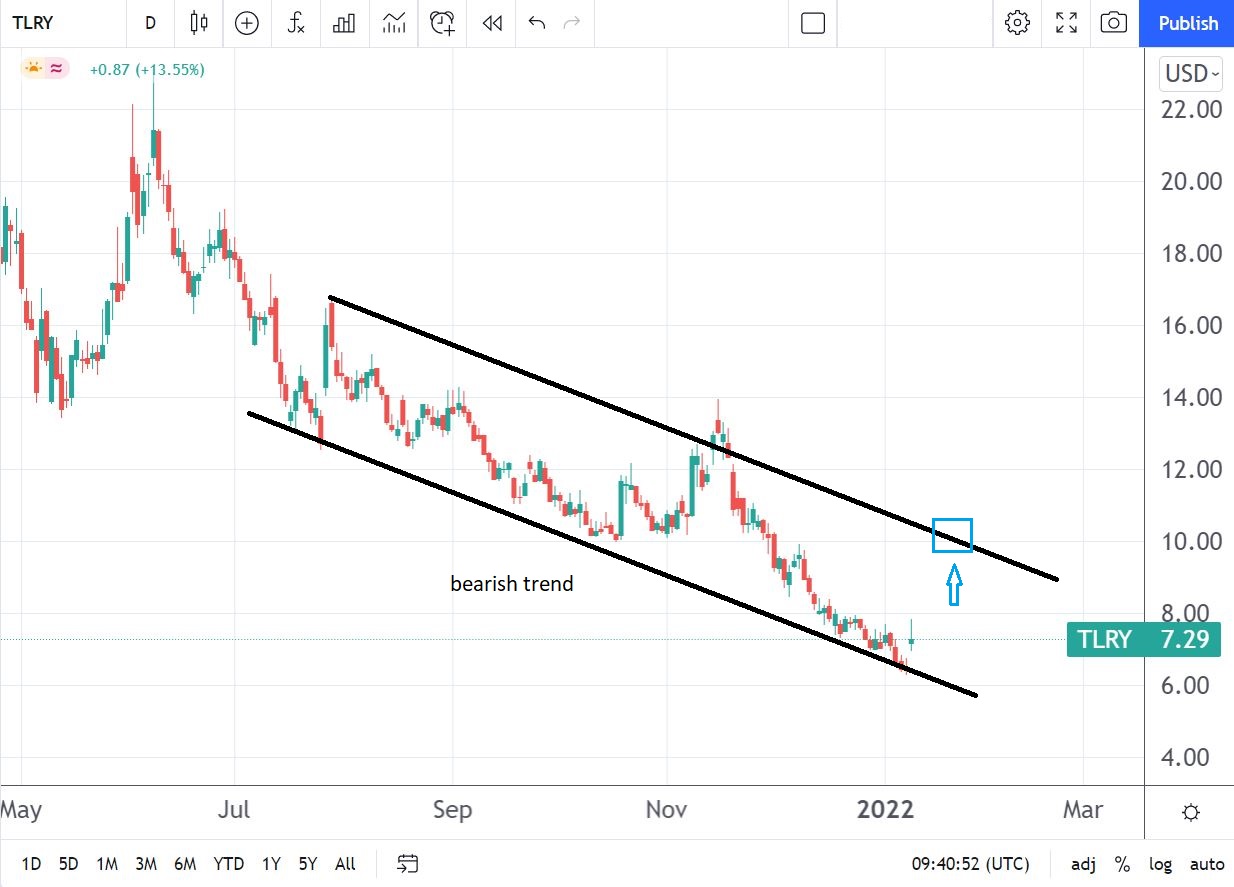 What do analysts say about Tilray's stock price?
Most analysts are neutral on Tilray's stock price. 15 analysts out of 24 have issued neutral ratings, while only 5 have buy ratings. In the last part of last year, CIBC World Markets has maintained its hold rating, with a price target of $12.
Tilray's revenue growth exceeds the sector median by 84.91% and remains one of the cannabis companies well-positioned to take advantage of the industry's growth. At the current market price, the company's enterprise value has reached $3.97.