Should you buy the S&P 500 index as it corrects from dynamic resistance?
The S&P 500 index closed yesterday at a new all-time high. It was the eighth consecutive day it did so, and today's lower than expected PPI data supports higher equities.
The S&P 500 closed yesterday at record-high levels for the eighth consecutive day. The last time this happened was back in 1997, so we can say that the bullish run is alive and kicking despite the minor current correction.
The index is on track to close the year with a performance of more than 25% – another bullish development if it manages to do so in the weeks left in the trading year. Moreover, historical data tells us that in the year following such performance, the index ends up higher 87% of the time, with an average gain of over +11%. Hence, any pullback and drawdown should be taken with a grain of salt and in the context of the bullish run seen recently.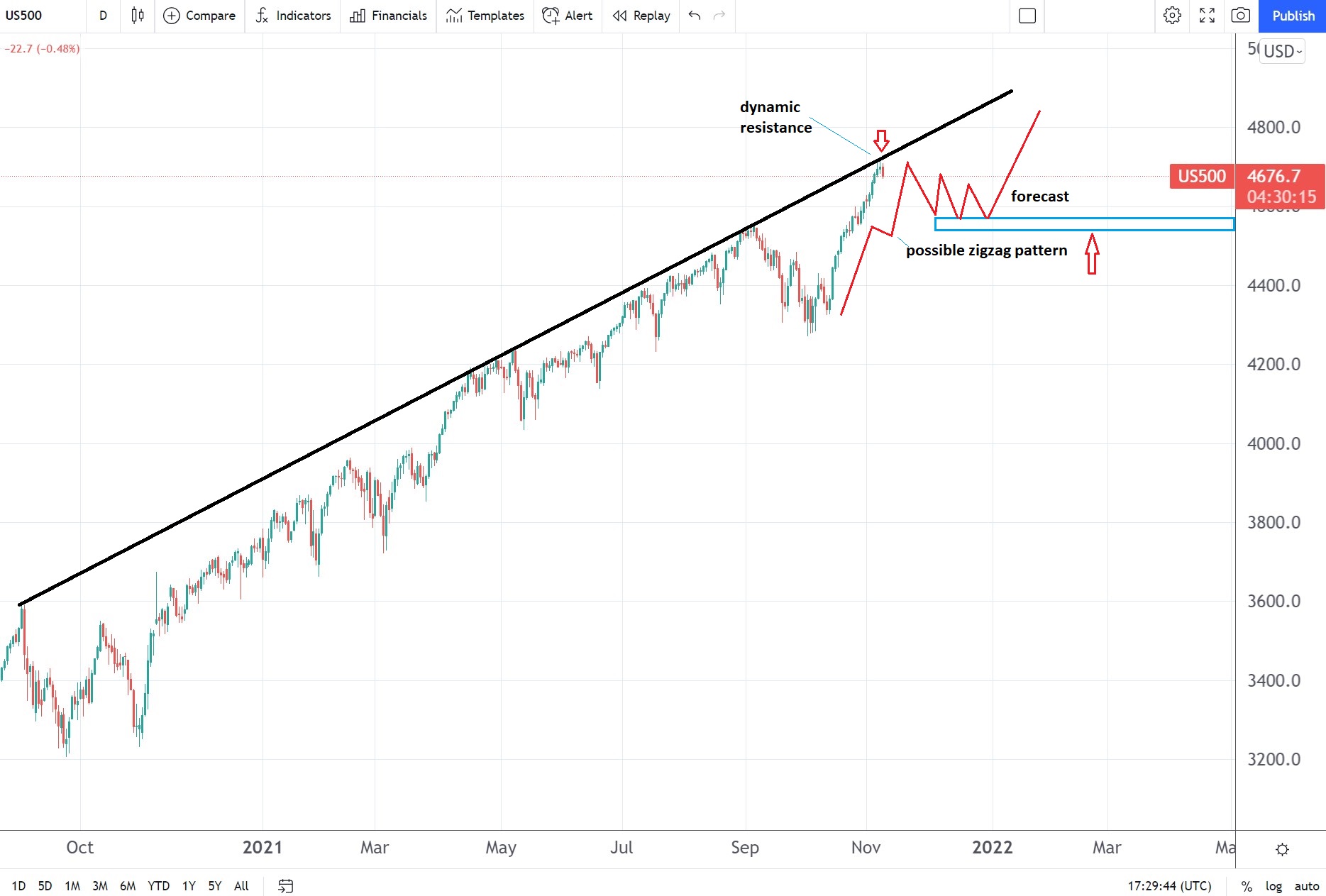 S&P 500 index reacts at dynamic resistance
Today, the index reached dynamic resistance and reacted to it. A quick look at the technical picture reveals a possible zigzag pattern that ended at dynamic resistance.
A zigzag is an Elliott Wave pattern formed by two impulsive waves connected by a small consolidation area. There is little pullback seen in a zigzag, just as the S&P daily chart reveals. Nevertheless, despite the current rejection from dynamic resistance, the technical picture remains bullish.
Should you buy the pullback?
Whenever a corrective wave such as a zigzag, makes a new higher high, it is part of a so-called running correction. In other words, by the time the correction ends, a new leg higher is expected.
Typically, the market consolidates follows such a zigzag, and the logical place to find support is at previous resistance. In this case, 4,500 seems like the area to buy a pullback, with an invalidation below the previous lower high around 4,400.
The consolidation may take the form of a contracting triangle, and given the fact that November is historically bullish for stocks, we should not be surprised to see investors buying the dip.