Should you buy the EUR/USD ahead of the FOMC Minutes?
EUR/USD is in a bearish trend and keeps making new lows for the year. After starting the year above 1.23, it is now threatening to break below 1.12. So is it time to buy ahead o the FOMC Minutes?
The EUR/USD exchange rate fell this year as the American dollar strengthened across the board. The common currency was affected by the continuing dovish rhetoric from the European Central Bank while the Federal Reserve removes the monetary accommodation conditions.
Therefore, the decline in the exchange rate should not take anyone by surprise. However, the bearish price action was not so obvious in the first half of the year. Yes, the EUR/USD pair dropped from 1.23 to 1.17 in the first trimester, but then it was back at the highs in just one month.
It may be obvious in hindsight that the exchange rate will be affected by the diverging monetary policies, but it was not so at the end of last year when all investment houses predicted a lower and not a stronger dollar in 2021.
Later today, the FOMC Minutes will reveal what the FOMC members discussed at the last meeting. The risk here is that the minutes will be hawkish for the dollar. If the members express concerns about inflation, the expectations will rise that the Fed will taper the asset purchases even faster than the market believes, and so the dollar's rally may continue.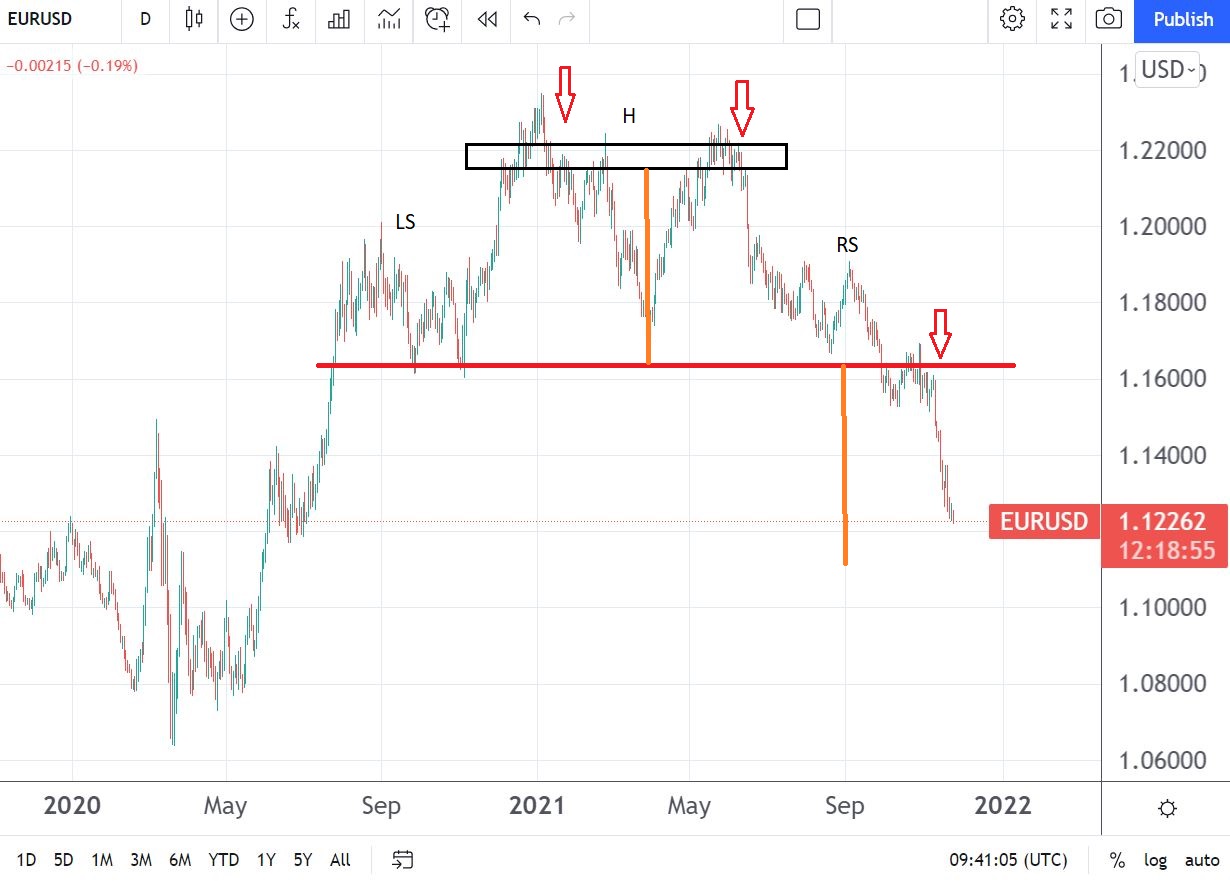 The technical picture does not support a bullish case
A quick look at the technical picture does not support a bullish case. Two things are worth mentioning.
First, the EUR/USD made a double top in the 1.22 area. A double top is a major reversal pattern, and by the time it failed the second time at horizontal resistance, it was no turning back.
Second, the double top is part of the head of a head and shoulders formation – another reversal pattern. The measured move suggests more downside is possible, even though bears may be tempted to book some profits at current levels.
All in all, there is no indication of a possible reversal as no bullish reversal pattern is in sight. As such, the risk is that the Fed Minutes will be hawkish and thus the US dollar to make a new high for the year.