Should you buy Tesla stock now that it trades above $1,000?
Tesla shares trade well above $1,000 as the electric vehicle stocks are back in fashion. Is it too late to buy now, or should you wait for a pullback?
Tesla shares made headlines in October as they traded above $1,000 for the first time ever. This is a remarkable performance, considering that only in 2020 the shares traded at $100. In other words, in a period of a little over a year, Tesla's stock price rose more than 10x.
The electric vehicle sector buzzes again as the world leaders talk climate at the Glasgow summit. For Tesla, in particular, the news that Hertz, a rental car company, is placing an order of 100k electric vehicles was enough to send the share price through the roof.
In the meantime, Elon Musk, Tesla's CEO, downplayed the news, saying that Tesla and Hertz did not sign any contract yet. Still, the stock price holds well above $1,000, making Elon Musk the richest man in the world.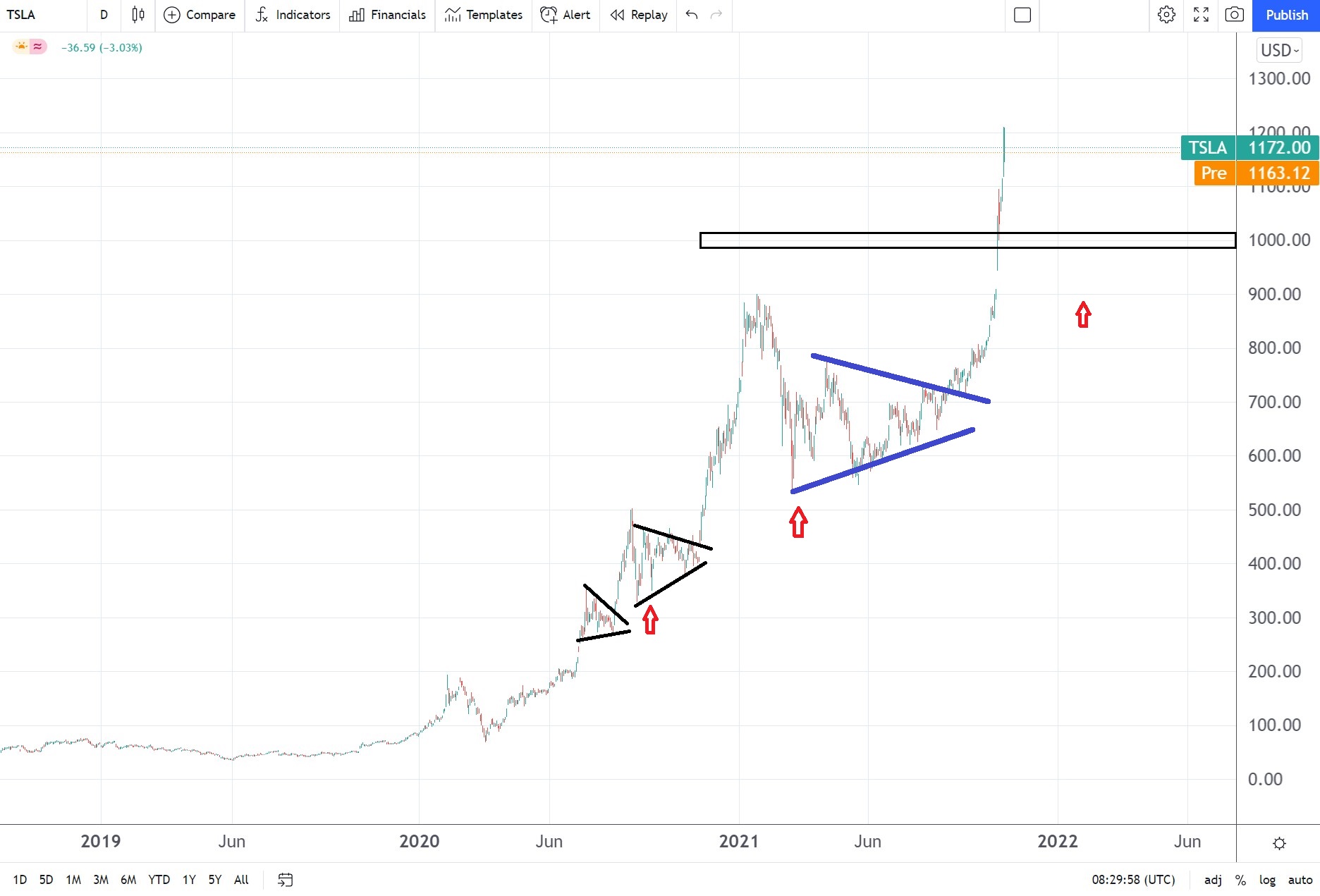 What does the technical picture say?
The technical picture shows that the stock price typically consolidates in a triangular pattern before making a new high. Also, a close look at the previous three triangles reveals that the market pulled back to the previous triangle's price area before making a new higher high. Therefore, conservative traders might want to wait for Tesla's stock price to pull back to $1,000 before going long.
How about Tesla's valuation and profitability?
Tesla shares are up +66.08% YTD and +192.63% in the last twelve months. The company has beaten the EPS in the last three consecutive quarters and it is expected to report annual revenues of $51.03 billion for the fiscal period ending December 2021.
Tesla trades at a Price/Sales ratio of 25.04, way higher than the 1.30 sector median, and at a Price/Book ratio of 44.85, also much higher than the 3.34 sector median. The annual EPS are expected to reach $18.84 by 2025 and the P/E ratio is expected to decline to 63.50 by the same year, much lower than the current 149.24.
Investors were willing to pay for the company's share price despite such a high valuation because Tesla is a pioneer in its industry and one of the few companies that invested in digital currencies.