Should you buy Oracle shares ahead of the quarterly earnings?
Oracle (NYSE:ORCL) reports its Q2 FY2022 earnings today. The market expects $1.11 on the quarter, and the stock price is up +37.49% YTD.
Oracle is one of the world's largest IT companies, and today it is scheduled to release its Q2 FY2022 earnings. The market expects EPS of $1.11, similar to the same period last year.
The stock price is up over +37% this year as it rallied together with the tech sector. While some of the tech companies corrected in the last months, Oracle's stock price still hovers around all-time highs, with the $100 mark proving to be tough resistance.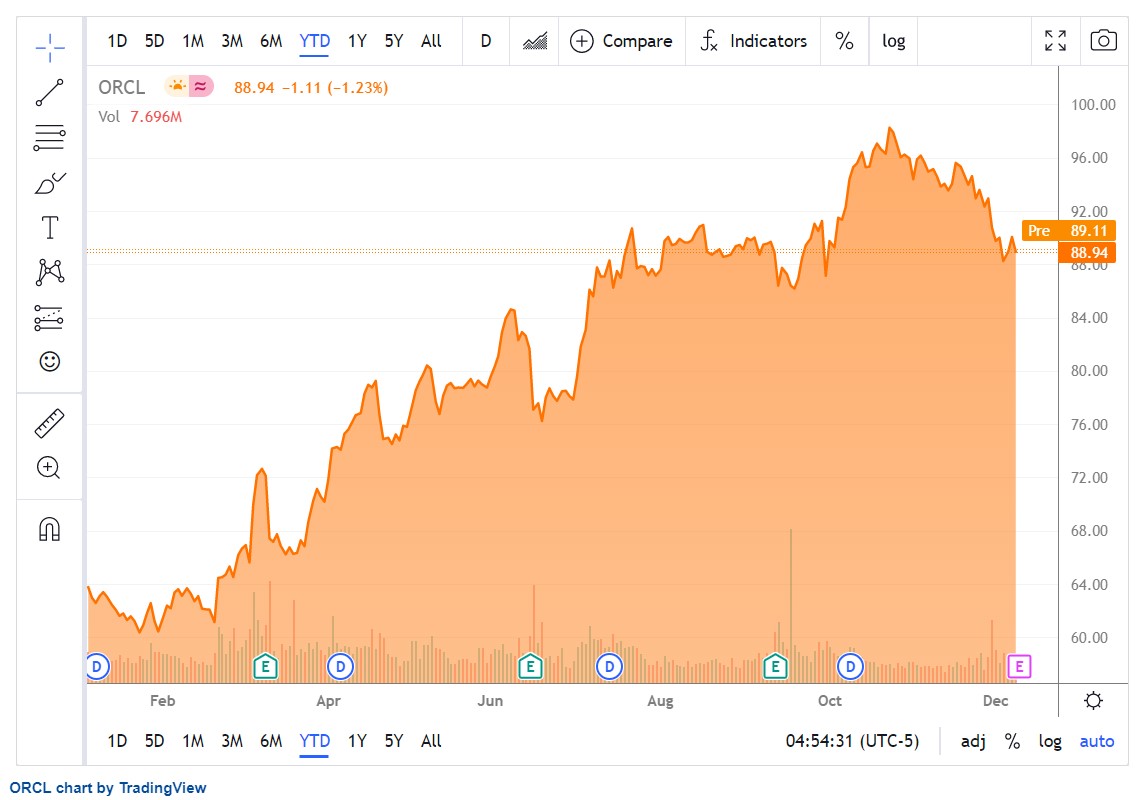 Oracle is a dividend-paying company with an eight years dividend growth history. The dividend yield is 1.44%, while the payout ratio is 27.29%.
Oracle's valuation and profitability
The company is attractive from a P/E ratio point of view, despite the stock price's rally YTD. It trades at a P/E Non-GAAP ratio of 18.57, much lower than the 25.31 sector median.
Another attractive metric is Oracle's profitability. It operates with a gross profit margin for the last twelve months of 80.22%, higher than the sector median by 62.32%.
Investors expect the annual revenue estimate to reach $42.18 billion in the fiscal period ending May 2022 and to grow to $43.99 billion one year later. This is, perhaps, a weak spot in the company's analysis, as the revenue growth YoY is much smaller than the sector median (4.14% vs. 16.22%).
Oracle has grown a strong free cash flow position, estimated at $12.85 billion in 2021 and seen at $13.75 billion in 2024. Moreover, the net profit is expected to reach $14.82 billion by 2024.
What do analysts say about Oracle's stock price?
Analysts are optimistic about Oracle's stock price. Out of the 46 analysts covering the company, 21 have issued buy ratings and 23 have neutral ones. Only two analysts have sell ratings.
The highest price target for Oracle's stock price belongs to Credit Suisse and Deutsche Bank. The former has maintained its buy rating in November, while the latter has maintained its hold rating in the same month and with the same price target of $110.