Should you buy or sell the US dollar after this week's selloff?
The US dollar dropped this week despite the Federal Reserve raising the interest rate. So should you buy or sell the greenback?
A strange week in the currency markets just ended. It's weird because the US dollar did precisely the opposite of what it was supposed to do.
First, a war broke out in Europe three weeks ago. In times of uncertainty, the US dollar acts as a safe haven. This time, though, it partially did so – it gained against the Japanese yen but lost ground against the euro, the British pound, or the Australian and New Zealand dollar.
Second, the Federal Reserve did raise the rates last Wednesday. Yet, despite the rising federal funds rate, the greenback gave back some of its gains since the Russia-Ukraine war started.
So should you buy or sell the US dollar?
EUR/USD finds buyers below 1.10
The EUR/USD daily chart is one to watch. The exchange rate dropped below 1.10, a pivotal level, and traded close to 1.08, but it bounced.
Somehow, the euro finds bids below 1.10, despite the war in Eastern Europe. Maybe the markets paid attention to Europe's solidarity with Ukraine and the fact that it acted as a common block?
We don't know that.
What we do know is that euro looks bid while above 1.10, and it closed the week above the pivotal level.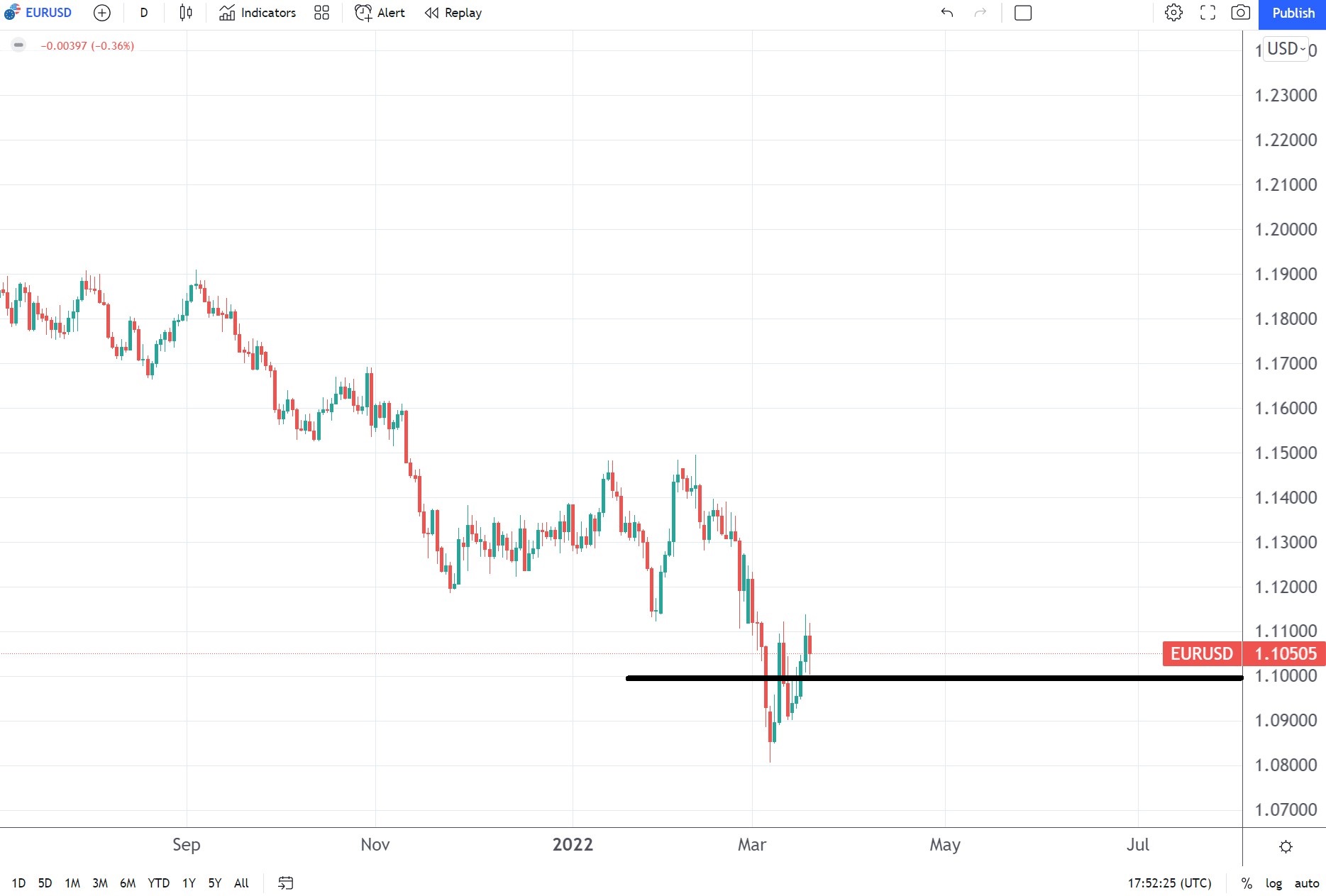 GBP/USD finds support at 1.30
The British pound dropped even more against the US dollar in 2022 than the euro did. Perhaps the fact that Brexit means a country that needs to face alone the hardship of a conflict not far away?
The pound fell even though the Bank of England raised the rates again. So now, the current bank rate in the United Kingdom is 0.75%, struggling to keep pace with the 5.5% inflation rate.
But this may be the reason why the GBP/USD rallied this week. The federal funds rate is only 0.25% in the US, and inflation runs at 7.9% YoY. As such, this week's rate hike from the Fed did nothing to close the gap, so the pound outperformed the greenback.
AUD and NZD outperformed
The two currencies down under are known as being closely correlated with the stock market. For example, the S&P 500 in the United States posted four consecutive straight days with gains over 1% – and so the two currencies outperformed the greenback too.
Overall, the US dollar weakness should continue, despite the war in Ukraine. If anything, markets tell us they are more rationale than geopolitics lets us believe.