Should you buy or sell the US dollar after the Fed left the policy unchanged?
Federal Reserve leaves the interest rate unchanged at today's meeting. So what does it mean for the US dollar, and when should we expect a new tightening cycle to start?
The Federal Reserve of the United States (Fed) just released the FOMC Statement, a much-awaited event by financial market participants. It left the federal funds rate unchanged, as widely expected, considering that the tapering of the asset purchases is still ongoing.
The pressure now mounts for the Fed to deliver the first rate hike at its upcoming meeting in March. What does it mean for the US dollar?
Fed signals a rate hike in March
Today's FOMC Statement made it clear that the Fed will end the tapering of its asset purchases in early March. This will give it room to maneuver on the federal funds rate, expected to be raised at the next meeting.
Moreover, Fed made it clear through today's statement that the shrinking of the balance sheet will start after the first rate hike. In other words, as fast the Fed eased, as fast it will tighten, as balance sheet shrinking is the opposite of quantitative easing. More precisely, it is quantitative tightening.
US Dollar Index is back pressuring the highs
The US Dollar index was back at the 2021 highs before today's Fed decision. After the Fed "cemented" a rate hike in March, the dollar looks bullish both fundamentally and technically.
The technical picture shows an inverse head and shoulders pattern with the index on its way to reach the measured move. A move above 98 opens the gates for more upside towards the pivotal 100 level, and the Fed's hawkish statement supports such a move.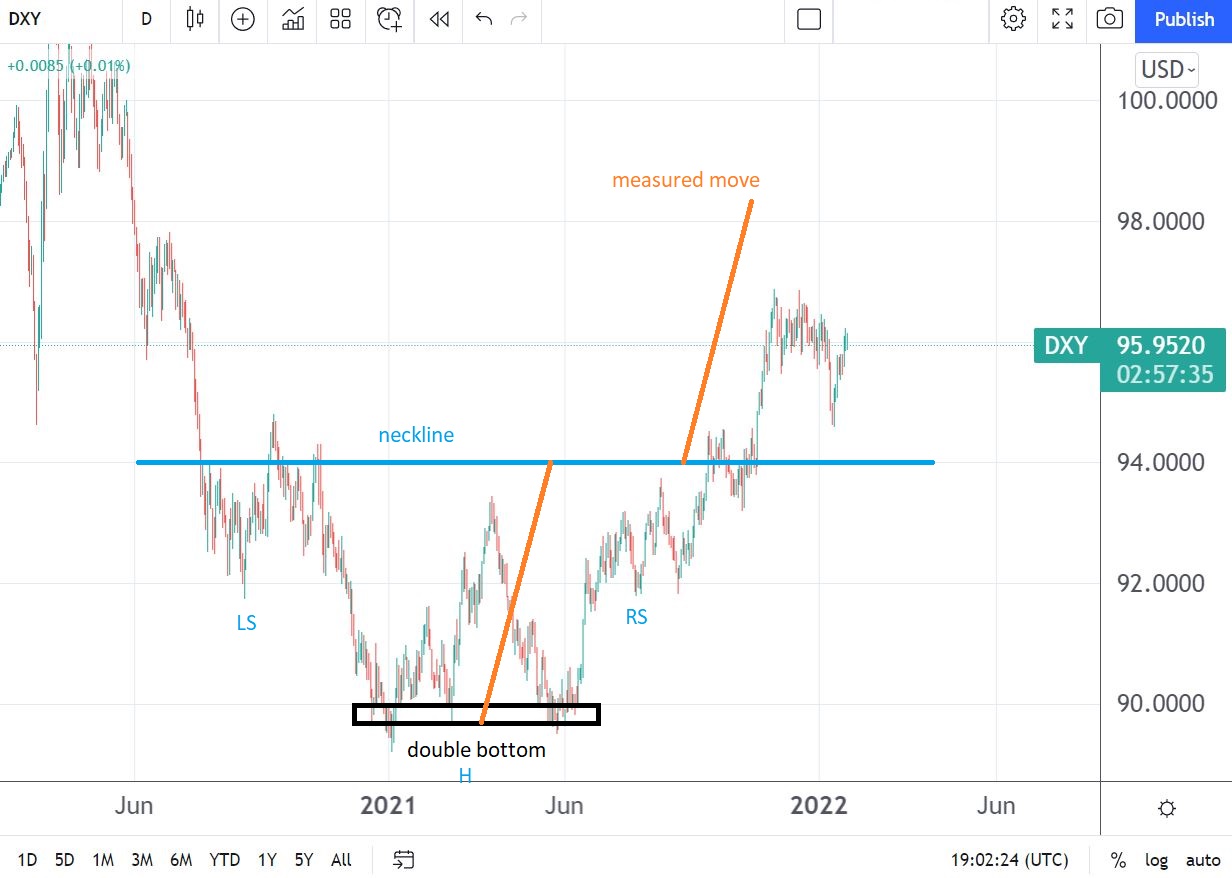 All in all, the Fed chose to stay in line with its previous guidance. It did not taper the asset purchases earlier and did not hint today at a 50 bp rate hike in March.
In other words, nothing new from today's FOMC Statement that the market participants did not know in advance. One thing is for sure – the Fed is hawkish, and today's decision brings us closer to the end of the monetary easing.