Should you buy or sell JPMorgan stocks after reporting mixed Q4 results?
JPMorgan Chase reported mixed results for the last quarter of its fiscal year 2021 – missed revenue estimate, but earned more per share. Time to buy or sell JPMorgan stocks?
The earnings season started last week, and JPMorgan Chase was one of the closely watched companies to report its financial performance. Because it is an emblematic investment bank active in the financial services sector, JPMorgan's earnings often indicate the trend in the sector.
It missed expectations on revenue, but it reported better than expected EPS. More precisely, it missed revenue by some $520 million, but it reported EPS of $3.33 on $3.03 expectations.
Therefore, a mixed quarter.
On the downside, the forward guidance was not so optimistic as investors hoped. As such, Wells Fargo downgraded the stock price to equal weight on expense guidance.
Net income and revenue down YoY
The company reported overall a strong financial performance for the last quarter of 2021. For instance, EPS of $3.33 is well above the estimate.
However, some details may concern investors. One is the net income – down 2% YoY. Another is revenue – down 4% YoY. Yet another one is expense, up 10% YoY. This is simple math – less revenue more expense equals fewer profits.
To compensate for the miss in net income and revenue estimates, JPMorgan announced a common dividend of $1/share or $3 billion in total to be distributed to shareholders. On top of it comes the $1.9 billion of common stock repurchases.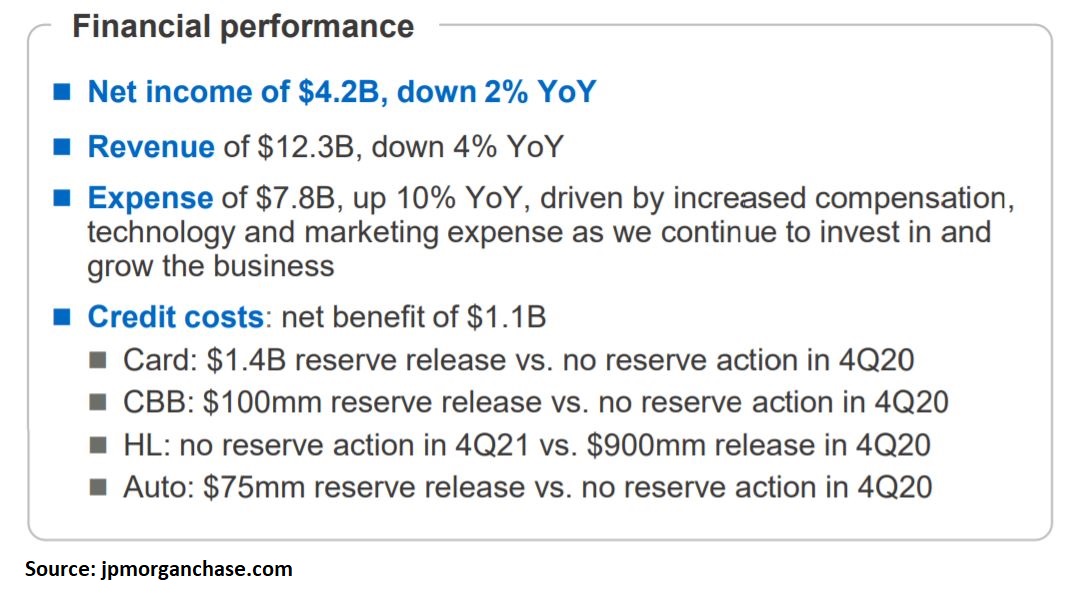 Triple top pattern suggests a drop to $130
The stock price opened with a gap lower on the day of the announcement. It closed the week at $157.89, and the bias is bearish, providing it does not make a new higher high.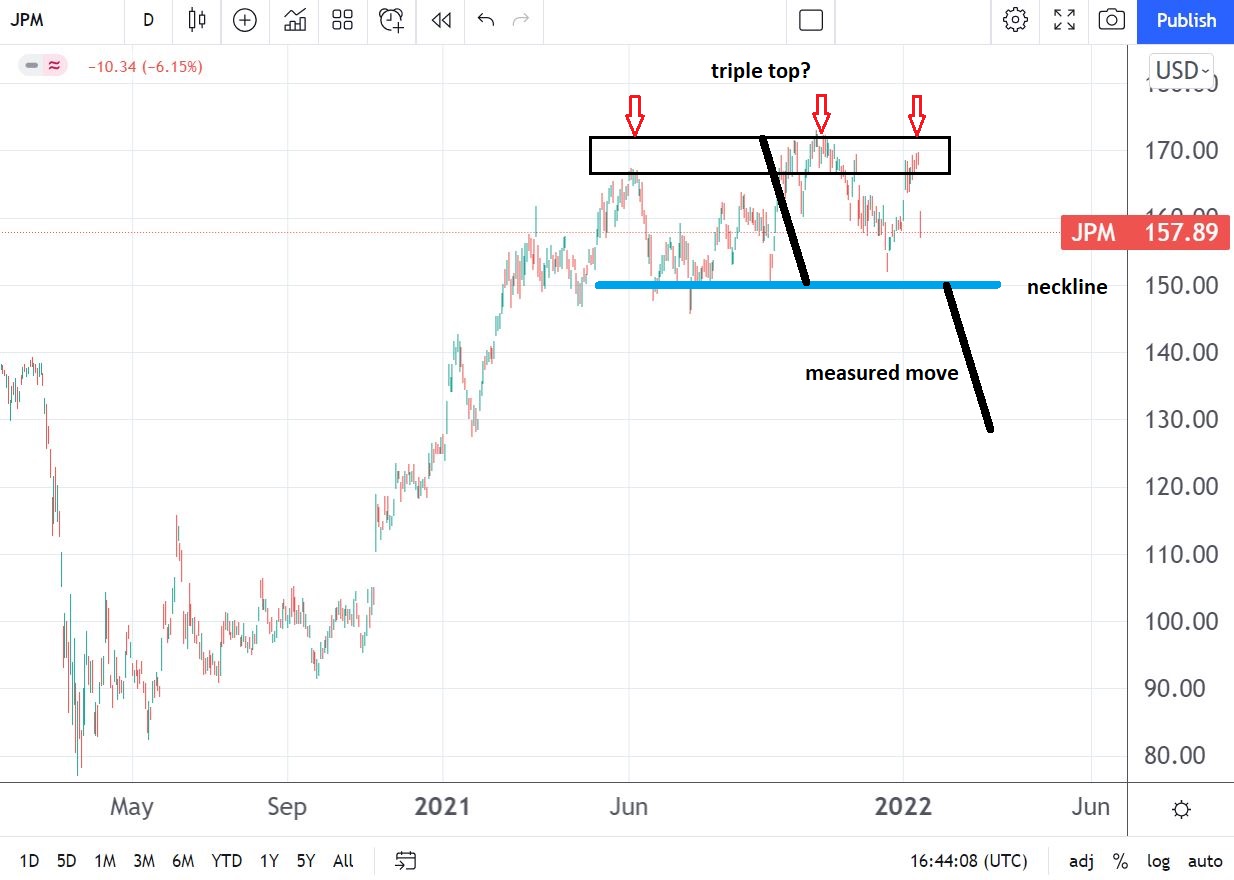 A possible triple top pattern that started in the summer of 2021 points to $130, should the stock price break below the neckline. On such a drop, the downside pressure intensifies as traders push for the measured move.
What do analysts say about JPMorgan's stock price?
Analysts are mostly bullish on JPMorgan's stock price. Out of the 45 analysts covering it, 36 have buy ratings, and 8 have issued neutral ones. Only 3 analysts have sell ratings on the stock.
One week before the Q4 2021 earnings call, Seaport Global Securities maintained its buy rating for the stock, with a price target of $191.