Should you buy or sell Goldman Sachs shares after reporting mixed quarterly results?
This week, the Goldman Sachs Group (NYSE:GS) reported its Q4 FY2021 earnings. It missed the EPS estimate but reported more revenue than the market expected. Time to buy or sell Goldman Sachs stocks?
Goldman Sachs reported mixed results for the fourth quarter of its fiscal year 2021 – missed on earnings but higher revenues. As a result, the stock price declined despite record M&A activity in 2021 and strong revenues.
Highlights of the full year and fourth quarter 2021 earnings results
Financial markets in the 21st century move first and then digest the full information. Trading algorithms and robots are responsible for such reaction, and the headline at the Goldman Sachs earnings call emphasized that the company has missed its EPS – reported $10.81 vs. $11.93 expected.
However, the results were not bad at all. In fact, this is the first quarter after six consecutive ones when Goldman has reported bigger EPS than the estimates. Moreover, it reported higher revenues than the market expected by $508.81 million.
Furthermore, this is a dividend-paying company operating in the financial services industry. As monetary conditions are about to tighten in the United States and the world due to rising inflation, financial services companies tend to benefit.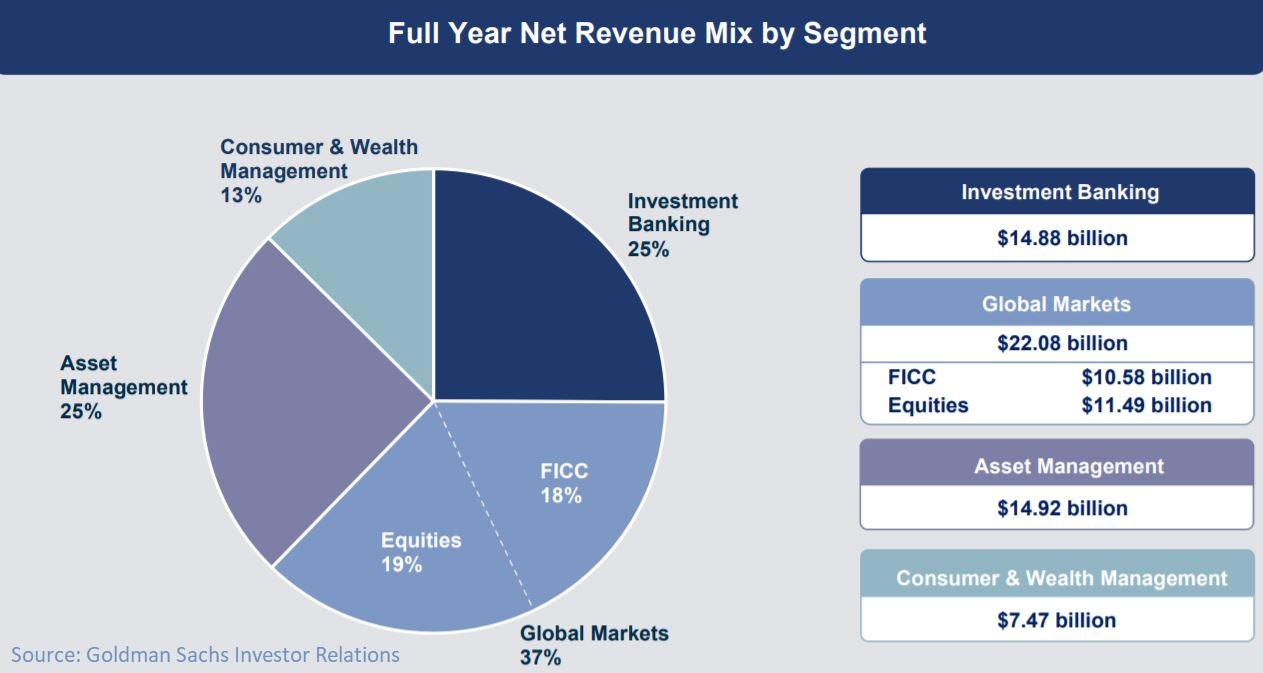 Half of the 2021 net revenue at Goldman Sachs was investment banking and asset management. All in all, net revenues were 33% higher than in 2020.
Goldman Sachs' stock price outperformed during the COVID-19 pandemic
The stock price outperformed during the COVID-19 pandemic and traded above $400 for the first time ever. However, it found stiff resistance in the area and, considering the massive rally, perhaps a correction was due.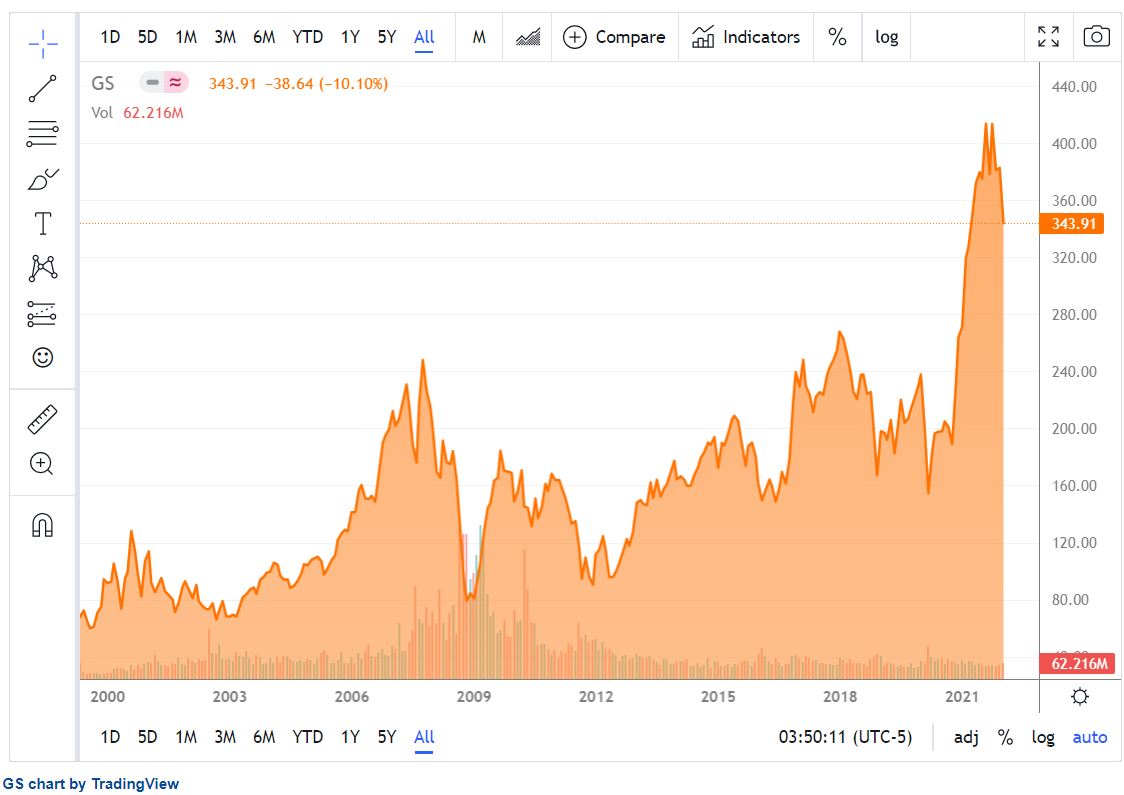 $400 offers technical resistance
The technical picture shows a bearish outlook on the short and medium-term. A triple top pattern formed above $400, as the stock price tried to break the area multiple times but failed to hold above.
Such a pattern forms at the top of bullish trends, and the stock price gapped lower after the mixed results. Bulls may want to wait for a reversal above $400 to go long, while long-term investors may decide to add to their position as valuation metrics improve on the stock's decline.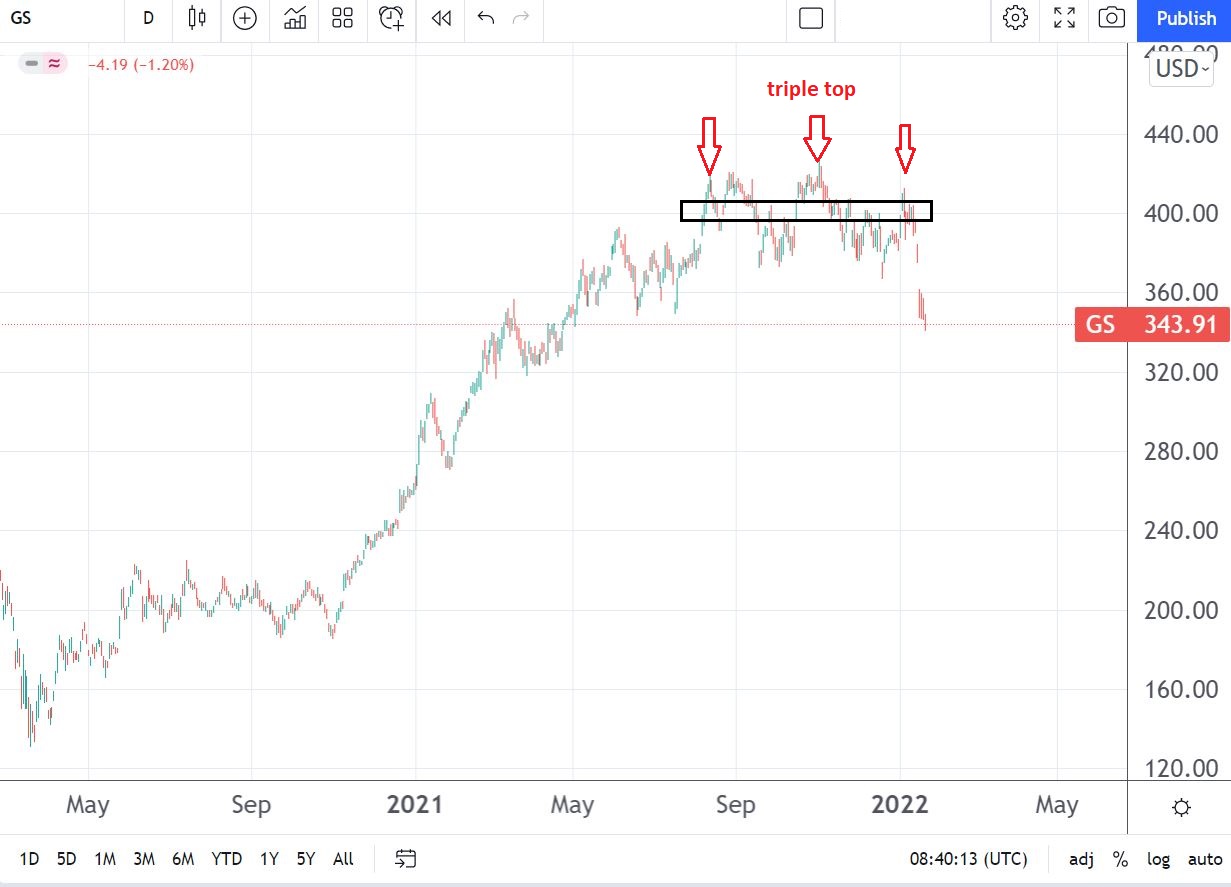 All in all, mixed results on the quarter but solid annual ones. Once again, Goldman Sachs over-delivered and the stock tends to outperform in a rising interest rate environment.