Should you buy Nikkei 225 as it approaches yearly lows?
The Nikkei 225 index opened the trading week sharply lower. Moreover, the risk sentiment in financial markets deteriorated as Omicron fears increased over the weekend. Should you buy Japanese stocks now that Nikkei 225 approaches the yearly lows?
Japanese equities have consolidated for most of the trading year in a tight range, as reflected by the Nikkei 225 index. Today's sharp move lower brings the index closer to its yearly lows seen at 27,000 – time to buy and fade the move?
It depends on many factors, such as the time horizon for the investment.
From a fundamental perspective, Japanese stocks look attractive. A recent report issued by the Bank of Japan reveals that the Japanese household's assets are at an all-time high, reaching 2,000 trillion yen this year. Many things contributed to the household wealth increase, such as COVID relief payments. If only a small part of the income ends up in the stock market, as it did in the United States, the Nikkei 225 should reflect it.
Japan's economic growth in 2021 lagged the one of its peers due to a late reopening caused by a slow vaccination campaign. However, the outlook is brighter, especially on the domestic demand side.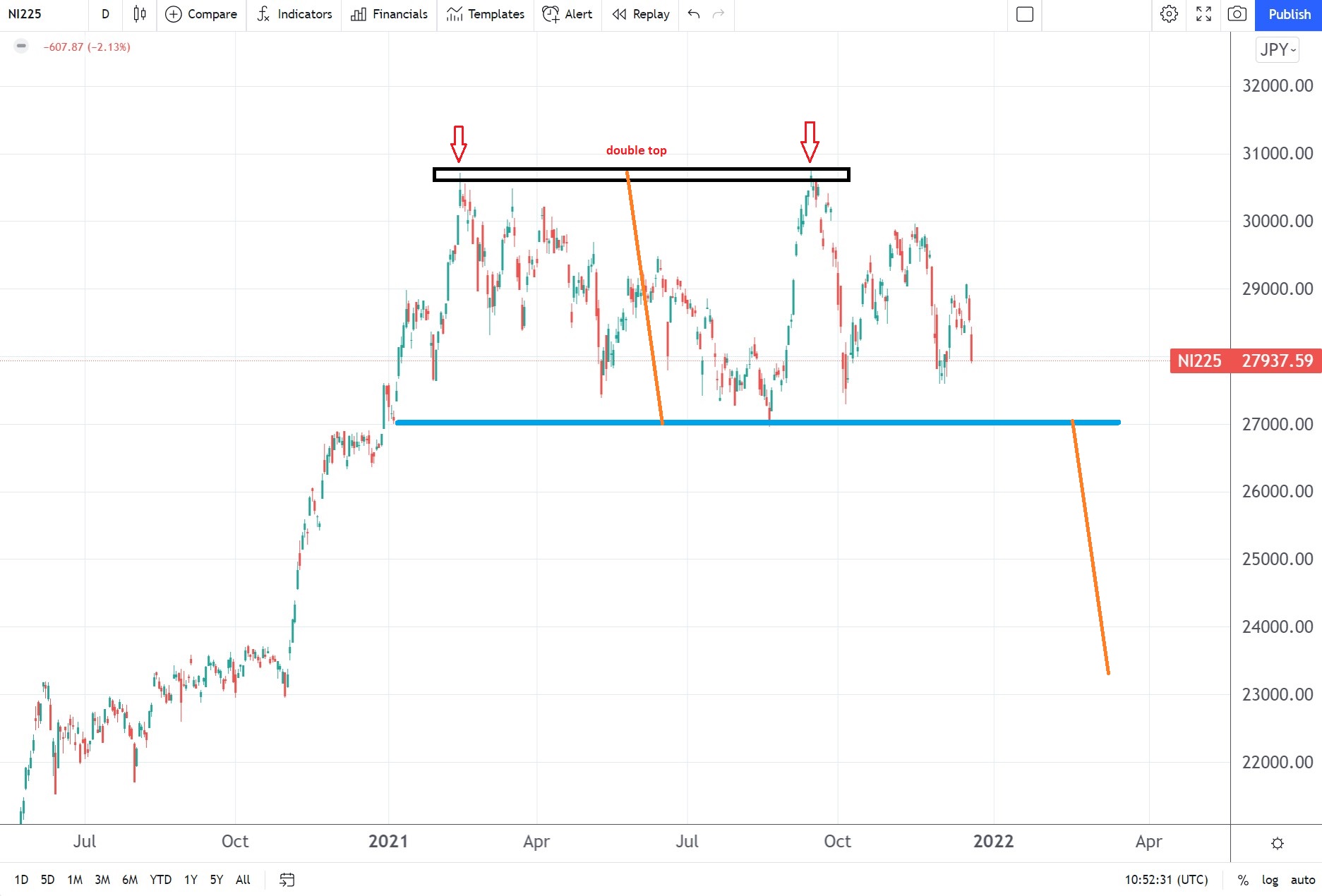 Double top pattern points to more weakness
While the fundamentals are bullish Japanese equities, the technical picture shows the opposite. The index formed a double pattern close to 31,000 and now the price action threatens to break below the neckline. Such a move would trigger even more weakness because many investors will aim for the pattern's measured move seen at 25,000.
Moving forward, it all depends on how the excess savings that have reached 3.7% of GDP will be spent. Suppose the risk sentiment improves and households become more optimistic. In that case, there is a big chance of part of these savings ending up in the stock market, especially as their distribution is skewed to higher-income households.
All in all, both bulls and bears have arguments for buying, respectively, sell. On the one hand, the fundamentals look strong as more tailwinds than headwinds are expected for the Japanese economic growth in the coming months. On the other hand, a drop below 27,000 points would represent a technical breach of major support and signals more weakness ahead.