Should you buy Nike stocks ahead of next week's earnings report?
Nike (NYSE:NKE) reports its Q2 FY2022 earnings early next week. Investors expect EPS of $0.63 on the quarter.
Nike investors await the quarterly earnings scheduled for release next Monday, December 20, at 1:15 PM PT after the close of regular stock market trading hours. About 45 minutes later, the management will host a conference call explaining the results and providing forward guidance for the period ahead.
Investors expect EPS of $0.63 on the quarter, in line with the earnings reported on the same period last year. Because Nike has beaten the quarterly earnings in the four previous quarters, it is fair to assume that it would do so this quarter too.
The annual revenue estimate for the fiscal period ending May 2022 is projected at $47.11 billion and forecast to increase to $53.85 billion by the end of the May 2023 fiscal period. The ability to grow the revenue is one of Nike's strengths, as the revenue growth YoY of 23.72% exceeds the 20.64% sector median.
Nike operates with a gross profit margin of 45.37%, yet again higher than the 35.89% sector median. On the flip side, the stock trades at a P/E ratio of 50.49, relatively high, but forecast to decline to 21.02 by 2026.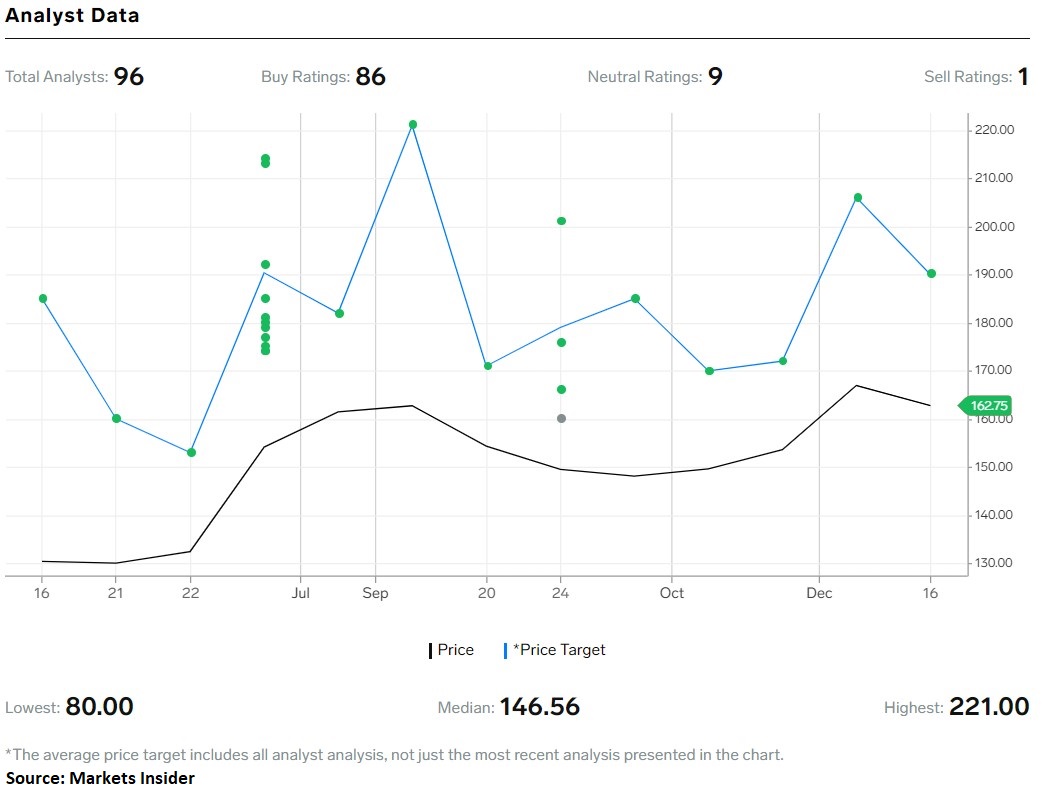 Nike increased the quarterly dividend increased by 11% in November
This past November, Nike's shareholders had a pleasant surprise as the company announced an 11% increase in the quarterly dividend. The board of directors approved a quarterly cash dividend of $0.305 per share on both Class A and B common stock making 2021 the 20th consecutive year of increasing dividend payouts.
The five-year dividend growth rate is 11.35%, and the payout ratio sits at 34.55%.
What do analysts say about Nike's stock price?
Analysts have bullish views on Nike's stock price. Out of the 96 analysts covering the stock, 86 have issued buy ratings, and only 9 have neutral ones. 1 analyst has a sell recommendation.
Most recently, Telsey Advisory Group has maintained its buy rating, with a price target of $190, while Morgan Stanley did the same, but with a higher price target of $206.
Nike's stock price is up +15.02 YTD and +219.56% in the last five years.