Should you buy Lululemon stocks ahead of the quarterly earnings?
Lululemon Athletica (NASDAQ: LULU) reports its Q3 2021 earnings and the market expects EPS of $1.40 on the quarter, higher by 20.79% when compared to the same period last year.
Lululemon Athletica is an American retailer that sells athletic apparel in the US and internationally. It operates more than 500 stores and distributes them through various other channels such as yoga studios or fitness centers.
The company is scheduled to release its Q3 FY2021 earnings on December 9, at 04:30 PM EST, and investors expect earnings per share higher by more than 20% YoY. Judging by the financial performance from the past four quarters, we may argue that Lululemon can easily beat estimates this quarter, as it did so in each quarter in the past year.
Lululemon's annual revenue estimates for the fiscal period ending January 2022 are $6.28 billion, expected to increase by approximately $1 billion by the end of January 2023.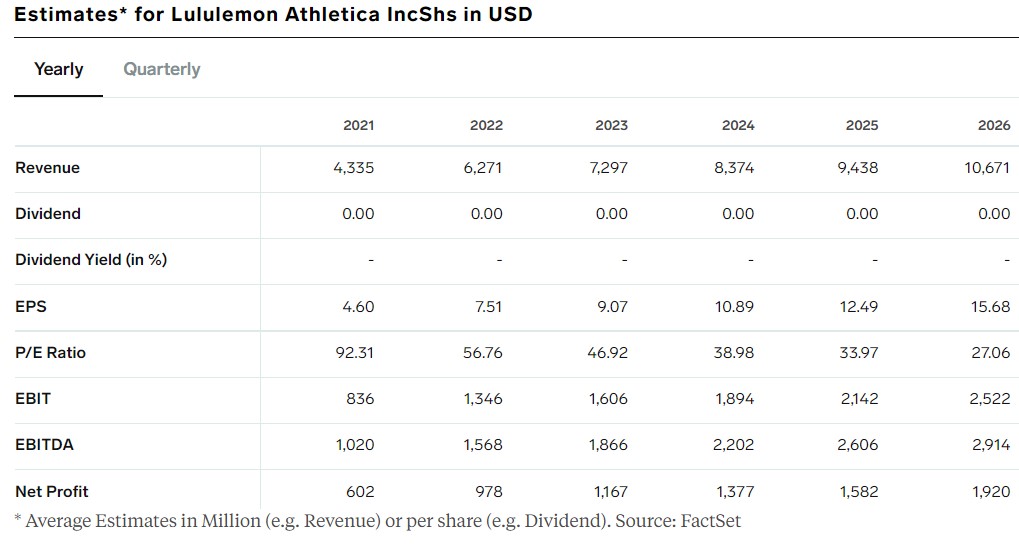 Profitability is much higher than the sector median
Lululemon Athletica operates with a gross profit margin of 57.62%, much higher than the sector median by 60.89%. While not paying a dividend, the company's EPS are expected to increase significantly in the next five years, from the current $4.6 to $15.68 by 2026. Furthermore, the net profit is forecast to triple over the same period.
Strong momentum behind the stock price
The stock price has seen strong momentum in the last year. More precisely, it outperformed the sector median in the past 3,6,9 and 12 months.
It also outperformed the S&P 500 total return index over the same period, as investors kept pouring money into the company despite a high valuation. For instance, the P/E ratio is seen at 92.31 in 2021, a sky-high level, albeit it is forecast to drop to 27.06 by 2026.
Analysts are optimistic about the Lululemon stock price. Out of the 96 analysts covering the stock price, 59 have a buy rating and 37 a neutral one. No analyst had issued a sell rating.
The highest price target belongs to Oppenheimer & Co., as it maintained its buy rating recently, targeting $520. Deutsche Bank did the same, maintaining its buy rating with a price target of $486.