Should you buy Intel stocks after a strong earnings report for Q4 2021?
Intel reported yesterday its earnings for the last quarter of 2021. It delivered better than expected EPS and revenues, but it was downgraded at Citigroup on poor guidance.
The earnings season continued yesterday with some big names reporting their last quarter's financial performance. Intel is one of them.
Intel is a giant semiconductors company employing over 110,000 people worldwide. Based in Santa Clara, California, Intel is a dividend-paying company with a forward dividend yield of 2.69% and a five-year growth rate of 5.97%.
Moreover, it increased its dividend for the last 7 consecutive years, and it operates with a gross profit margin of 56.27%, higher than the sector median by 13.08%. Intel's market capitalization reached $207.42 billion at the current market price, and the enterprise value is $211.02 billion.
Q4 2021 highlights
Investors expected EPS of $0.79 on the quarter, and Intel delivered $1.13. Also, revenue exceeded last October's guidance by $1.3 billion, and it came out up 3% YoY.
Furthermore, Intel generated $30 billion of cash from operations in 2021 and $11.3 billion of free cash flow. As such, management was pleased with a great finish of the year, as Intel exceeded top-line quarterly guidance.

What do analysts say about Intel's stock price
While management is optimistic, investors are not. Intel's stock price is flat YTD and down -6.83% in the last twelve months. Intel announced a 5% increase to quarterly cash dividend at yesterday's earnings call.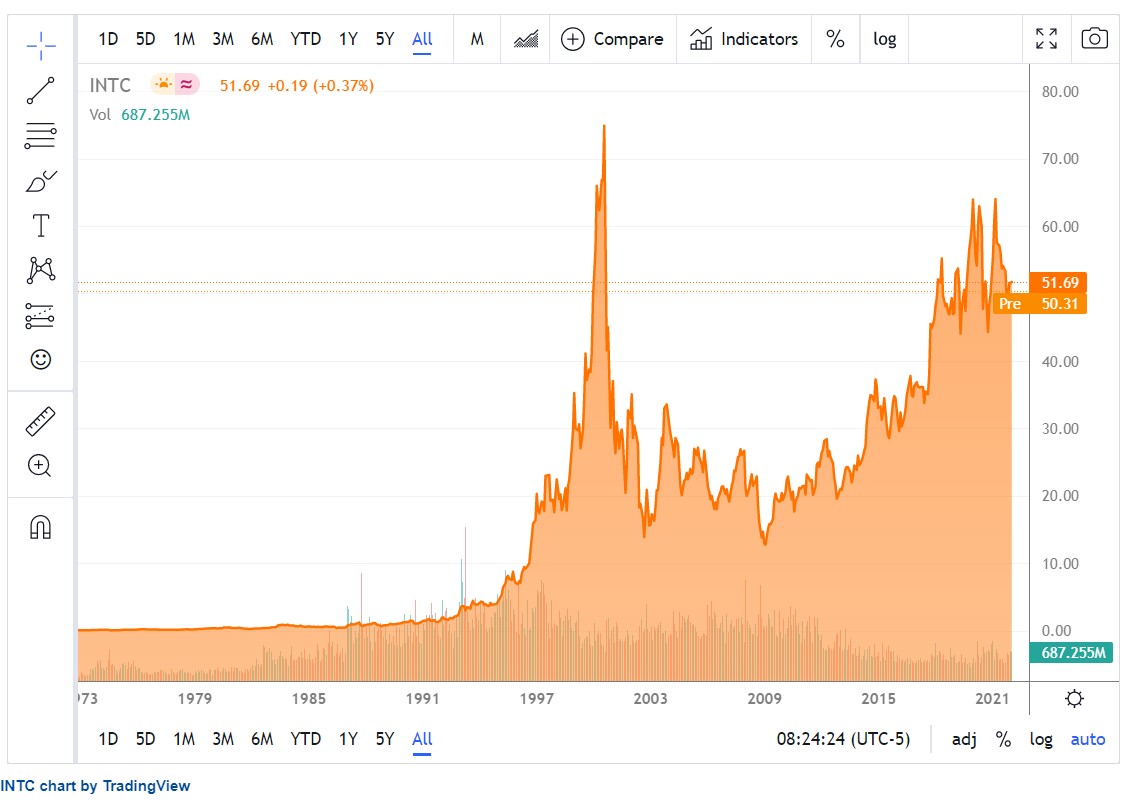 Analysts have mixed opinions about Intel's stock price. Out of the 70 analysts covering the stock, 30 have buy ratings, and 29 have neutral ones. 11 analysts have issued sell ratings.
After yesterday's earnings call, Citigroup reacted immediately, downgrading the stock on poor guidance. On the other hand, Intel was upgraded to buy at Northland Capital this January, with a price target of $62.
Intel's stock price trades at an attractive valuation, judging by the P/E Non-GAAP ratio for the last twelve months of 9.45. This is much lower than the sector median by 59.04%, and if we couple it with the hefty dividend, Intel might be an attractive investment for the medium to long term.