Should you buy gold amid the highest inflation in 39 years?
Inflation in the US surges in November, reaching a 39-year high. Is it time to buy gold, the traditional hedge against inflation?
Three days ahead of the last Federal Reserve meeting of the year, the November inflation data showed that the prices of goods and services have reached a 39-year high. Even the core inflation data surged, putting pressure on the Fed to normalize the policy sooner.
Gold is the traditional hedge against inflation, but it consolidated most of the year. In fact, it traded with a bearish tone in 2021 if we judge by the fact that it delivered a negative return YTD.
Is it time to buy gold as a safe haven against rising inflation? The last time when inflation was so high in the United States, the federal funds rate was much higher too. Nowadays, it sits at its minimum level, with no signs of a lift-off anytime before June 2022.
US November consumer prices rose 6.8% Y/Y
US inflation reached the highest rate in 39 years. Energy prices surged, up 3.5% on the month, the second-largest price increase after airfare, up 4.7%. Food prices are up as well, +0.7%, while used cars and shelter prices rose by 2.5%, respectively 0.5% on the month.
The ongoing rise in inflation represents a challenge for the Fed. On the one hand, the Fed is afraid of raising rates too early so as not to jeopardize the economic recovery. On the other hand, not acting will undermine its mandate of price stability. Hence, next Wednesday's meeting is crucial for the Fed as all eyes will be on how it will anchor inflation expectations.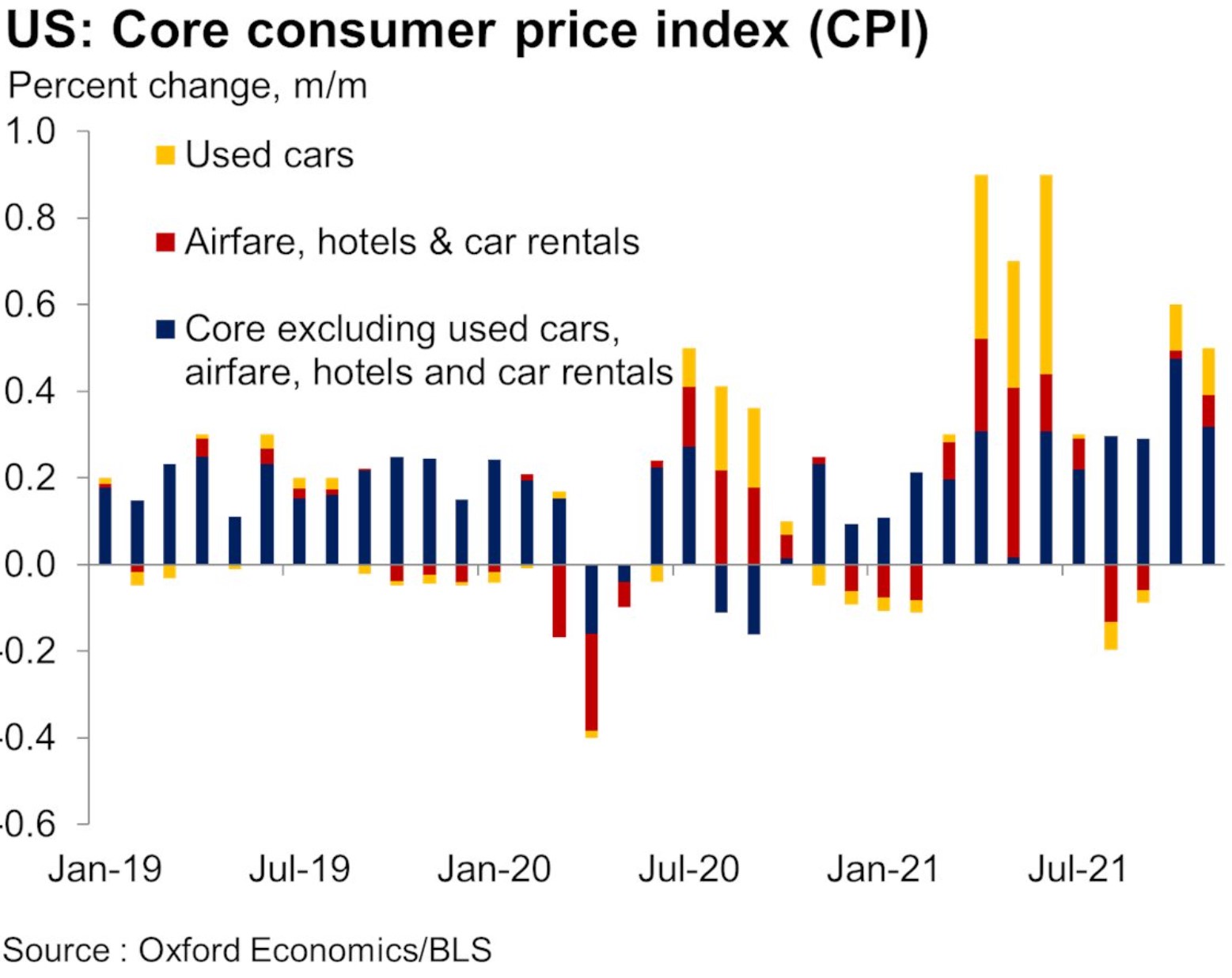 Gold may be leading the way
Gold's underperformance surprised market participants in 2021. Can it be that gold is leading the way? Indeed, in an environment of rising rates, gold and silver investment demand will suffer.
However, it depends on the time horizon. In the short and medium-term, gold may suffer from higher rates, but the interest rates should remain relatively low in the long run, thus limiting the downside risk for gold.
How about gold's technical picture?
The technical picture shows a contracting triangle forming in the past fourteen months. A break above $1,880 would be bullish, while a drop below $1,720 is bearish. Therefore, the smartest play on gold is waiting for the price to break either of the two trendlines before jumping on a trade.