Should you buy General Mills stocks after reporting mixed Q2 results?
General Mills (NYSE:GIS) reported its Q2 FY2022 results yesterday. While missing the EPS estimate, it reported a sharp increase in revenue.
General Mills is an American company based in Minneapolis, Minnesota. It is active in the packaged foods and meats industry and manufactures branded consumer foods. The company makes and sells things like bakery flour or frozen pizza and pizza snacks and employs about 35,000.
Yesterday, General Mills reported its financial results for the second quarter of its fiscal year 2022. The market expected EPS of $1.05, but the company missed the target and reported $0.99. However, revenues came out much better than expected, growing by 6.45% YoY.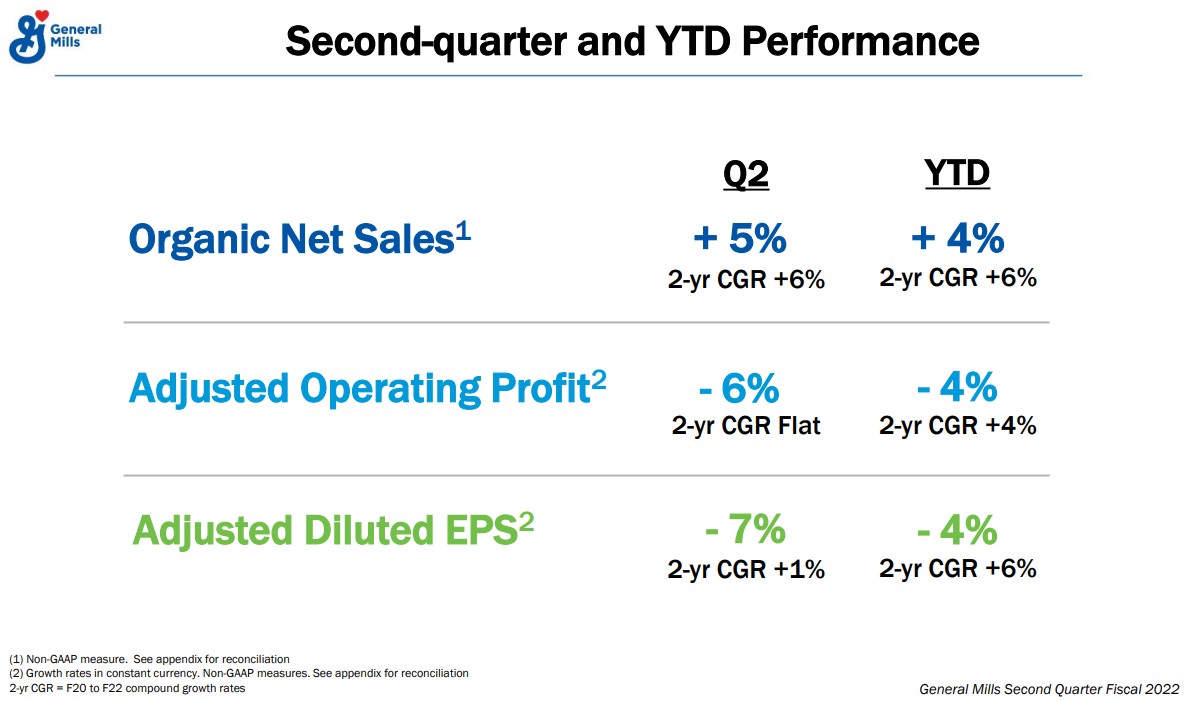 Highlights of General Mills' Q2 FY 2022 financial performance
On the bright side, the company reported net sales higher by 6%, out of which 1% belonged to favorable foreign currency exchange. On the flip side, gross margin declined to 32.5% of net sales.
General Mills blames higher input costs and unfavorable mark-to-market effects for the decline. More specifically, higher input cost inflation and other costs of goods sold related to supply chain disruptions affected the company's profitability.
As a result, net earnings declined by 13% and adjusted diluted EPS by 7%.
What do analysts say about General Mills' stock price
Out of the 23 analysts covering the company, 11 have issued neutral ratings, and 10 have sell ratings. Only two analysts have sell ratings and the lowest price target for the stock price is $50 while the highest is $70. Most recently, Citigroup upgraded the stock to buy, with a price target of $70 – the highest of all analysts.
The stock price is up +10.65% in 2021, and the company pays a dividend. The dividend yield is 3.42%, expected to reach 3.78% by 2024.
As for the valuation, the stock price is relatively cheap compared to the sector median. For instance, the P/E Non-GAAP (TTM) ratio is 17.54, lower than the sector median by 12.06%.
Despite the unprecedented combination of input cost inflation and supply chain disruptions, management's forward guidance was more optimistic. It expects to meet or even exceed the financial targets for the rest of the fiscal year and so to deliver profitable growth in line with its strategy.